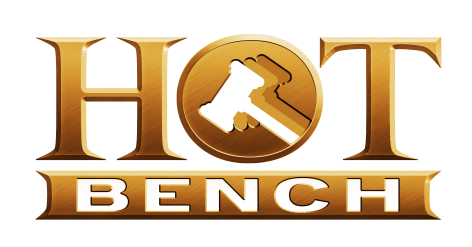 SHOW DESCRIPTION
HOT BENCH, CBS Media Ventures' Emmy-nominated court show, created by Judge Judy Sheindlin, returned for its ninth season on September 12, 2022.
Hot Bench is the #1 syndicated court show in original production, averaging nearly 2 million viewers. It ranks in the top 10 first-run shows in all of syndication, and delivers the 5th most loyal audience in syndication, with 28% of its audience watching the show at least 3 times a week.


Judges Michael Corriero, Rachel Juarez and Yodit Tewolde, the first-ever three-judge bench on television, dispense justice by arguing the merits of cases amongst themselves and coming to a verdict. Additionally, viewers watch the judges hash out the facts and law during deliberations and majority rules.
HOT BENCH is an Emmy-nominated syndicated court show, created by Judge Judy Sheindlin and executive produced by David Theodosopoulos. Belinda Jackson and James Glover are co-executive producers. Yodit Tewolde, Rachel Juarez and Michael Corriero comprise the three-judge panel. HOT BENCH is produced by Big Ticket Pictures and Queen Bee Productions. It is distributed by CBS Media Ventures.
Follow the show: On Facebook @HotBench, on Twitter, Instagram, and TikTok @HotBenchTV, and on YouTube @hotbench. Visit hotbench.tv to find out where to watch in your local market.


PRESS CONTACTS:
Lindsay Colker
Elevate Communications
lindsay@elevateprco.com
Hot Bench

Hot Bench

Hot Bench

Hot Bench

Hot Bench

Hot Bench

Hot Bench

Hot Bench

Hot Bench
Character

Judge

Character

Judge