Release
KCAL-TV LOS ANGELES LAUNCHES 7-HOUR LOCAL MORNING NEWS FRANCHISE
"KCAL News Mornings" Airs on KCAL and Streams
on CBS News Los Angeles Weekdays from 4:00-11:00 AM, PT
KCBS-TV Becomes First CBS Station in the Country
to Air Double Runs of "CBS Mornings"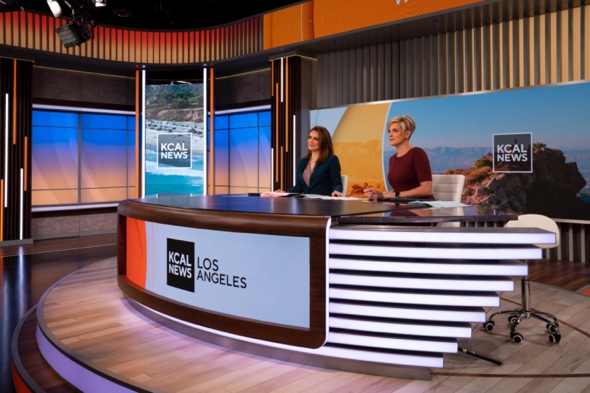 (From left: 7:00-10:00 AM anchors Rudabeh Shahbazi and Jamie Yuccas)
Jan. 5, 2023 – KCAL-TV, the CBS-owned independent station in Los Angeles, today launched KCAL NEWS MORNINGS, a 4:00-11:00 AM, PT local morning news franchise. In addition to being broadcast live each weekday on KCAL, the newscast will be available on the CBS News Los Angeles streaming channel.
The debut of KCAL NEWS MORNINGS extends the KCAL News brand to weekday mornings for the first time in the station's history. In March 1990, KCAL became the first television station in the country to launch nightly three-hour local newscasts during primetime (8:00-11:00 PM). Over the past 33 years, these primetime broadcasts have helped establish KCAL as one of the most recognizable, trusted and popular local news stations in the Los Angeles market.
Coinciding with today's launch of KCAL's morning newscasts, sister station KCBS-TV, the West Coast flagship of the CBS Television Network, has expanded its commitment to national and global news coverage by airing a live broadcast of CBS MORNINGS from 4:00-6:00 AM, PT while also continuing to carry the West Coast edition of the CBS News morning program in its longtime 7:00-9:00 AM, PT time period.
KCAL NEWS MORNINGS will air on both KCBS and KCAL during the 6:00-7:00 AM hour.
The addition of KCAL NEWS MORNINGS will give KCBS, KCAL and the CBS News Los Angeles streaming channel a combined total of 91.5 hours of regularly scheduled live local newscasts per week – more hours than any other station in the Los Angeles market.
The anchor lineup for KCAL NEWS MORNINGS is as follows:
4:00-4:30 AM Kalyna Astrinos
4:30-6:00 AM Chris Holmstrom and Marci Gonzalez
6:00-7:00 AM Marci Gonzalez and Rudabeh Shahbazi
7:00-10:00 AM Jamie Yuccas and Rudabeh Shahbazi
10:00-11:00 AM Amy Johnson
***
Press Contact: