Release
JAMIE YUCCAS NAMED ANCHOR OF WEEKDAY MORNING NEWSCASTS THAT WILL DEBUT THIS FALL ON KCAL-TV AND CBS NEWS LOS ANGELES
Emmy Winner Will Continue to Serve as a CBS News Correspondent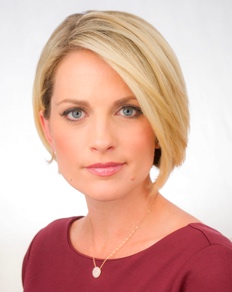 Sept. 19, 2022 – CBS News correspondent Jamie Yuccas has been named one of the anchors of the local morning news franchise that is expected to launch this fall on KCAL-TV and the CBS News Los Angeles streaming channel. Yuccas will anchor the 7:00-10:00 AM, PT portion of KCAL's planned seven-hour, 4:00-11:00 AM, PT, block of local newscasts. The announcement was made today by Wendy McMahon, president and co-head, CBS News and Stations, and Joel Vilmenay, president and general manager of CBS News and Stations' local businesses in Los Angeles.
In addition, Yuccas will continue to serve as a CBS News correspondent and will still appear as a guest co-host on CBS MORNINGS, CBS News' national morning news program. This marks the first time a CBS News correspondent will be taking on the additional role of serving as a CBS Stations anchor since McMahon and her fellow president and co-head Neeraj Khemlani began leading the unification of CBS News and Stations' journalistic and business resources under one divisional and leadership structure in May 2021.
When she assumes her new role with KCAL, Yuccas will remain at the CBS Broadcast Center in Studio City, Calif., which serves as the home of KCAL, sister station KCBS-TV, and the CBS News West Coast Bureau – where she has been based since 2017.
Yuccas will also continue to host episodes of Nickelodeon's Nick News, where she has reported on several topics, including climate change, robots and immigration.
"Creating a hybrid role that is perfectly aligned with Jamie's experience and strengths as a journalist and storyteller represents a seminal moment in the continuing unification of our local-to-global news organization," McMahon said. "Neeraj and I love the notion of having someone with Jamie's range of talents play a significant role in the launch of our morning news franchise in Southern California, and also continue to report for all of our CBS News broadcasts and platforms. This truly is a best-of-all-worlds opportunity for both Jamie and CBS."
"It's wonderful that we needed to look no further than down our hallway to find Jamie, who will play a leading role in establishing our new morning news franchise on KCAL," Vilmenay said. "Jamie's experience with covering high-profile stories for CBS News has made her a familiar face to our local viewers. We believe her credentials, local knowledge and enthusiasm will serve her and us extremely well."
"It has been a privilege to spend the last several years as a CBS News correspondent, reporting on stories of national and international importance, and I'm thrilled to have a chance to broaden my work as an anchor here in Los Angeles, a city I know and love. I am grateful to Wendy, Neeraj, Joel, Mike (Dello Stritto, vice president and news director, CBS Los Angeles) and the incredibly collaborative team at CBS News and Stations who worked together to create a new kind of role that I'm confident will strengthen our ability to tell those meaningful stories and further connect our CBS community of journalists. I can't wait to get started."
Yuccas began her CBS career in 2011 as a reporter and morning anchor at WCCO-TV, the CBS Station in Minneapolis-St. Paul in her home state of Minnesota. While at WCCO, she won two Emmy Awards and contributed reporting to the CBS EVENING NEWS and CBS THIS MORNING for breaking news stories in the Midwest, including flooding in Minot, N.D.; the Minnesota state government shutdown; and winter weather and flooding across the region. She also won an Emmy Award for coverage of Hurricane Sandy in 2012.
In 2015, Yuccas became a New York-based correspondent for CBS Newspath. Two years later, she moved to Los Angeles and became a CBS News correspondent.
During her time at CBS News, Yuccas has covered several high-profile stories, including the 2022 Winter Olympics in Beijing, the murder of George Floyd and the Derek Chauvin trial in Minneapolis, the Pulse nightclub shooting in Orlando, the 2016 Summer Olympics in Rio and the 2016 presidential campaign.
Previously, Yuccas was an anchor, reporter and producer at WBBH-TV in Fort Myers, Fla., from 2004-11. She won a Florida Associated Press award for a feature story about a U.S. Marshals operation. She began her career in 2003 at KTTC-TV in Rochester, Minn.
Yuccas graduated from the University of Minnesota with a bachelor's degree in journalism.
***
Press Contact: