Release
WHEEL OF FORTUNE TO KICK OFF SEASON 40 IN "XL" FASHION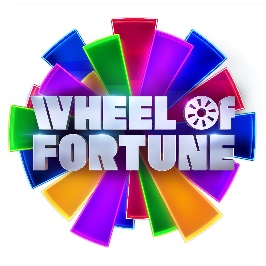 FOR IMMEDIATE RELEASE
WHEEL OF FORTUNE TO KICK OFF SEASON 40 IN "XL" FASHION
Puzzleboard Upgraded for the First Time Since 2003
Milestone Season Premieres on September 12th
Culver City, CA (September 6, 2022) –Wheel of Fortune will start its 40th season on September 12th, with iconic Hosts Pat Sajak and Vanna White. To celebrate this momentous occasion Vanna will be working at a new LED screen puzzleboard and an "XL Week" of shows will kick off the season with more prize money at stake than ever before.
For the first time since 2003, Wheel of Fortune has given the puzzleboard a makeover. Visually, during the game, the board is classic Wheel of Fortune, but rather than 52 individual monitors the board is now a single LED screen. The surrounding frame is outfitted with two sensors that activate the screen when Vanna's hand breaks the plane in front of the letter. This technology behind how Vanna interacts with the new puzzleboard is LIDAR (Light, Imaging, Detecting And Ranging), a laser technology that has been used in self-driving cars and on the Mars Rover. Rather than firmly touching the sides of the monitors, Vanna now gestures at the center of the illuminated boxes to reveal the letters. The new format allows the show to use the puzzleboard not only for game play, but also aesthetically in the show to add graphics in a new and fun way.
Season 40 also marks the first with Executive Producer, Bellamie Blackstone, at the helm. She says, "I am thrilled to be joining Wheel of Fortune in Season 40! I'm looking forward to celebrating all of the ways this show has become a staple in so many living rooms, but also to help it grow so we see its 50th season and beyond. We have a beautiful new puzzleboard. We're trying to give away the most money ever offered on the syndicated version of the show. But, more than anything, I want our viewers to continue to enjoy this classic game while adding a few new and interesting twists. We are all looking forward to this being our biggest season ever!"
To kick off Season 40 there will be an "XL Week" representing the roman numeral of 40. It will feature XL (Extra Luxurious) Prizes, XL (Extra Large) puzzles and hopes to be XL (Extra Lucky) for contestants and fans. During "XL Week," not only will contestants have double the chances to win $1 Million with up to two full $1 Million wedges on the Wheel, but when they bring the $1 Million to the bonus round their chances are doubled because a second $1 Million envelope will be added to the Bonus Wheel. This week also introduces the "XL Wedge" with the chance to win an additional $40,000 when the player takes that to the bonus round for a minimum win of $80,000. Viewers will have big chances to win as well with a chance to win the Prize Puzzle featured in the round and the XL Bonus Round prize if it's won.
After "XL Week," gameplay will return to normal, but the minimum amount that can be won on the Bonus Wheel has been raised to $40,000, in honor of the show's 40th season in syndication. Also, throughout the season fans can also look forward to familiar favorite theme weeks including College Week, Veterans Week, and Secret Santa.
Maggie Sajak will return in the digital space continuing to create unique and exclusive content for the show's interactive platforms including www.wheeloffortune.com, Facebook, Instagram, Twitter, TikTok and the Wheel Watchers Club's 4 million active email subscribers.
About Wheel of Fortune:
Trademarked as America's Game™, Wheel of Fortune has earned seven Emmy Awards including a Daytime Emmy for Outstanding Game/Audience Participation Show. Wheel of Fortune is produced by Sony Pictures Television, a Sony Pictures Entertainment Company. It is distributed domestically by CBS Media Ventures and internationally by Paramount Global Content Distribution, both divisions of Paramount.
Contact Information:
Krista Ostensen Osche
Executive Director of Communications
Wheel of Fortune
310-244-6286
Krista_Ostensen@spe.sony.com