Release
The Drew Barrymore Show: JIMMY FALLON ON HOSTING A LATE NIGHT SHOW FOR OVER A DECADE, HIS HOME SHOW DURING THE PANDEMIC, & JIMMY REVEALS WHY KERMIT THE FROG WAS AT HIS WEDDING, PLUS, DREW & JIMMY PLAY ROUSING GAME OF "DREWTH OR DARE"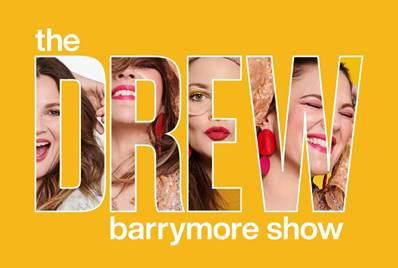 ON MONDAY, DECEMBER 7th's THE DREW BARRYMORE SHOW
"5 MORE SLEEPS 'TIL CHRISTMAS" AUTHOR JIMMY FALLON ON HOSTING A LATE NIGHT SHOW FOR OVER A DECADE, HIS HOME SHOW DURING THE PANDEMIC,
& JIMMY REVEALS WHY KERMIT THE FROG WAS AT HIS WEDDING
PLUS, DREW & JIMMY PLAY ROUSING GAME OF "DREWTH OR DARE"
DREW KICKS OFF CAKE WEEK WITH NORAH O'DONNELL WHO RECENTLY CELEBRATED HER ONE YEAR ANNIVERSARY AS ANCHOR OF "CBS EVENING NEWS"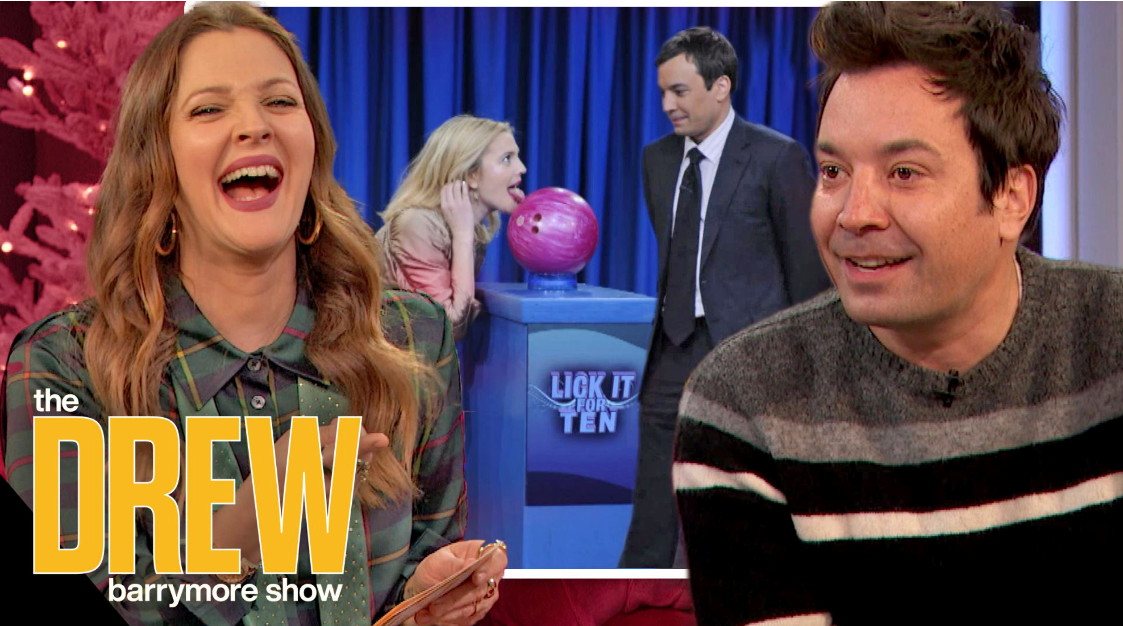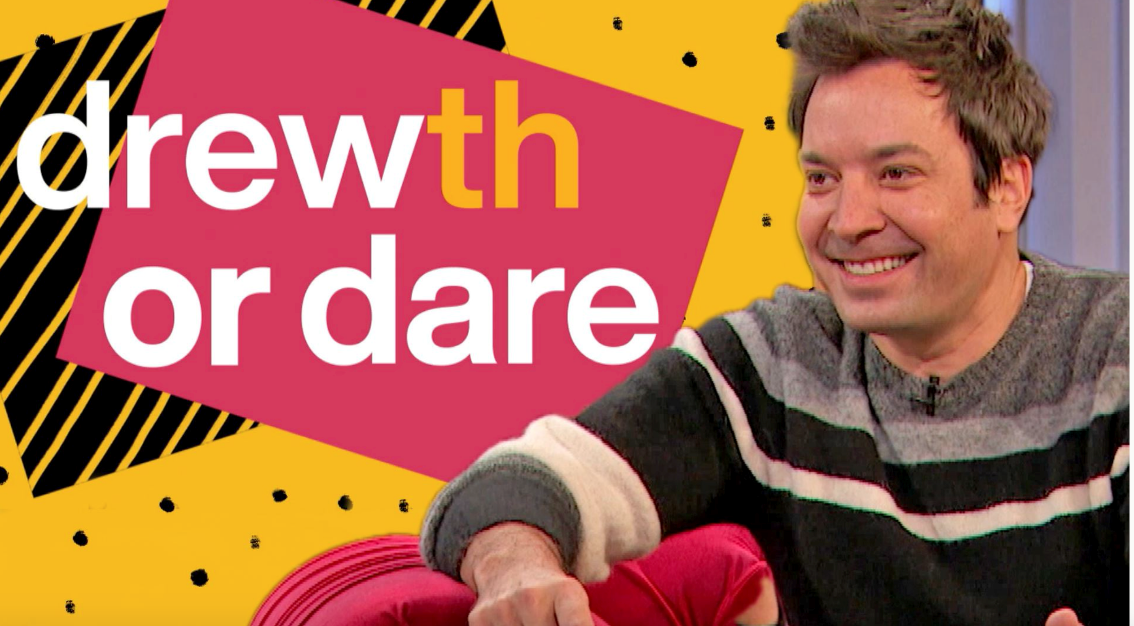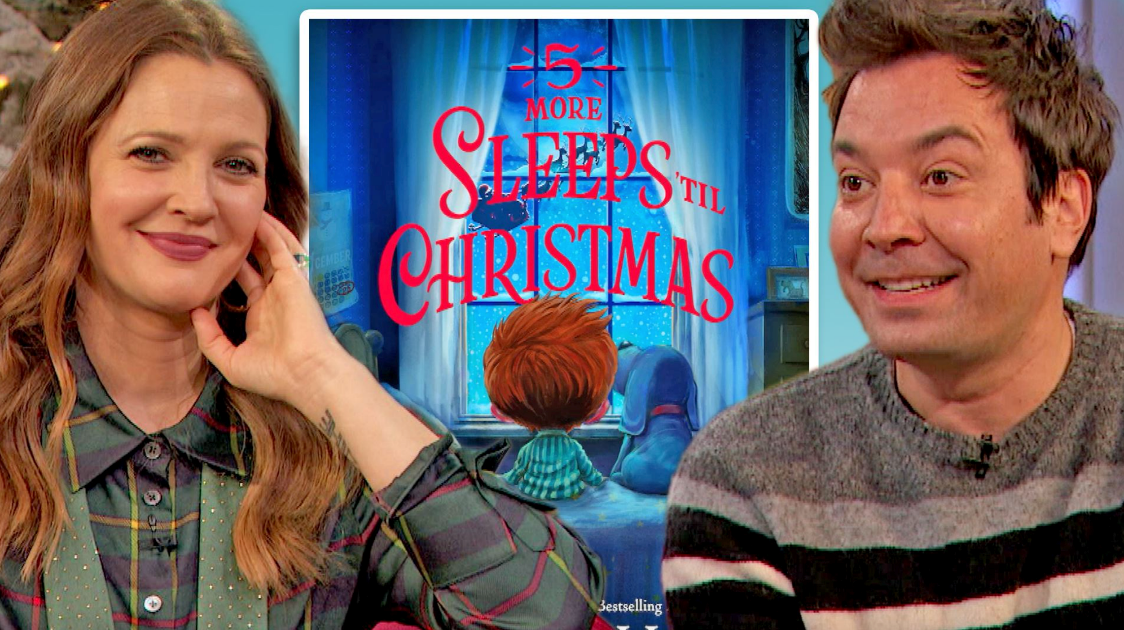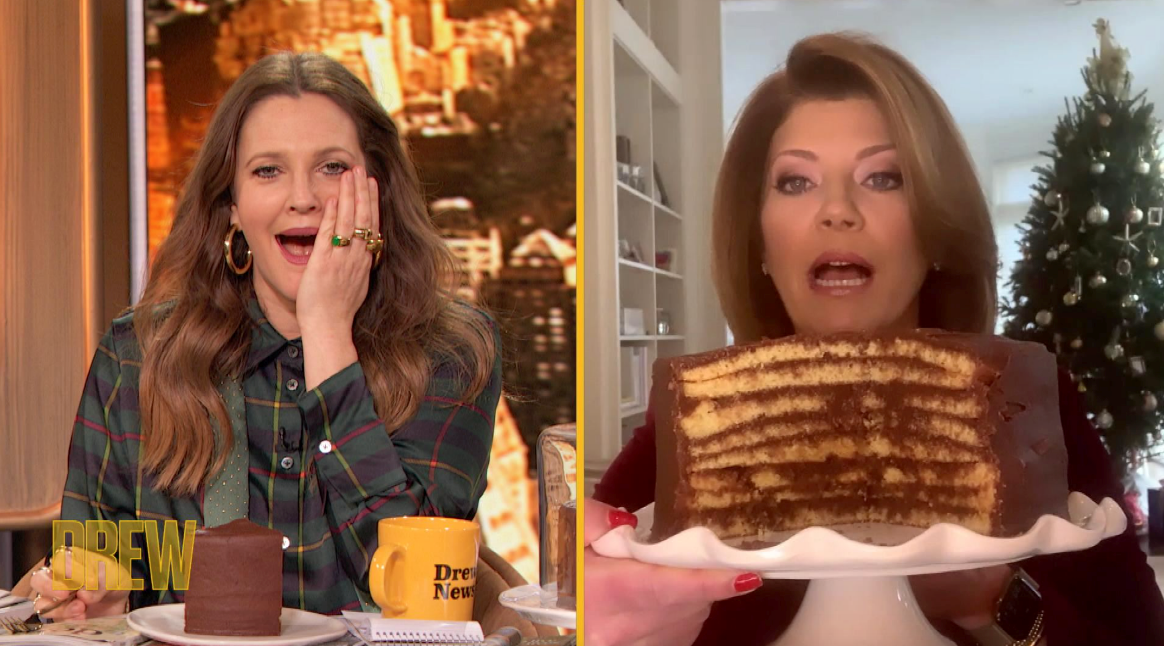 VIDEOS
Jimmy On Hosting A Late Night Show For Over A Decade & Bits That Didn't Work Like Lick it For Ten
https://drewbarrymoreshow.cimediacloud.com/r/uQCMWAZlx9XY
Jimmy: The fun thing about the show, it's like you have to try all these things and some things work, somethings don't work. I don't know if you remember, you were always game on our show to try new things, we did a game called Lick it For Ten, do you remember this?
Drew: Yeah that game is not going to happen again.
Jimmy: In Covid are you kidding? It didn't even happen pre-Covid trust me. The bit just didn't work…The idea of the sketch was that we just bring out a product and someone licks it and we give you $10. We thought that was so funny. We thought, 'Oh that's great.' We made t-shirts in the NBC store that are on discount, they are very available right now….It just sank, we tried it like four times but I love those bits and you look back and you go, 'Oo my gosh,' and then somethings you go, 'Let's do this thing called thank you notes,' and that stays with you for twelve years. It's fun watching someone launch something because you go, 'What's this thing? What's that? Oh that's going to work. That's going to stick.' I think it's fresh and cool
Jimmy on Hosting Show From Home During The Pandemic
https://drewbarrymoreshow.cimediacloud.com/r/GPYdRdc2BBKl
Jimmy: I went to my house upstate and my wife was like, 'What's your plan? What are you going to do?' I go, 'There is no plan.' She was like, 'You have to do something this is when you have to show up' and she reminded me of that David Letterman quote that we love where he talked about being courageous….and he talked about everyone that showed up and you have to be courageous and he goes, even if you pretend to be courageous it's just as good. I thought of that and was like, 'Oh yeah, I'm not the frontline workers, I'm not a nurse, I'm not a teacher, I'm not a cashier at a store whose being brave to sell you food to feed your family but I can entertain and I can do something.
Drew: And raise a lot of money for charity.
Jimmy: We did, we started on YouTube and Nancy was the director.
Drew: Yep, holding the camera and Winnie and Franny would make the signs for what charity you were doing that day.
Jimmy: Winnie and Franny they are not actor kids at all, 'Say goodnight to everybody,' they go, 'Good Morning,' I go, 'Oo gosh, I want to hire kids to pretend they are my kids.' 'Aren't they cute?,' 'They look nothing like you,' 'But they are great actors.' We had one where I was interviewing Russell Wilson and Ciara and Winnie lost her tooth, she lost three teeth while we were doing these things, she lost a tooth and she came and she's like, 'Dad, dad, dad,; and there is blood all over her mouth, and for us it's cute because it's my kid but the world is going to be like, 'What happened to your child?'
Jimmy Reveals Why Kermit The Frog Was At His Wedding
https://drewbarrymoreshow.cimediacloud.com/r/x2FRtDEsLDjy
Drew: Welcome back were kicking off cake week with a man whose wedding cake I actually ate because he's married to my business partner of 25 years, Nan….I cried too hard.
Jimmy: I don't even remember that, it's more that we had fun, the dancing.
Drew: Were you distracted by Kermit the Frog?
Jimmy: This is unbelievable. This is a true story. We had someone video tape the wedding. I remember walking down the aisle…I started at the end of aisle and I looked and I saw everybody and then out of nowhere there was a Kermit the Frog doll, a puppet, in the front row.
Drew: Well because you told the videographer your wedding song was going to be Rainbow Connection.
Jimmy: Rainbow Connection and Moonbeams song by Harry Nilsson, that's our wedding songs but I didn't know he heard me say that or whatever. I just go, 'Maybe Nancy wanted Kermit the Frog?'
Drew: And it was like a life size Kermit.
Jimmy: It was a giant puppet and it was sitting there and a puppet and I go, 'That's weird, well I guess Nancy thought that would be funny. I don't know?' So Nancy comes down the aisle and I'm trying not to cry, she looks beautiful and she gets up there and goes, 'Kermit?' And I go, 'Yeah, was that you?' and she goes, 'No,' Who would surprise us at our wedding? Everything is perfect. Then I watch the video, I watch the video once, and in every shot he's photobombing Kermit the Frog. Like these moments that I thought were intimate, dancing with my mom, then Kermit's head pops out the back. I go, 'I can't even watch this.'
Drew: The creative license that this videographer took with Kermit the Frog.
During Game of "Drewth or Dare" Jimmy Reveals Why He'd Pick Tina Fey To Be Stranded On A Desert Island With Him & Ends Up Bench Pressing A Life Size Version Of His New Children's Book
https://drewbarrymoreshow.cimediacloud.com/r/dYvIF5z5ntpG
Drew: Okay were going to do Drewth and Dare….If you have to live on a desert island with one former SNL cast member for a year who are you picking?
Jimmy: Oh no, there are so many great people I love. I would say Tina Fey because we worked together on Update but also because I think she would go crazy with me on a desert island so she would figure out some way to get off the island……Lorne and I went to Yankee playoff game with Jack Nicholson, you walk through Yankee stadium and people are just yelling, "You can't handle the truth,' every one of his catchphrases. I get crackerjacks….and he goes, 'Jimmy did you get the prize yet?'…I open it up and it's a sticker, a picture of a snake. He goes, 'You know when I was a kid you used to get things like tin whistles, now you get a picture of a f**** snake.' It was perfect, what more do you want from him?...
Drew: Okay who do you think Adam Sandler likes better me or you?
Jimmy: I'm going to take a dare.
Drew: Bench press the giant version of 'Five Sleeps 'Til Christmas.'
Cake Week Kick-Off With "CBS Evening News" Anchor Norah O'Donnell Who Shares Her Own Version of Cake of the Day: The Smith Island Cake
https://drewbarrymoreshow.cimediacloud.com/mediaboxes/8d930e0b7c5d4e029e8fcc7db73d628a
Jessica Liik
VP of Communications
The Drew Barrymore Show
Cell: 551-486-2761