Release
The Drew Barrymore Show: DREW GETS A CLOSE UP LOOK AT BEING A PIT CREW MEMBER AT THE FORMULA 1 LENOVO U.S. GRAND PRIX IN AUSTIN, TEXAS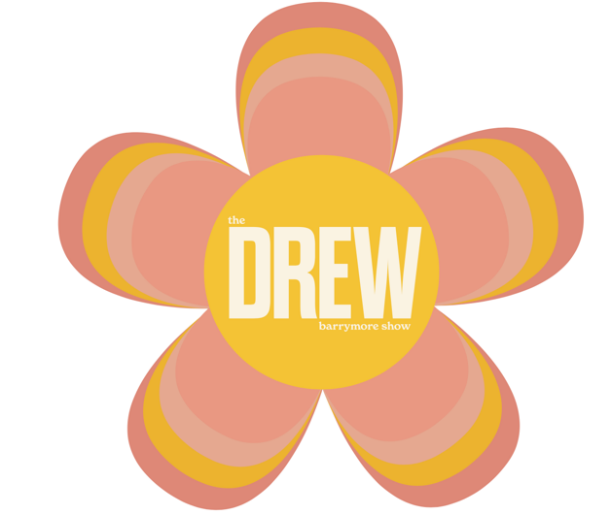 DREW GETS A CLOSE UP LOOK AT BEING A PIT CREW MEMBER AT THE FORMULA 1 LENOVO U.S. GRAND PRIX IN AUSTIN, TEXAS
AIR DATE: THURSDAY, NOVEMBER 16TH
MUST INCLUDE TUNE IN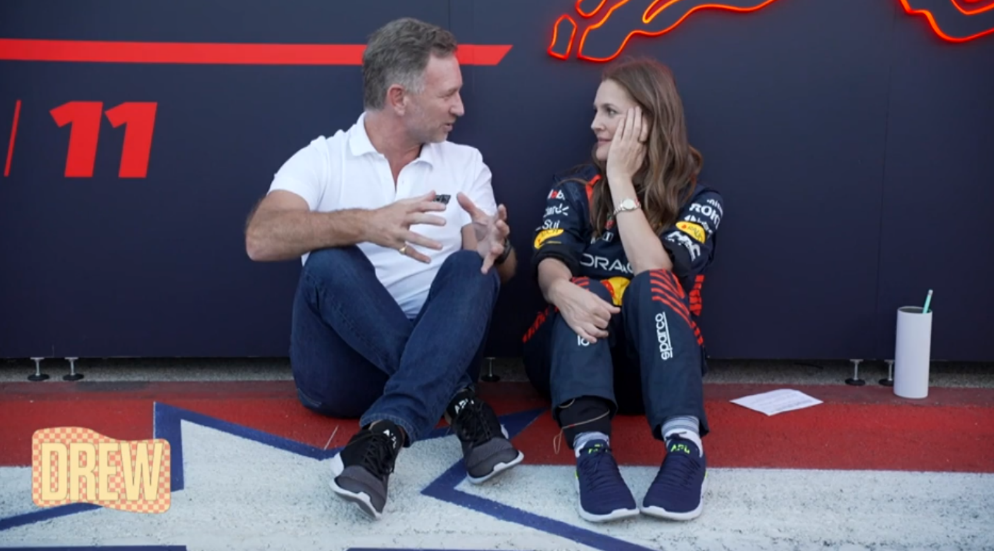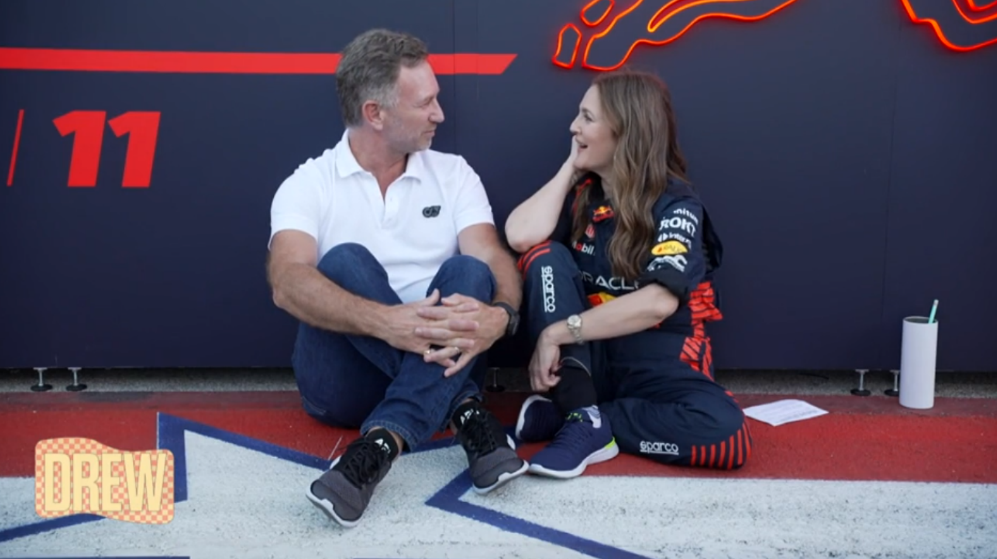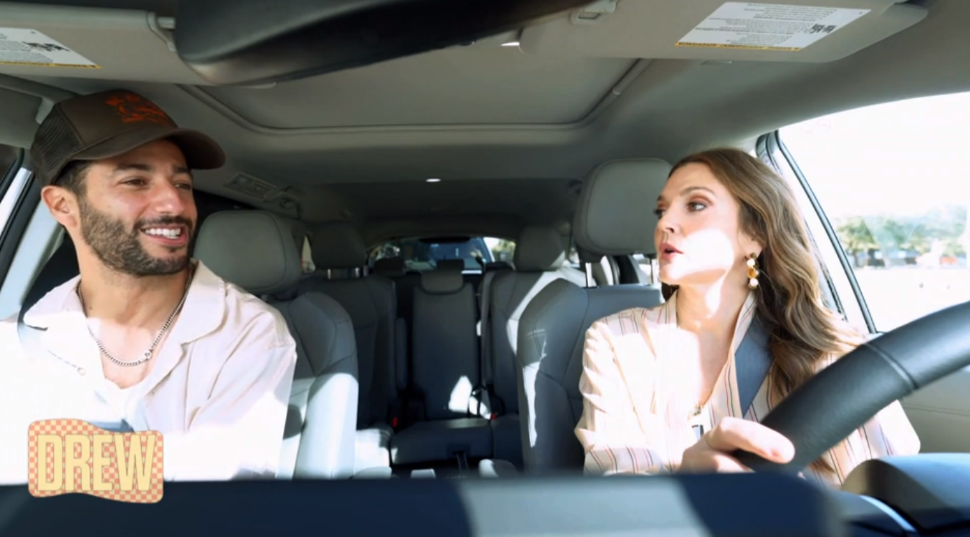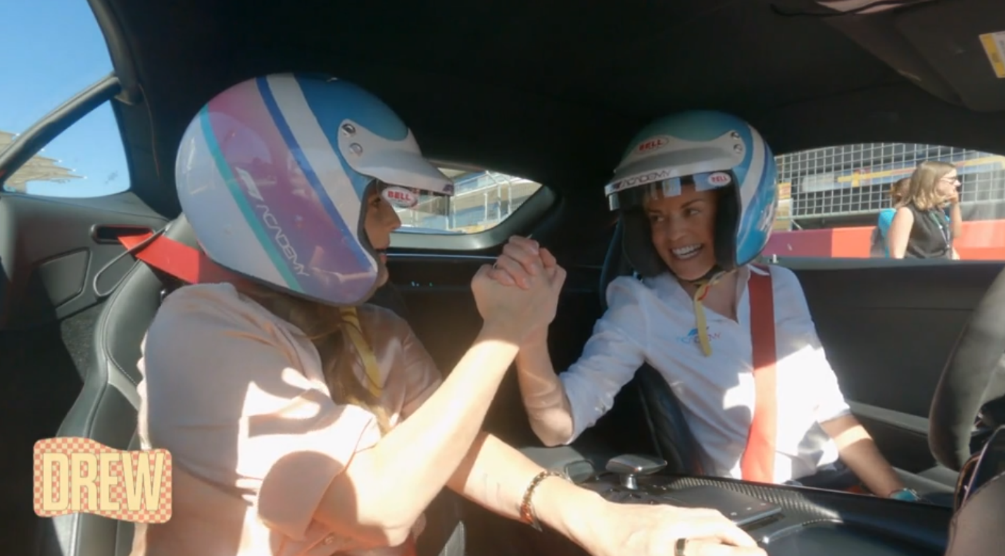 VIDEOS:
Christian Horner on Meeting His Wife Geri Halliwell Being Destiny and Knowing Early On He Wanted to Marry Her
https://app.cimediacloud.com/r/qfQ5IYotsyBT
Christian: My biggest success is my family.
Drew: Did you visualize meeting your beautiful wife?
Christian: When I was driving there was this band that was trending called 'The Spice Girls.' I had a sponsor and they made these cakes and they said, 'We've entered a licensing agreement with this girl band. If we sell the cakes with the 'Spice Girls' on then we'll be able to sponsor you with more money,' and so of course every young kid wanted a 'Spice Girls' birthday cake so indirectly she financed my career. It was destiny for us to meet and when we did meet she gave me a really hard time. She came to a race and we had two drivers…and when I met her she gave me a hard time she said, 'Why is it unfair that you guys support Sebastian so much more,' because he was doing all the winning…and I said, 'Have you ever thought the other guy is just better?'
Drew: How does she know about racing and what's best?
Christian: She likes it. She liked the sport, her dad was a car dealer so she liked cars, she liked speed and I liked her spirit. I liked that she was prepared to take me on and have a go.
Drew: So then what?
Christian: Then she walked off and I said, 'Look I always preferred baby spice'…that's the relationship that we have she'll take the mickey out of me, I'll take the mickey out of her. You've gotta be able to laugh. We laugh every day…what happened after that, our paths didn't cross and then we met again.
Drew: But you planted a seed.
Christian: We planted a seed and you know when you have a connection with someone, it was clear I had a connection with her and likewise I knew that was the girl I wanted to marry. I'd never thought about marriage before but I knew very early on that's the girl I want to marry.
Daniel Ricciardo Gets in the "Drewber" and Talks About Having a Similar Tattoo to Drew, Starting a Family and His Unique Celebration Drinking Out of a Shoe
https://app.cimediacloud.com/r/WLvJ5qrK1FCN
Drew:…I just wanted to show you this and see if you can tell whose is whose…look at the similarities of our tattoos…we do seek angels to look over us as we live a little bit of a dangerous life and I'm grateful they've watched over me the way they have. I got mine in Los Angeles. I was thirteen.
Daniel: You were thirteen years old? Please tell me that was your first tattoo.
Drew: No it wasn't.
Daniel:…You got a heavy foot. You really get after it behind the wheel don't you.
Drew: Am I making your nervous?
Daniel: A little.
Drew: Grace and Joe, they are your biggest fans. My daughter Olive is eleven, she told me in bed the other night she wants to start driving motorcycles. I'm asking for myself because my kids are going to start wanting to get into all sorts of fun things like riding motorcycles…but I'm scared as their mom.
Daniel: My mom still gets probably as nervous as she did twenty years ago. You learn to accept that it's what your kid loves doing more than anything else, and that will give you enough kind of happiness.
Drew: Is it true that when you had a crash recently that you had a split-second moment where you had to decide whether to hit him or the wall?
Daniel: Yeah. I immediately saw where he was on the track and I was like, 'Okay I'm either gonna go into him like a T-bone, which is not nice, or I can try and safely crash into the wall.'
Drew: Your split-second decision-making means there is care and concern for other human life first.
Daniel: It's from Joe and Grace. I grew up in a very caring affectionate household. Family time was very important.
Drew: What about you, do you want to have a family?
Daniel: Yeah I would like to. Why I hesitate with answering a little bit is my job travels so much that I want to be there, I don't want to miss things. I feel like if my life ever settles that would be a more appropriate time.
Drew: Red light confession.
Daniel:…What is the craziest thing you have ever done in a car? There's things that I don't want to say. You get up to mischief as a kid and you might throw things out windows…have you ever been naked in a car? Yeah.
Drew: Me too….why is this your tradition?
Daniel: I ask myself this question all the time…a bunch of my Aussie mates were doing it and I was like I need to do something in F1 to feel a little more relaxed. I just thought a shoeie would just lighten the mood.
Susie Wolff Takes Drew For A Lap Around The Track
https://app.cimediacloud.com/r/loaTK8HJAsAJ
Drew:...I've never felt better in my life.
Susie: That's great news.
Drew:..I thought I drove fast until I got in your car. I feel like I've never been more alive.
Susie: The adrenaline. That's what I love too.