Release
The Drew Barrymore Show: "INK MASTER" HOST JOEL MADDEN AND DREW GET TATTOOS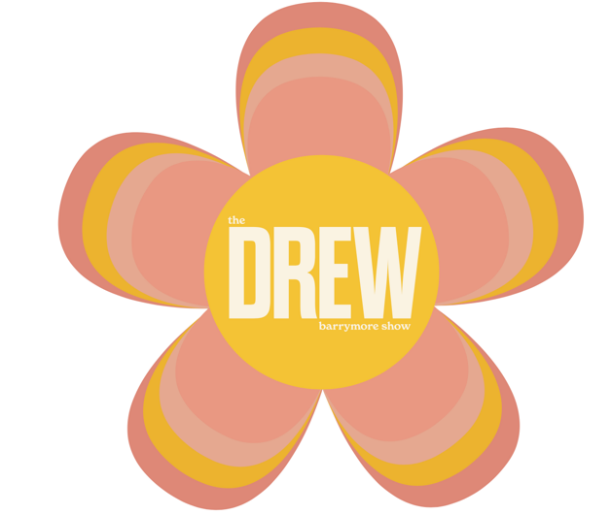 "INK MASTER" HOST JOEL MADDEN AND DREW GET TATTOOS
AIR DATE: WEDNESDAY, NOVEMBER 15TH
MUST INCLUDE TUNE IN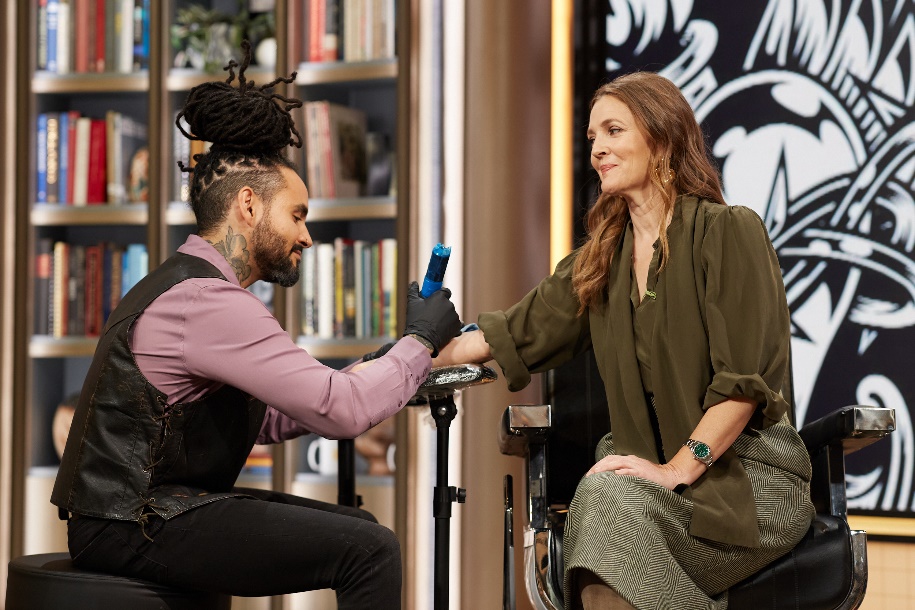 .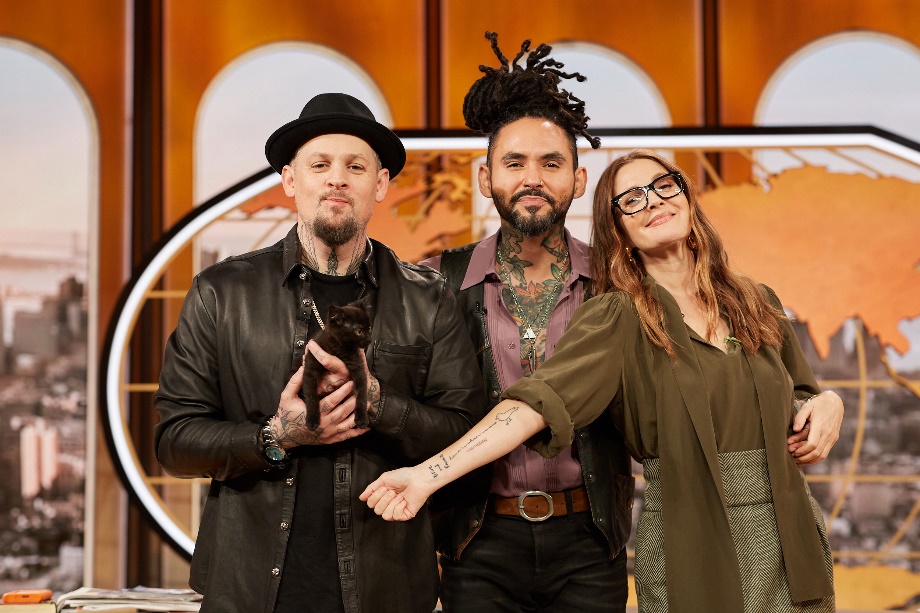 Photo Credit: The Drew Barrymore Show/Ash Bean
Download Photos Here
VIDEOS:
Drew & Joel Madden Get New Tattoos Together
https://app.cimediacloud.com/r/FRXdF8GdV4To
Drew: I'm in the middle of getting a tattoo and I'd like to bring someone out here…I'm so excited to do this with you today.
Joel:…I'm impressed because I've been watching and you haven't made a face…and I love 'I am human.' Of course, we all talk bad to ourselves. We're the meanest to ourselves. If someone talked to our ourselves the way we talk to ourselves we'd kick them out of the room.
Joel on His Wife Nicole Richie & Her Group of Friends
https://app.cimediacloud.com/r/RxbQ5BxOJCn8
Drew: Your wife Nicole, who is the most extraordinary woman, I got to know her through Cameron and I was like, 'Oh this is the coolest woman ever.'
Joel: She's cool.
Drew: I mean really, why is she so cool Joel?
Joel: I think Nicole is a real the more you know her, the more you love her. It takes time to get to know her but she's just classy…
Drew: Lionel comes on this show he gives me some grief about how all of us made him almost lose his hair growing up, all of us girls being girls who had to figure their way out but I'm like, 'Aren't you proud now? We all turned out good.'
Joel: You all turned out better than good. I have a lot of respect for women who have had to work in a really tough industry for women to work in. All of you are just really powerful, strong, amazing women, and I think we're better men because we're around all of you.
Joel on His Kids and His Family Growing with Brother Benji Marrying Cameron Diaz
https://app.cimediacloud.com/r/dC0zkICnMvmO
Joel: I've watched Nicole navigate, we've been together for seventeen years now. Don't ask me how.
Drew: Actually I want to ask you how. How do you, I've been around you, you have two beautiful children, you have a beautiful life together.
Joel: We got lucky with our kids. They're easy. I tell my kids, 'You make it so easy to be a dad.' They're just good kids. They're great and I think they're like their mom. We don't pretend to be perfect either, I think we're all human. I was lucky to have my brother and then to meet Cam. They have a beautiful relationship and to have this growing family of good people that also are imperfect and not trying to present like we have it all figured out.
Drew: But we work on ourselves and you guys work on yourselves.
Joel: Therapy.
Joel Gets a Hand Tattoo with His Dogs' Names
https://app.cimediacloud.com/r/R3OBKngjyWUo
Drew: What tattoo are you getting right now?
Joel: On this hand I'm getting Roki and Xavi which are our dogs…it's very special and dogs are healers…
"Ink Master" Contestant Jon Mesa on Giving Pete Davidson and Miley Cyrus Tattoos Backstage at SNL
https://app.cimediacloud.com/r/zDgVgCaw6TFt
Drew: Is it true that you tattooed someone that we're all obsessed with…?
Jon: Yes, crazy story. I tattooed Pete Davidson, Miley Cyrus, Chris Redd, all backstage in Pete's dressing room.
Drew: What was that vibe like?
Jon: The vibe was so chill. I could hear Miley performing and then after she came in in like full outfit like, 'Yeah tattoo me on my leg.'
Joel Reveals He Would Tour Again with Good Charlotte
https://app.cimediacloud.com/r/CDXg9oIBdoK8
Drew: Do you think that you would go on tour with Good Charlotte again?
Joel: Yes.
Drew: That makes me so happy…there's our tattoos right there.
Ross Surprises Drew with a Reel of Her Burping
https://app.cimediacloud.com/r/CFf6oeuxqQ2H