Release
The Drew Barrymore Show: DREW ANNOUNCES SHE'S HOSTING MTV MOVIE & TV AWARDS "UNPRISONED" STAR KERRY WASHINGTON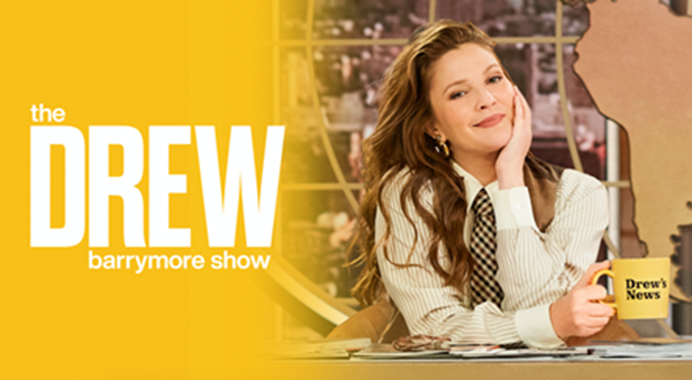 The Fastest-Growing Show in Daytime!
DREW ANNOUNCES SHE'S HOSTING MTV MOVIE & TV AWARDS
"UNPRISONED" STAR KERRY WASHINGTON
MUST INCLUDE TUNE IN
Air Date: Wednesday, March 15th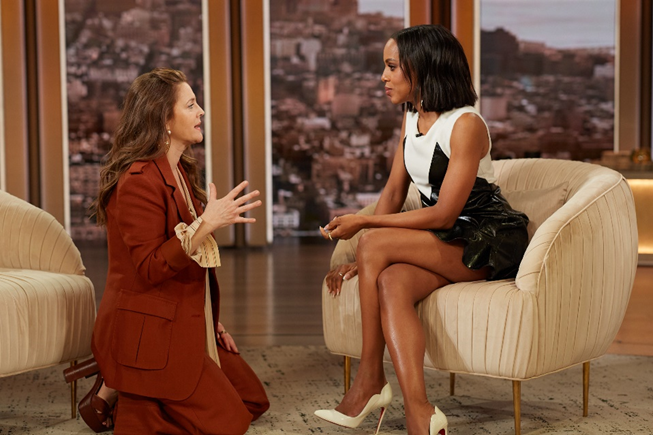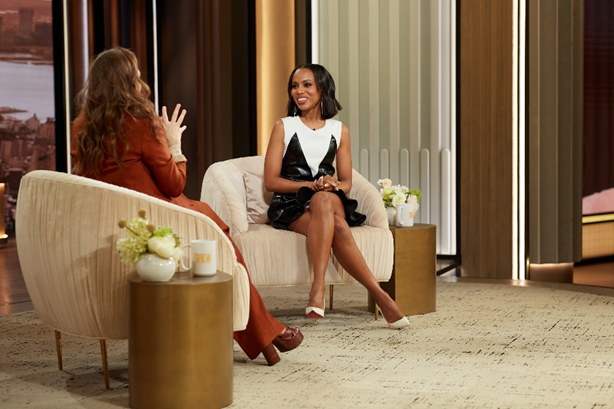 Photo Credit: The Drew Barrymore Show/Ash Bean
Download PhotosHere
VIDEOS:Drew Announces She's Hosting the MTV Movie & TV Awards
https://app.cimediacloud.com/r/hZ3IMTCB3JHC
https://www.instagram.com/reel/CpzwyyOgKD6/?igshid=YmMyMTA2M2Y%3D
https://twitter.com/drewbarrymoretv/status/1635974136248803328?s=46&t=s5a2xqiqWprLwCoYAeR2jw
Kerry Washington on Wearing Iconic Whitney Houston Dress
https://app.cimediacloud.com/r/DH1ELtUOsGFH
Drew:LawRoach, your extraordinary image architect, he worked with Zendaya, he works with you. You guys decided to put on that iconic Whitney Houston dress.
Kerry:All his idea truly. I was getting this award for excellence in the arts but it was from a black organization and I thought, 'If we're talking about a black excellence tonight then that's the moment to pull out the Whitney Houston dress.'
Kerry on Being A Substitute Teacher While Auditioning for Roles
https://app.cimediacloud.com/r/EmTTlPRy2rME
Drew:You were a substitute teacher?
Kerry:I was.
Drew:What was that like?
Kerry:It was crazy. So, I love teaching. It's in my blood, my mother was a teacher, and it was a great job to have when I was auditioning because if they needed teachers they would call me in the morning and say, 'Can you come in for the day,' if I had an audition I'd say no but most of the time as an actor you're just waiting for auditions so a lot of times I would go and substitute teach and I loved it so much that I actually had to instate a rule where I wouldn't go to the same school more than three days in a row because I would just fall in love with the kids and I would lose sight of my dreams. I would be like, 'I don't need to act, I can just devote my life to these kids,' and I'd wanna adopt them and take them home. So I would only be in a school for three days and then I would have to switch schools. And then after I did 'Save the Last Dance' I didn't make enough money on that movie to survive, I went back to teaching and I got in trouble because I was substitute teaching high school and the kids cut class to see Chenille from 'Save the Last Dance' so the principal called me and was like, 'You can only do elementary schools, you cannot do high schools anymore, ' because these kids all want to meet Chenille…they were also like, 'How is she teaching high school, isn't she in high school?'
Kerry Washington Plays Behind The Scenes and Dishes on "Save the Last Dance," "Ray" and More
https://app.cimediacloud.com/r/xYCWd8mNaNbH
Drew:…'Save the Last Dance.'
Kerry:So I learned something so amazing from Julia Stiles…one day it was really really cold, we were shooting in Chicago in the winter. So cold, and we have on these really cute outfits, but they weren't very warm they were just very cute and the director was like, 'One more time,'…and finally Julia said 'I'll do it as many times as you want when you take off your coat and so he took off his coat and then we did it one more time and that was it. So good.
Drew:…Alright 'Ray.'
Kerry:I just have to say people will often compliment me on the number one that I am. When you go to work there's a call sheet and a lead character is the number one on the call sheet and you find that however the number one acts, everybody else kind of takes their cues for how to be on set and when people say that I'm a good number one, if that's true, I always say I owe it all to Jamie because he is the best number one on a call sheet ever.
Drew:… 'Mr.and Mrs. Smith.'
Kerry:The thing I love the most is that I learned to rock climb for that film because there's a scene where she and I are climbing the rocks…and so we took rock climbing together. And we actually shot it on this giant Styrofoam plastic wall that looked like rocks in like a parking lot of an Ikea.
Drew:…'Django Unchained.'
Kerry:I will say there is a scene, people often ask me if it's true and it is true, there's a scene where Leonardo DiCaprio actually smashed glass and had a bloody hand and finished the scene with a bloody hand, and so in the scene he goes to touch my face later, and Quentin wasn't sure if he wanted to use the take with the blood or not so every moment after that moment in the movie we shot twice, we would shoot completely bloody with him touching my face with fake blood and then we had to take everything off and shoot it again totally clean…