Release
The Drew Barrymore Show: DREW CELEBRATES THE 40TH ANNIVERSARY OF "E.T." BY REUNITING WITH FORMER CO-STARS HENRY THOMAS, DEE WALLACE AND ROBERT MACNAUGHTON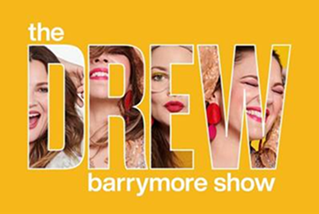 DREW CELEBRATES THE 40TH ANNIVERSARY OF "E.T." BY REUNITING WITH FORMER CO-STARS HENRY THOMAS, DEE WALLACE AND ROBERT MACNAUGHTON
MUST INCLUDE TUNE IN
Air Date: Monday, October 31st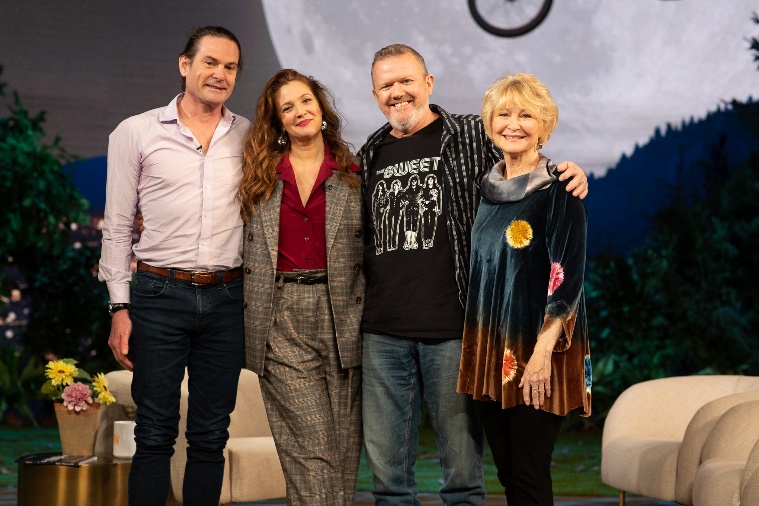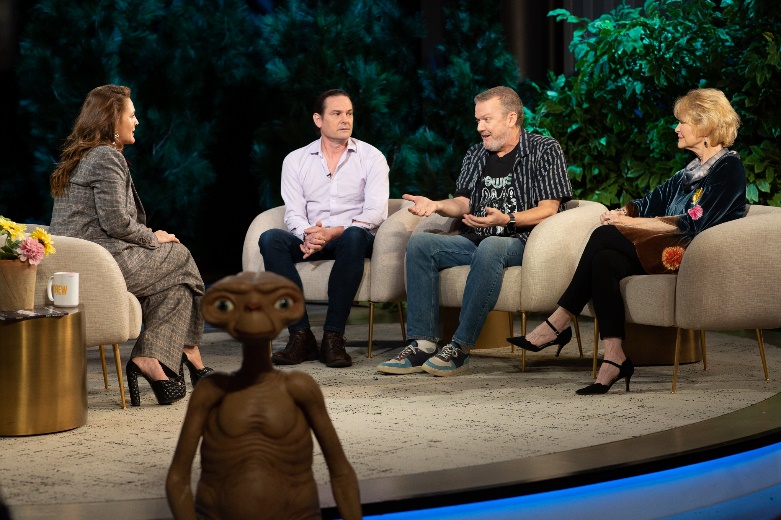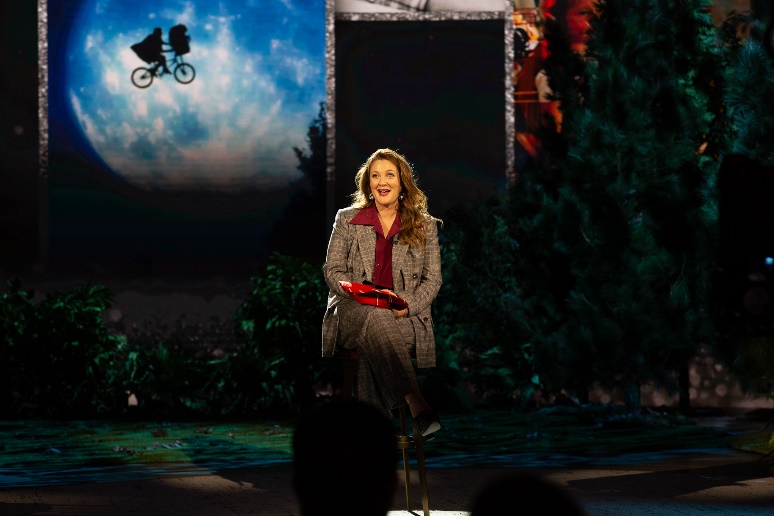 Photo Credit: The Drew Barrymore Show/Ash Bean
Download Photos Here
VIDEOS:
Drew Reflects on What "E.T." Means To Her
https://workspace.cimediacloud.com/r/Ba80W35BsbKV
Drew: Steven Spielberg, he cast me as Gertie when I was just five years old, and that changed my life. He gave me a purpose and a clear understanding of love and respect. He gave me a family that changed my perception on family forever. The cast, Robert and Henry and Dee, I truly became a family with them. We were very protective, very nurturing. Steven was our patriarch for sure, I considered him like a father. I didn't have one growing up and he still feels like that to me to this day and I always carry the message of this film. I think it is so much a part of who I am and why I am this way, because this movie is about how we should always fight for the things we love, and just because something or someone is different, unfamiliar, we shouldn't be afraid to protect that, we shouldn't turn our backs on that, we should embrace our differences and learn from each other.
Dee Wallace Thought "E.T." Was A Career Ender
https://workspace.cimediacloud.com/r/MfiIiTF44Mxa
Drew: Is it true Dee that when you did this you thought your career was over? What is that rumor?
Dee: Well, it's because the first time I saw it was at Universal with all the producers and executives and I was sitting at the back and nobody reacted to anything, and I ran home and I said to my husband, 'Oh Christopher, I think my career is over,' and he took my hand and he said, 'Come on. We're going to go see it with an audience,' and people were screaming and crying and standing up and yelling and he turned around to me and said, 'What do you think now sweetheart?'
Drew and the Cast on Attending the Royal Screening with Charles & Diana
https://workspace.cimediacloud.com/r/xEM7666E5Cye
Drew: And then he went to the screening, the royal screening, and we met Princess Diana.
Dee: You guys did.
Drew: Dee, there's a reason you were not at the royal premiere.
Dee: One of the greatest disappointments of my life.
Drew: And yet, what were you doing?
Dee: I was shooting 'Cujo.'
Drew: 'Cujo' is a classic and if you had to miss the royal premiere for anything I'm glad you put 'Cujo' into the world.
Drew:…Who is now King Charles.
Robert: He was very gracious and he said, 'He laughed so much I cried,' to me and I was like, 'That's good.'
Drew: I remember going to dinner with him for 'Charlie's Angels' and his laugh sounded like this…
Drew Thought Her Daughter Olive Looked Like E.T. When She Was Born
https://workspace.cimediacloud.com/r/0ZyDRHSVtzPz
Drew: First of all, Olive when she was born looked identical to E.T. I kept sending pictures to Steven. I was tripping out. I was like, 'I have given birth to E.T.' and the older she grew and the bigger, the eyes went wider apart. I would send him pictures like, 'Do you see? I gave birth to E.T.'
Drew Set Robert and His Wife Up on a Blind Date
https://workspace.cimediacloud.com/r/lfkxRoIJBBKw
Drew: There's a romantic angle to where you are at now.
Robert: Well, I was set up on a blind date by you in the eighties, and then I took her to see 'E.T.' and we went, I lived in California, she lived in Manhattan and we didn't see each other, and we reconnected on Facebook in 2010, my wonderful wife Bianca Hunter, she's in the audience.
Drew Tried to Make Everyone Her Boyfriend for the Day on the Set of "E.T."
https://workspace.cimediacloud.com/r/q11twzVdHEPh
Drew: Didn't I want to make everybody my boyfriend?
Henry: Yeah. For one day.
Robert: One day it was Tommy Howell, and then the next day it would be Henry, and then me one day, Casey, Sean.
Henry: The funny thing was though, we all kind of took it seriously, you know we were like, 'Oh Drew's eating lunch with Tommy today. Guess I'm out.'