Release
'JEOPARDY!' SUPER-CHAMP AMY SCHNEIDER BREAKS $1 MILLION IN WINNINGS WITH 28th VICTORY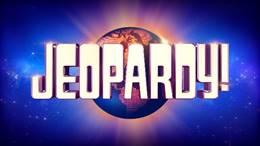 'JEOPARDY!' SUPER-CHAMP AMY SCHNEIDER
BREAKS $1 MILLION IN WINNINGS WITH 28th VICTORY
Schneider's $42,200 Win Brings Total Prize Money To $1,019,600
CULVER CITY, CALIF. (January 7, 2022) – On today's episode of JEOPARDY!, Amy Schneider, an engineering manager from Oakland, Calif., became the fourth person in the show's history to earn more than $1 million in non-tournament play. Schneider's $42,200 score in her 28th victory brought her total winnings to $1,019,001.
"It feels amazing, it feels strange," Schneider said of reaching this milestone. "It's not a sum of money I ever anticipated would be associated with my name."
The only other contestants to win more than $1 million in regular season games are Ken Jennings, whose 74-game streak yielded $2,520,700; James Holzhauer, who earned $2,462,216 over the course of 32 victories; and Matt Amodio, who won $1,518,601 during his 38-game streak last year.
Tune in Monday to watch Schneider's next game. Check local listings for show times and stations.
JEOPARDY!, America's Favorite Quiz Show™, is in its 38th season in syndication. With a weekly audience over 20 million viewers,* JEOPARDY! is the top-rated quiz show on television. The show has won a total of 42 Emmy® Awards, holds the Guinness World Records® title for the most Emmy® Awards won by a TV game show, and received a Peabody Award for "celebrating and rewarding knowledge." JEOPARDY! is produced by Sony Pictures Television, a Sony Pictures Entertainment Company; it is distributed domestically by CBS Media Ventures and internationally by ViacomCBS Global Distribution Group, both units of ViacomCBS. For more information, please visit Jeopardy.com. Follow JEOPARDY!: Jeopardy.com | Facebook | Twitter | YouTube | Instagram
* Source: Nielsen NPower, 2020/21 (9/14/20-7/4/21)
# # #
Press Contacts:
Alison Shapiro Cooke
Director of Communications | JEOPARDY!
(310) 244-6514
Susie Eun
Senior Publicity Manager | JEOPARDY!
(310) 244-6517