Release
"ENTERTAINMENT TONIGHT"'S KEVIN FRAZIER AND NISCHELLE TURNER TO HOST THE "49TH ANNUAL DAYTIME EMMY® AWARDS," FRIDAY, JUNE 24 ON CBS
"ENTERTAINMENT TONIGHT"'S KEVIN FRAZIER AND NISCHELLE TURNER TO HOST THE "49TH ANNUAL DAYTIME EMMY® AWARDS,"
FRIDAY, JUNE 24 ON CBS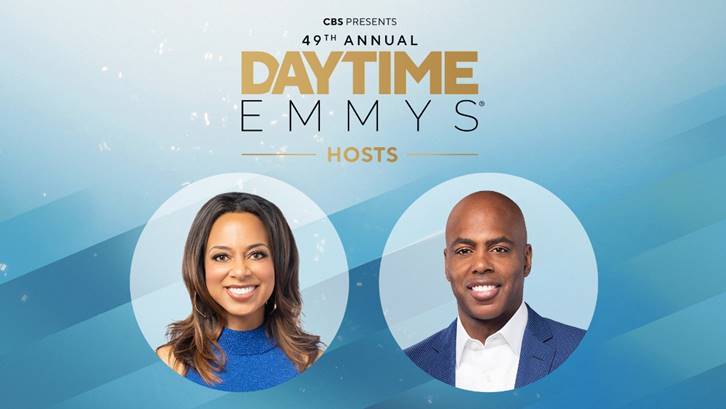 Kevin Frazier and Nischelle Turner (ENTERTAINMENT TONIGHT) announced to host the CBS presentation of the 49th ANNUAL DAYTIME EMMY® AWARDS, to be broadcast LIVE Friday, June 24 (9:00-11:00 PM, live ET/delayed PT) on the CBS Television Network, and available to stream live and on demand on Paramount+*. This will be Frazier and Turner's first time hosting the awards ceremony and marks the 16th time CBS has broadcast the Daytime Emmy Awards, more than any other network. The last time they aired on the Network was 2021.
As hosts of the six-time Daytime Emmy Award-winning show ENTERTAINMENT TONIGHT, Kevin Frazier and Nischelle Turner have established themselves as accomplished journalists covering the stories that most impact the entertainment industry. Frazier is a multi-faceted journalist, producer and entrepreneur who has interviewed Hollywood's biggest stars and traveled the world covering exclusive stories. Turner, who also hosts SERCRET CELEBRITY RENOVATION on the Network, is an award-winning journalist, a regular contributor for CNN and made television history in 2021 when she became the first Black woman to host ENTERTAINMENT TONIGHT in the show's 41-year history. Together, Frazier and Turner are the first Black duo to host an entertainment news show.
The Daytime Emmy Awards have recognized outstanding achievement in television programming and crafts since 1974, honoring work in a variety of categories, including daytime dramas, talk shows, instructional programming, hosting and legal/courtroom programs. In 2021, the National Academy of Television Arts & Sciences (NATAS) and the Television Academy jointly announced plans to realign the Daytime and Primetime Emmy Awards to be organized by content genre, as opposed to program airtime. In addition, in recognition of the marked increase in content and entries for children's programming, 2022 will mark the first annual Children's & Family Emmy Awards, with relevant categories separating from the Daytime Emmys into their own competition and ceremony.
A full list of nominees for the awards can be found here.
In addition, the Creative Arts and Lifestyle Emmy ceremony will stream Saturday, June 18, (LIVE online, 9:00 PM, ET/6:00 PM, PT) at watch.TheEmmys.tv and via The Emmys apps for iOS, tvOS, Android, FireTV and Roku (full list at apps.theemmys.tv).
The 49TH ANNUAL DAYTIME EMMY AWARDS is produced by NATAS and Associated Television International (ATI), which produced Daytime Emmy Award ceremonies on The CW in 2009 and on CBS in 2010, 2011, 2020 and 2021. Adam Sharp and Steve Ulrich are executive producers from NATAS, while David McKenzie is executive producer from ATI.
About NATAS
The National Academy of Television Arts & Sciences (NATAS) is a service organization dedicated to the advancement of the arts and sciences of television and the promotion of creative leadership for artistic, educational, and technical achievements within the television industry. It recognizes excellence in television with the coveted Emmy Awards for News & Documentary, Sports, Daytime, and Children's & Family programming, as well as achievements in television Technology & Engineering.
NATAS membership consists of more than 18,000 broadcast and media professionals represented in 19 regional chapters across the country. Beyond awards, NATAS has extensive educational programs including regional student television and its Student Award for Excellence and the National Student Production Awards for outstanding journalistic work by high school students, as well as scholarships, publications, and major activities for both industry professionals and the viewing public.
*Paramount+ Premium subscribers will have access to stream live via the live feed of their local CBS affiliate on the service as well as on demand. Essential-tier subscribers will have access to on-demand the day after the special airs.
CBS Twitter: https://twitter.com/cbs?s=21
CBS PR Twitter: https://twitter.com/CBSTweet
NATAS Twitter: https://twitter.com/DaytimeEmmys
On the web: https://www.cbs.com/shows/daytime/
***
John Rizzotti
VP, Communications
Cell: 323-819-6999