Release
MATTEL'S 'PICTIONARY' GAME SHOW CLEARED IN 90% OF THE COUNTRY; The Jerry O'Connell-Hosted Strip Will Debut in National Syndication in Fall 2022
MATTEL'S 'PICTIONARY' GAME SHOW CLEARED IN 90% OF THE COUNTRY
The Jerry O'Connell-Hosted Strip Will Debut in National Syndication in Fall 2022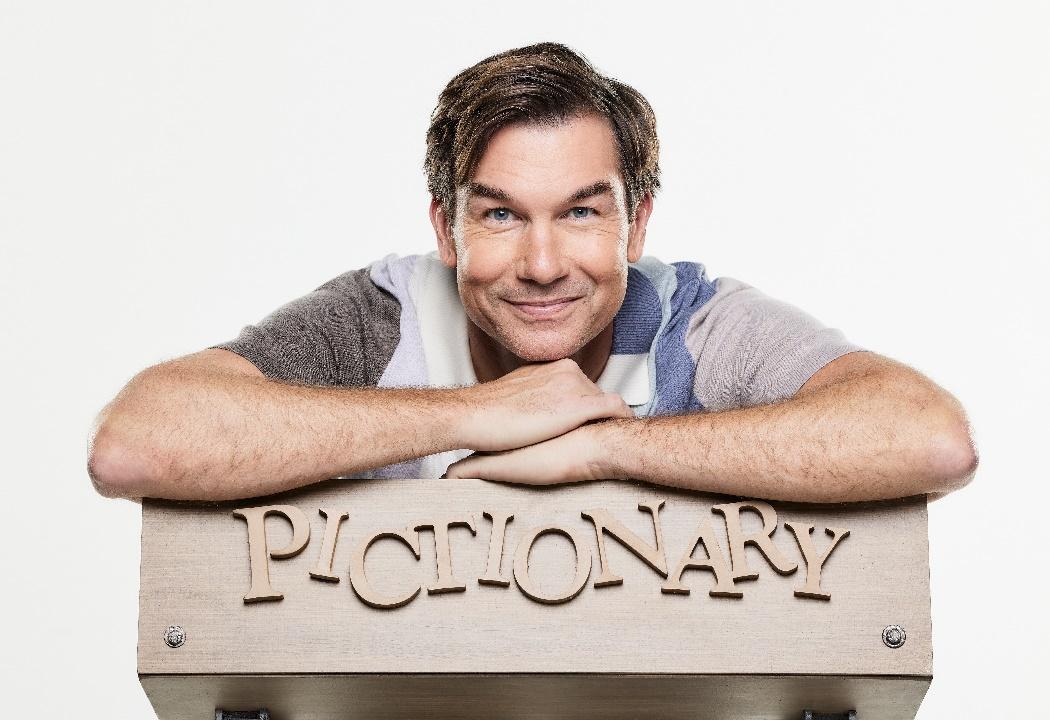 Photo Credit: Kevin Lynch
LOS ANGELES – May 2, 2022 – "Pictionary," the first-run syndicated game show based on the Mattel game of the same name, is now cleared in 90% of the country, locking in a Fall 2022 national launch.
Stations from CBS Stations, Sinclair, Nexstar, Tegna and Gray are the most recent to sign on to broadcast the Jerry O'Connell-hosted strip, which had previously been cleared by FOX Television Stations across all of the FOX-owned stations, including WNYW FOX 5 in New York and KTTV FOX 11 in Los Angeles.
The half-hour show is produced by FOX First Run along with Bill's Market and Television Production and distributed by CBS Media Ventures (CMV).
"Game shows have been a consistent performer for stations, so they really embraced the opportunity to add a well-known brand like 'Pictionary' to their lineups," said Jonathan Bingaman, EVP of Sales for CMV. "We're excited to launch this franchise nationally this fall."
" 'Pictionary' is the capstone to a powerful game show block on our affiliate stations," said Stephen Brown, EVP of Programming and Development, FOX Television Stations and FOX First Run. "It's family friendly, fun, and driven by the energetic and hysterical Jerry O'Connell. We think audiences will love the hours of play we have in store for them."
"We vacuumed, fluffed the pillows and shined the floor of our 'Pictionary' living room-set, in preparation for our full season order," said host O'Connell. "Now that we're expanding our coverage throughout the country, we can't wait for everyone to see what we're drawing up."
"Pictionary" is based on the game of quick sketches and hilarious guesses from Mattel. The broadcast version of the game will follow the rules of at-home play. Two teams of three will consist of two players led by a celebrity captain. One player from the team will draw images that depict a word or phrase found on a card chosen at random, in an effort to have their fellow teammates guess the correct word or phrase on the card. The grand prize winner will receive a trip to an exotic destination.
The program will be executive produced by David Hurwitz and Noah Bonnett. Fred Soulie, SVP & GM of Mattel Television, and Phil Breman, VP Live-Action, serve as Co-Executive Producers for Mattel.
Launched in 1985, Pictionary quickly grew to become the ultimate party game for kids and adults alike. Mattel reinvented the classic game with a digital component in 2019 with Pictionary Air which won Toy of the Year in the Games category. Pictionary is available in more than 30 languages in almost 40 countries.
Trademarks and copyrights in and to Pictionary® are owned by Pictionary Incorporated, a subsidiary of Mattel, Inc.
About CBS Media Ventures
CBS Media Ventures is the preeminent company in television syndication. CMV produces or distributes popular, critically acclaimed hits including "Dr. Phil," "Judge Judy," "Entertainment Tonight," "Wheel of Fortune," "Jeopardy!," "Inside Edition," "Rachael Ray" and "The Drew Barrymore Show." The division also handles national barter advertising sales for Debmar-Mercury's and Fox's first-run syndicated programming, and operates Dabl, a multiplatform, advertiser-supported lifestyle network (www.dabl.com). CMV is part of CBS Entertainment Group and a division of Paramount.
About FOX First Run
Fox First Run is the distributor of "Dish Nation," "Divorce Court," "25 Words or Less," "You Bet Your Life," "TMZ," and "TMZ Live."
About Mattel
Mattel is a leading global toy company and owner of one of the strongest catalogs of children's and family entertainment franchises in the world. We create innovative products and experiences that inspire, entertain, and develop children through play. We engage consumers through our portfolio of iconic brands, including Barbie®, Hot Wheels®, Fisher-Price®, American Girl®, Thomas & Friends®, UNO®, Masters of the Universe®, Monster High® and MEGA®, as well as other popular intellectual properties that we own or license in partnership with global entertainment companies. Our offerings include film and television content, gaming, music, and live events. We operate in 35 locations and our products are available in more than 150 countries in collaboration with the world's leading retail and ecommerce companies. Since its founding in 1945, Mattel is proud to be a trusted partner in empowering children to explore the wonder of childhood and reach their full potential. Visit us online at mattel.com.
About Bill's Market & Television Production
Bill's Market & Television Production is an independent production company focusing on live, scripted and non-scripted entertainment. The company is helmed by Gelila and David Hurwitz who has executive produced a wide range of series from Fear Factor and Ellen's Game of Games to You Bet Your Life with Jay Leno.
About FOX Television Stations
FOX Television Stations owns and operates 29 full power broadcast television stations in the U.S. These include stations located in nine of the top ten largest designated market areas (DMAs), and duopolies in 11 DMAs, including the three largest DMAs (New York, Los Angeles and Chicago). Of these stations, 17 are affiliated with the FOX Network. In addition to distributing sports, entertainment and syndicated content, our television stations collectively produces more than 1,000 hours of local news every week. These stations leverage viewer, distributor and advertiser demand for the FOX Network's national content.
###
Press Contacts:
Leslie Ryan, CBS Media Ventures

310-264-3406
Victoria Gurrieri, FOX 212-301-3419 Victoria.Gurrieri@Fox.com