Release
THE CIRCUS ON THE HISTORIC OUSTING OF THE HOUSE SPEAKER
THE CIRCUS ON THE HISTORIC
OUSTING OF THE HOUSE SPEAKER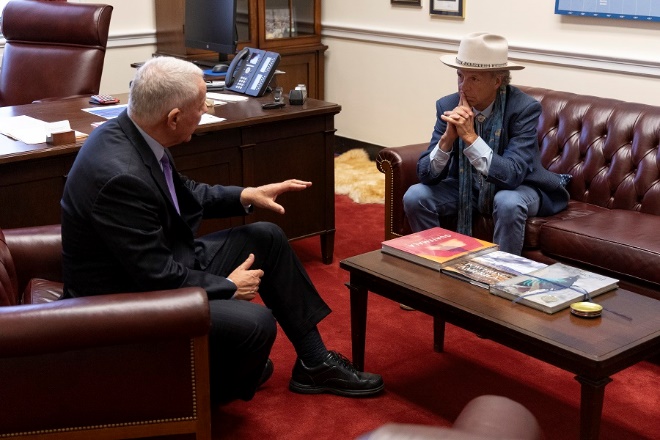 Mark McKinnon interviews state Rep. Ken Buck in Washington, D.C., on October 4, 2023, in The Circus, episode 07, season 8, streaming on Paramount+ with SHOWTIME.
Photo Credit: Paul Morigi/Paramount+ with SHOWTIME.
October 6, 2023 – The four-time Emmy® nominated docuseries THE CIRCUS: INSIDE THE GREATEST POLITICAL SHOW ON EARTH kicks off the second half of its eighth season with the historic vote to oust House Speaker Kevin McCarthy, a revolt instigated by members of his own party. THE CIRCUS returns this Sunday, October 8 at 7 p.m. ET/PT on SHOWTIME® and on streaming and on demand for all SHOWTIME and Paramount+ subscribers with the Paramount+ with SHOWTIME plan.
Hosts John Heilemann, Mark McKinnon, and Jennifer Palmieri are on Capitol Hill capturing the inside story of the takedown of the speaker of the House, a first in American history. The program also heads out on the campaign trail in Iowa and to New York City, where former president and current GOP front-runner Donald Trump created a courthouse spectacle while attending the civil fraud trial of his company.
For a preview, click HERE.
Episode includes:
Republican Representative Tim Burchett on why he decided to vote out Speaker McCarthy.
Former Trump lawyer and fixer Michael Cohen on the civil fraud case against The Trump Organization and what a second Trump administration would mean for the nation.
In Iowa, The Circus catches up with presidential candidate Vivek Ramaswamy as he reacts to the seismic news out of Washington and infighting within his party.
Historian Michael Beschloss on a week of firsts in American political history.
THE CIRCUS is produced by Left/Right for SHOWTIME. John Heilemann, Mark McKinnon, Jennifer Palmieri, Banks Tarver, Ken Druckerman, Tom Johnson and Divya Chungi serve as executive producers. To learn more about THE CIRCUS, go to: SHO.com, follow on Twitter, Facebook, and Instagram, and join the conversation using #TheCircus.
###
CONTACTS:
Cassidy Aquino
Lindsay Drewel
202-627-8100
Molly Mulrain
610-202-6782