Release
SHOWTIME RELEASES TRAILER FOR THRILLER 40
SHOWTIME® RELEASES TRAILER FOR THRILLER 40
Documentary Feature on the Making of the Best-Selling Album of All Time Worldwide to Premiere on Paramount+ with Showtime on Saturday, December 2
THRILLER 40 to Also Debut Internationally on Paramount+ and on MTV
On Saturday, December 2
Official Trailer and Key Art Released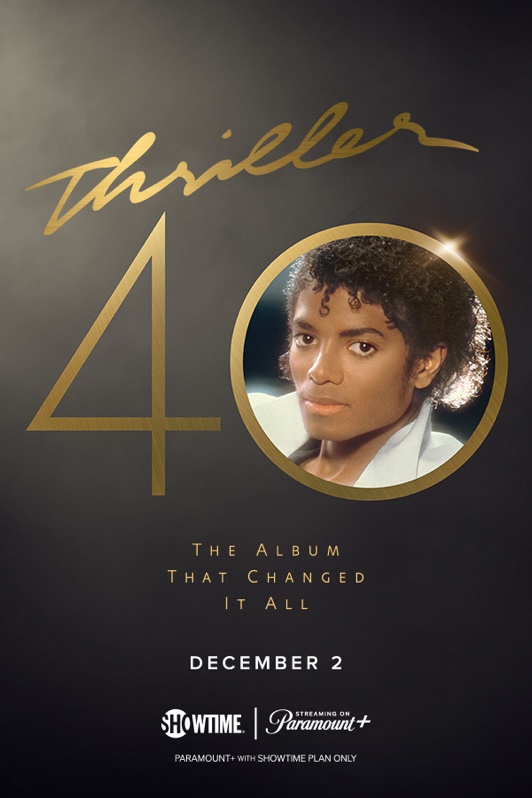 View Trailer Here
Download Key ArtHere
LOS ANGELES – October 27, 2023 – SHOWTIME today announced that the new documentary feature THRILLER 40 will make its debut on streaming and on demand for Paramount+ subscribers with the Paramount+ with SHOWTIME plan on Saturday, December 2, and premiere that day at 8 p.m. ET/PT on SHOWTIME. The feature will also make its international debut on December 2 on Paramount+ in the UK, Australia, Canada, Italy, France, Germany, Switzerland, Austria, Latin America and South Korea and on MTV internationally, excluding China and Japan.
Forty years after the release of Michael Jackson's "Thriller" – the best-selling album of all time worldwide – Director Nelson George takes fans back in time to experience the making of the record-breaking album and the release of the accompanying short films that forever redefined the music video format. Featuring never-before-seen footage and exclusive interviews, THRILLER 40 chronicles the creation of a pre-internet global phenomenon unlike anything before it or since. "Thriller" launched Michael Jackson into mega-stardom and to this day continues to influence all aspects of culture and entertainment, including the worlds of music, dance and fashion. Music and entertainment luminaries including Usher, Mary J. Blige, Will.I.Am, Mark Ronson, Misty Copeland, Maxwell and John Landis are featured in the documentary.
THRILLER 40 is produced by Optimum Productions and Company Name. Colin Hanks, Sean Stuart, John Branca and John McClain serve as producers.
About Paramount+
Paramount+, a direct-to-consumer digital subscription video on-demand and live streaming service, combines live sports, breaking news and A Mountain of Entertainment™. The streaming service features an expansive library of original series, hit shows and popular movies across every genre from world-renowned brands and production studios, including BET, CBS, Comedy Central, MTV, Nickelodeon, Paramount Pictures and the Smithsonian Channel. Paramount+ with SHOWTIME®, the service's cornerstone plan, is also home to SHOWTIME® content including scripted hits, critically acclaimed nonfiction projects, SHOWTIME SPORTS® (including industry-leading SHOWTIME Boxing®) and films. This premium plan includes unmatched events and sports programming through the local live CBS stream, including golf to basketball and more. All Paramount+ subscribers have streaming access to CBS News Network for 24/7 news and CBS Sports HQ for sports news and analysis.
For more information about Paramount+, please visit www.paramountplus.com and follow @ParamountPlus on social platform.
# # #
SHOWTIME Press Contact:
Lauren Kleiman, lauren.kleiman@showtime.com
Paramount+ International Press Contact:
Harriet Scott: harriet.scott@paramount.com
MTV Entertainment Studios Press Contact:
Lauren Woulard: lauren.woulard@paramount.com