Release
THE SEVENTH AND FINAL SEASON OF BILLIONS TO PREMIERE TOMORROW, AUGUST 11
TUNE-IN ALERT
THE SEVENTH AND FINAL SEASON OF BILLIONS TO PREMIERE TOMORROW, AUGUST 11
BILLIONS To Stream on Paramount+ with SHOWTIME® Beginning Frida Before Making Its Linear Debut This Sunday, August 13 at 8 p.m. ET/PT on SHOWTIME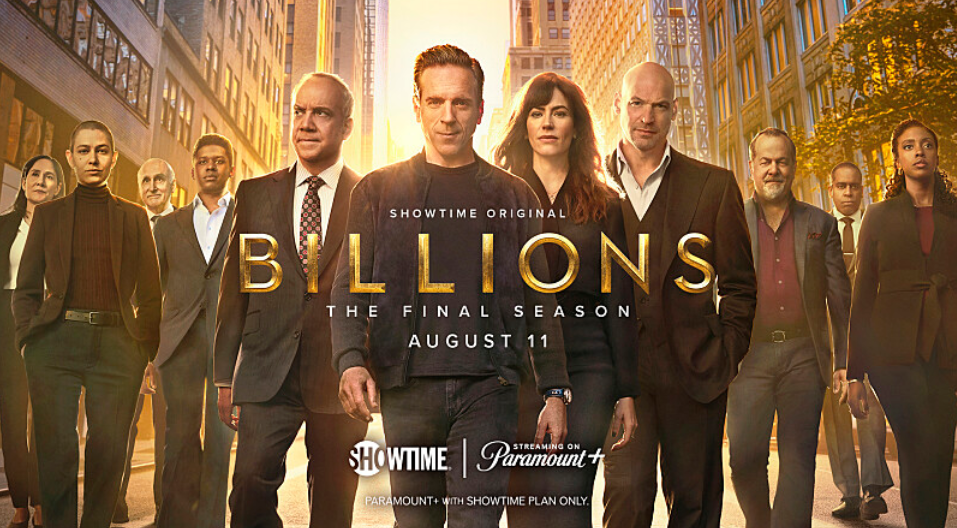 Credit: SHOWTIME
August 10, 2023 – The seventh and final season of the acclaimed SHOWTIME® drama series BILLIONS will premiere this Friday, August 11 streaming on Paramount+ with SHOWTIME beforedebuting on linear Sunday, August 13 at 8 p.m. ET/PT on SHOWTIME. Each of the 12 episodes will stream weekly on Paramount+ with SHOWTIME on Fridays before making their on-air debut Sundays on SHOWTIME linear. The series stars Oscar®nominee and Emmy®winner Paul Giamatti, Corey Stoll and Maggie Siff, and this final season also marks the return of Emmy® winner Damian Lewis as fan-favorite Bobby "Axe" Axelrod. Since its premiere in 2016,BILLIONShas been one of the most watched signature series on SHOWTIME, year after year.
In season seven of BILLIONS, alliances are turned on their heads. Old wounds are weaponized. Loyalties are tested. Betrayal takes on epic proportions. Enemies become wary friends. And Bobby Axelrod returns, as the stakes grow from Wall Street to the world.BILLIONSalso stars Maggie Siff, Corey Stoll, David Costabile, Asia Kate Dillon, Dola Rashad, Jeffrey DeMunn, Sakina Jaffrey, Daniel Breaker and Toney Goins.BILLIONSis created and executive produced by showrunners Brian Koppelman and David Levien (Rounders). Beth Schacter also serves as showrunner and executive producer. The series was also created by Andrew Ross Sorkin. April Taylor and Mike Harrop also serve as executive producers on the final season. All previous seasons ofBILLIONSare available for subscribers on Paramount+ with SHOWTIME.
About Paramount+
Paramount+, a direct-to-consumer digital subscription video on-demand and live streaming service, combines live sports, breaking news and a Mountain of Entertainment™. The premium streaming service features an expansive library of original series, hit shows and popular movies across every genre from world-renowned brands and production studios, including BET, CBS, Comedy Central, MTV, Nickelodeon, Paramount Pictures and the Smithsonian Channel. Paramount+ with SHOWTIME, the service's cornerstone plan, is also home to SHOWTIME content including scripted hits, critically acclaimed nonfiction projects, SHOWTIME SPORTS® (including industry-leading SHOWTIME Boxing) and films. This premium plan includes unmatched events and sports programming through the local live CBS stream, including golf to basketball and more, plus streaming access to CBS News Network for 24/7 news and CBS Sports HQ for sports news and analysis.
# # #
CONTACTS:
Nicole Elice,Nicole.Elice@showtime.com
Hannah Stempler, Hannah.Stempler@showtime.com