Release
SHOWTIME TO AIR LOUDMOUTH, THE DEFINITIVE LOOK AT REVEREND AL SHARPTON
SHOWTIME® TO AIR LOUDMOUTH, THE DEFINITIVE LOOK AT REVEREND AL SHARPTON
Ahead of Juneteenth, Documentary Feature Premieres on SHOWTIME
Friday, June 16 On Streaming and On Demand
With On-Air Premiere Sunday, June 18 at 10 p.m. ET/PT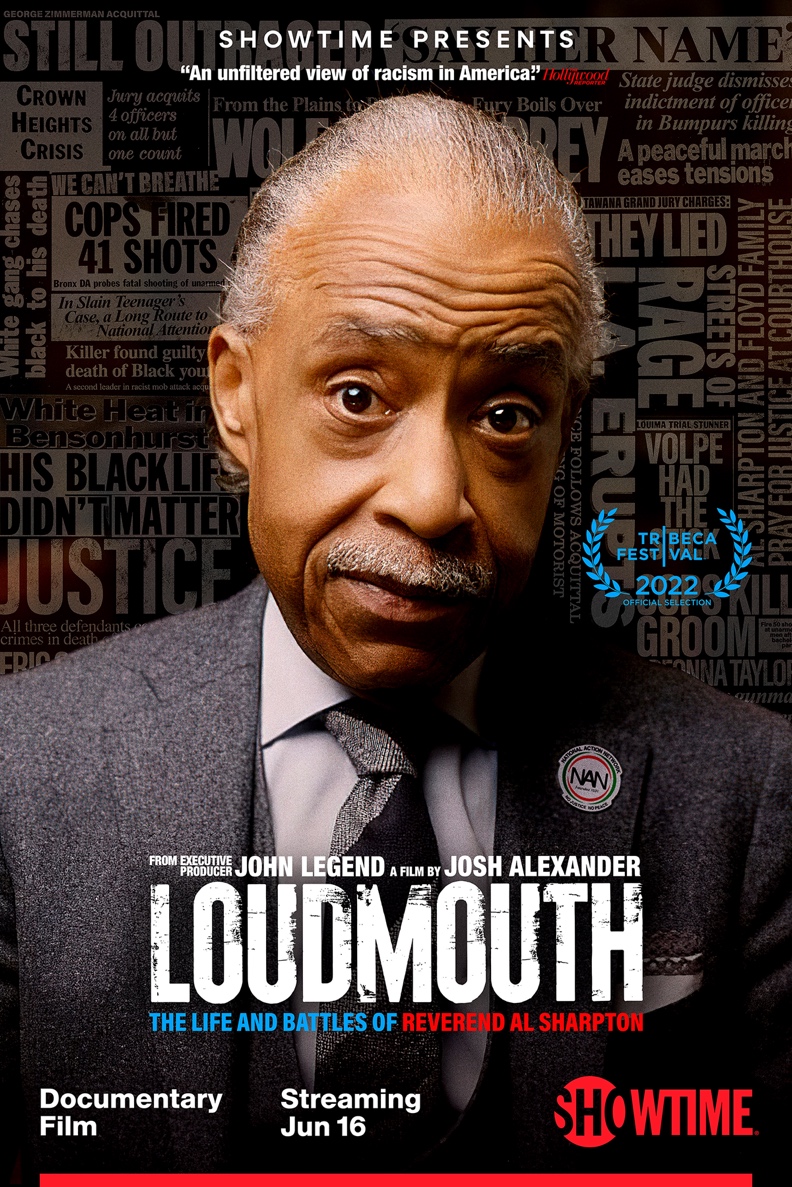 TrailerHere
June 6, 2023 – SHOWTIME announced today thatLOUDMOUTH,the definitive look at Reverend Al Sharpton directed by Josh Alexander, will premiereon SHOWTIME streaming and on-demand platforms Friday, June 16, inhonor of Juneteenth. The critically acclaimed documentary feature, which premiered at Tribeca Festival®in June 2022, chronicles Reverend Sharpton's path from racial justice firebrand to elder media statesman, and his work for social change from the streets of 1980s Brooklyn to 2020 Minneapolis, with never-before-seen footage on the front lines, in the media and in the corridors of power, to paint an intimate and revealing portrait of this tireless activist. LOUDMOUTH will make its SHOWTIME on-air premiere Sunday, June 18 at 10 p.m. ET/PT.
Often controversial, occasionally fallible, and always quotable, Reverend Sharpton has spent a lifetime confronting America's deafening complacency in the fight against racial injustice -- amplifying the ugly truths about the ongoing impact of structural racism on our nation many would prefer to ignore. Sharpton has been a polarizing figure, inspiring both love and hate on local and national stages. LOUDMOUTH follows a tireless warrior who has never ducked a fight in his mission to transform the status quo. The film features commentary from President Barack Obama, Reverend Jesse Jackson, James Brown and Senator Chuck Schumer.
Director Josh Alexander is one of the founders of Group Effort Films. His recent credits include writing Jay Myself, writing and producing I'm Leaving Now and executive producing the IDA® nominated feature United Skates, which won the Tribeca Festival Audience Award in 2018.
LOUDMOUTH is written, produced, and directed by Josh Alexander and produced by Daniel J. Chalfen, Mike Jackson, and Kedar Massenburg. Executive producers are John Legend, Ty Stiklorius, Austyn Biggers, Salman Al-Rashid, Sam Frohman, Aaron L. Gilbert, Brenda Gilbert, Josh Miller, Jason Cloth, Michael Cho, Tim Lee, Jim Butterworth, Brenda Robinson. Co-executive producers are Michael Y. Chow, Sue Turley, Peter Goring, Elizabeth Radshaw, Salma Alli, Mimi Rode, and Jonathan Gray. The film is a BRON Releasing, Salmira Productions, and Greenwich Entertainment presentation of a Get Lifted Film Co, Group Effort Films, Massenburg Media and Naked Edge Films production, in association with Creative Wealth Media, Olive Hill Media, Hot Docs Partners, and XRM Media.
Showtime Networks Inc. (SNI), a wholly owned subsidiary of Paramount, owns and operates the premium service SHOWTIME®, which features critically acclaimed original series, provocative documentaries, box-office hit films, comedy and music specials and hard-hitting sports. SHOWTIME is available as a stand-alone streaming service across all major streaming devices and Showtime.com, as well as via cable, DBS, telco and streaming video providers. SNI also operates the premium services THE MOVIE CHANNEL™ and FLIX®, as well as on demand versions of all three brands. SNI markets and distributes sports and entertainment events for exhibition to subscribers on a pay-per-view basis through SHOWTIME PPV®. For more information, go to www.SHO.com.
# # #
CONTACT:
Lauren Kleiman: lauren.kleiman@showtime.com