Release
ALANIS MORISSETTE RELEASES NEW VERSION OF THE MAIN THEME SONG FROM THE SHOWTIME DRAMA SERIES YELLOWJACKETS
ALANIS MORISSETTE RELEASES NEW VERSION OF THE MAIN THEME SONG
'NO RETURN' (EXTENDED VERSION)
FROM THE SHOWTIME® DRAMA SERIES YELLOWJACKETS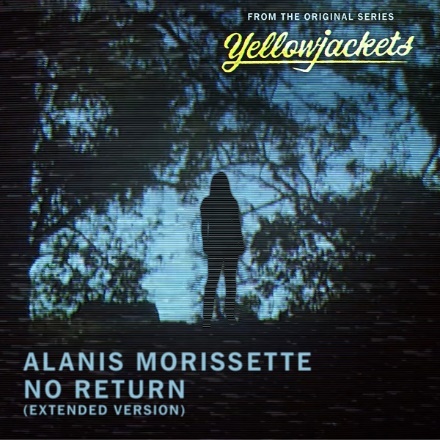 LOS ANGELES – April 14, 2023 - Seven-time Grammy® Award-winning singer/songwriter Alanis Morissette today releases the new single, "No Return" (Extended Version), a brand new version of the main title theme song from the SHOWTIME Emmy®-nominated drama series YELLOWJACKETS. The new single debuted in the fourth episode of the hit series' second season and is available now to download and stream globally via Universal Music Canada. "No Return" (Main Title Theme) by YELLOWJACKETS composers, Craig Wedren and Anna Waronker, was originally released in January 2022.
"I love the original version of 'No Return,' It's just a perfect song. It was a little daunting to be asked to reinterpret it but I see parallels between YELLOWJACKETS and my perspective while songwriting: the sheer intensity, that going for the jugular with no fear around going for the profane," said Morissette. "I've strived my entire career to support the empowerment of women and sensitives, and see the world through the female lens, and what's so wonderful about this show is that each character is allowed to be dynamic and complex as opposed to oversimplified, reduced versions of women. I feel honoured to be a part of the legacy of YELLOWJACKETS."
Listen to Alanis Morissette's "No Return" (Extended Version), HERE
Watch and share the YELLOWJACKETS Main Title sequence with Alanis Morissette's "No Return" (Extended Version), HERE
Watch and share a special behind-the-scenes video with Alanis Morissette speaking about "No Return", HERE
Season two of YELLOWJACKETS debuted on March 24 and new episodes are available weekly on Fridays on streaming and on demand for all SHOWTIME subscribers before making their on-air debut on Sundays at 9 p.m. ET/PT. The premiere episode of season two became the most streamed season debut in SHOWTIME history.
Created by Ashley Lyle and Bart Nickerson (Narcos), YELLOWJACKETS is the saga of a team of wildly talented high school girls soccer players who become the (un)lucky survivors of a plane crash deep in the remote northern wilderness. The series chronicles their descent from a complicated but thriving team to savage clans, while also tracking the lives they've attempted to piece back together nearly 25 years later, proving that the past is never really past and what began out in the wilderness is far from over. In season two, two months have passed since Shauna gave Jackie the cold shoulder— to disastrous results. In the face of their deepening hunger and fear, the tension among our Yellowjackets has only grown worse. The harsh conditions of winter are intensifying by the day, and the psyches of our survivors are deteriorating just as fast. Threatened by the darkness of the wilderness— and the haunting memories of it in the present— our former state champs will be forced to make impossible decisions. As they confront the horrible truth of what survival entails, the real nightmare for each of them will be to figure out who they are— and what they are willing to sacrifice in order to stay alive.
Equal parts survival epic, psychological horror story and coming-of-age drama, YELLOWJACKETS stars Emmy nominee and Critics Choice Award winner Melanie Lynskey (Castle Rock), Oscar® and Emmy nominee Juliette Lewis (Camping), Emmy nominee Christina Ricci (Z: The Beginning of Everything) and Tawny Cypress (Unforgettable). Lauren Ambrose (Six Feet Under, Servant) and Simone Kessell (Obi-Wan Kenobi) have also joined the second season as series regulars, along with Elijah Wood (The Lord of the Rings trilogy) in a season-long guest arc. Season two also stars Sophie Nélisse (The Book Thief), Jasmin Savoy Brown (The Leftovers), Sophie Thatcher (Prospect), Samantha Hanratty (SHAMELESS), Courtney Eaton (Mad Max: Fury Road), Liv Hewson (Santa Clarita Diet), Steven Krueger (The Originals), Warren Kole (Shades of Blue) and Kevin Alves (Locke & Key). YELLOWJACKETS is executive produced by Lyle, Nickerson and fellow showrunner Jonathan Lisco. Drew Comins of Creative Engine serves as executive producer along with Ameni Rozsa, Sarah L. Thompson and Karyn Kusama who directed the pilot. YELLOWJACKETS is produced for SHOWTIME by studio Entertainment One (eOne).
Showtime Networks Inc. (SNI), a wholly owned subsidiary of Paramount, owns and operates the premium service SHOWTIME®, which features critically acclaimed original series, provocative documentaries, box-office hit films, comedy and music specials and hard-hitting sports. SHOWTIME is available as a stand-alone streaming service across all major streaming devices and Showtime.com, as well as via cable, DBS, telco and streaming video providers. SNI also operates the premium services THE MOVIE CHANNEL™ and FLIX®, as well as on demand versions of all three brands. SNI markets and distributes sports and entertainment events for exhibition to subscribers on a pay-per-view basis through SHOWTIME PPV®. For more information, go to www.SHO.com.
About Alanis Morissette:
Since 1995, Alanis Morissette has been one of the most influential singer-songwriter-musicians in contemporary music. Her deeply expressive music and performances have earned vast critical praise and seven Grammy awards. Morissette's 1995 debut, "JAGGED LITTLE PILL," was followed by nine more eclectic and acclaimed albums. She has contributed musically to theatrical releases and has acted on the big and small screen. Outside of entertainment, she is an avid supporter of female empowerment, as well as spiritual, psychological and physical wellness. In 2001, Alanis was awarded the Global Tolerance Award by the Friends of the United Nations for her contributions to promoting tolerance through the arts. In 2016, Alanis launched Conversation with Alanis Morissette, a monthly podcast that features conversations with a variety of revered authors, doctors, educators, and therapists, covering a wide range of psychosocial topics extending from spirituality to developmentalism to art. On December 5, 2019, "JAGGED LITTLE PILL" the musical made its Broadway debut at the Broadhurst Theatre in New York City. The show was nominated for fifteen Tony Awards and won 2 Tony Awards at the 2021 ceremony. In July of 2020, Alanis released her ninth studio album, Such Pretty Forks In The Road, to rave reviews. In August of 2021, Alanis kicked off her sold out world tour celebrating 25 years of Jagged Little Pill. The tour became the #1 female-fronted tour from 2021 and also one of the Top Worldwide Tours of 2021 selling over 500,000 tickets. Alanis also stars in Fox's sitcom, "The Great North". For more information see www.alanis.com.
Follow Alanis Morissette:
Website | Facebook | Twitter | Instagram | YouTube
# # #
Yellowjackets Press Contacts:
Amanda Cary Hannah Stempler Cassidy Aquino
(212) 708-1593 (215) 872-9831 (929) 613-0596
Amanda.cary@showtime.com Hannah.stempler@showtime.com Cassidy.Aquino@showtime.com
Alanis Morissette Press Contact:
Lauren Papapietro