Release
THE CIRCUS EMBEDS WITH THE NEW GENERATION ON CAPITOL HILL
THE CIRCUS EMBEDS WITH THE NEW GENERATION ON CAPITOL HILL
'Kevin's House' Airs Sunday, March 12 at 8 PM ET/PT on SHOWTIME®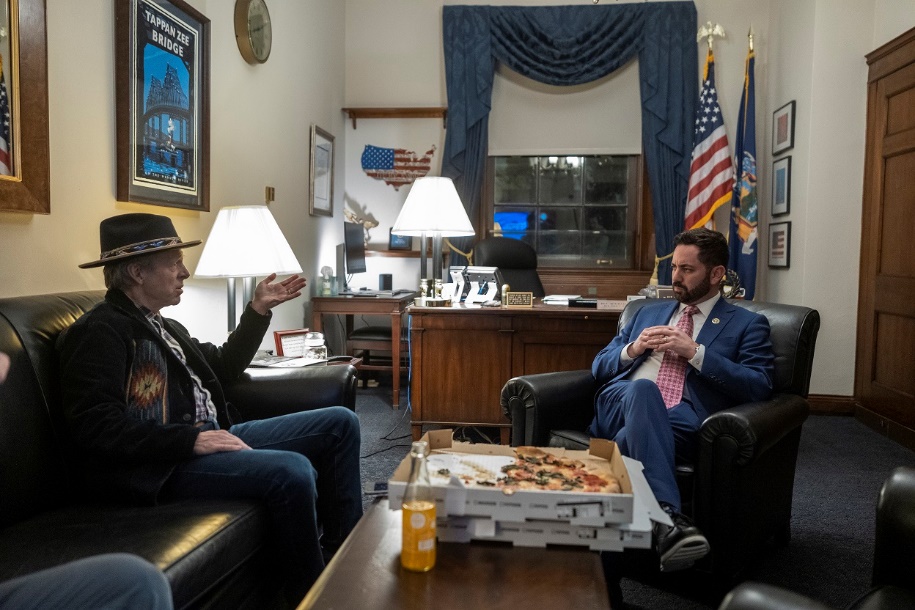 Photo: T.J. Kirkpatrick/SHOWTIME
NEW YORK – March 10, 2023 – The Emmy® nominated docuseries THE CIRCUS: INSIDE THE GREATEST POLITICAL SHOW ON EARTH continues its eighth season this Sunday with a behind-the-scenes look at the busiest week to date in the new Republican-led House.
Hosts John Heilemann, Mark McKinnon and Jennifer Palmieri embed with House freshmen Maxwell Frost (D-Florida) and Mike Lawler (R-New York) as they navigate a supercharged week dominated by GOP-led hearings into the Biden administration, the precarious standoff over the debt ceiling, and fallout from Speaker Kevin McCarthy's decision to give Tucker Carlson the Capitol security footage from the January 6 attack.
For a preview, go to: https://youtu.be/62WCle2ZkLw.
Episode includes:
Lawler, who flipped a key Democratic district last year, gives THE CIRCUS a window into life within the House as it holds hearings on the Biden Administration and begins a high-stakes battle over spending and the debt ceiling.
Frost, the first Gen Z member of Congress, guides THE CIRCUS through a week of back-to-back hearings in the House and what it's like to work under new Democratic Party leadership.
THE CIRCUS is produced by Left/Right for SHOWTIME. John Heilemann, Mark McKinnon, Jennifer Palmieri, Banks Tarver, Ken Druckerman, Tom Johnson and Divya Chungi serve as executive producers. To learn more about THE CIRCUS, go to: SHO.com, follow on Twitter, Facebook, and Instagram, and join the conversation using #TheCircus.
Showtime Networks Inc. (SNI), a wholly owned subsidiary of Paramount, owns and operates the premium service SHOWTIME®, which features critically acclaimed original series, provocative documentaries, box-office hit films, comedy and music specials and hard-hitting sports. SHOWTIME is available as a stand-alone streaming service across all major streaming devices and Showtime.com, as well as via cable, DBS, telco and streaming video providers. SNI also operates the premium services THE MOVIE CHANNEL™ and FLIX®, as well as on demand versions of all three brands. SNI markets and distributes sports and entertainment events for exhibition to subscribers on a pay-per-view basis through SHOWTIME PPV®. For more information, go to www.SHO.com.
###
CONTACTS:
Cassidy Aquino
Lindsay Drewel
202-627-8100
Molly Mulrain
610-202-6782