Release
THE CIRCUS EXAMINES THE BATTLE FOR THE FUTURE OF THE REPUBLICAN PARTY
THE CIRCUS EXAMINES THE BATTLE FOR THE FUTURE OF THE REPUBLICAN PARTY
'Off to the Races' Airs Sunday, March 5 at 8 PM ET/PT on SHOWTIME®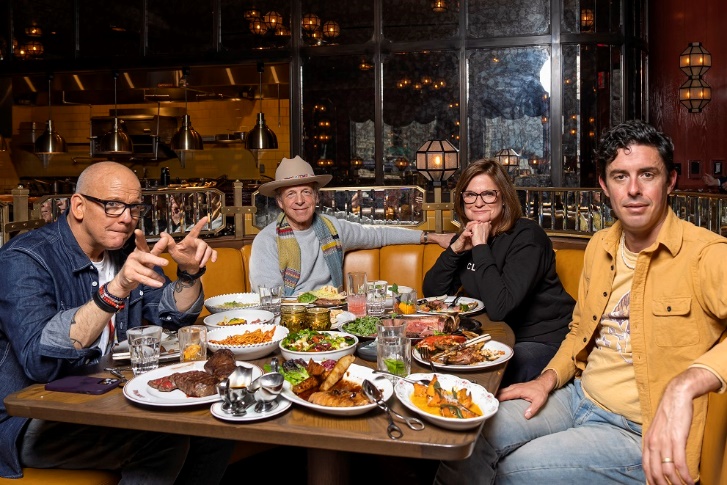 Photo: Courtesy of SHOWTIME
NEW YORK – March 3, 2023 – The Emmy® nominated docuseries THE CIRCUS: INSIDE THE GREATEST POLITICAL SHOW ON EARTH continues its eighth season this Sunday with the unofficial kickoff of the Republican presidential nominating contest.
Hosts John Heilemann, Mark McKinnon and Jennifer Palmieri – along with guest host Tim Miller, a former Republican-turned #NeverTrump political strategist; writer-at-large for The Bulwark; and author of the New York Times best seller Why We Did It – delve into a breakneck week of GOP presidential politics. As Donald Trump headlines the Conservative Political Action Conference (CPAC) in Maryland, long seen as a springboard into the presidential primary, some of his strongest potential challengers – Florida Governor Ron DeSantis and former Vice President Mike Pence – test the campaign waters elsewhere.
For a preview, go to: https://youtu.be/NY2f-d022gU
Episode includes:
The Circus attends the 2023 CPAC in Maryland as Trump and other candidates try to rally the base of their party.
In South Carolina, former Vice President Mike Pence speaks at Bob Jones University as he weighs jumping into the race.
In Florida, Governor Ron DeSantis launches a book tour and meets voters throughout the state as he lays the groundwork for a potential presidential campaign.
New Hampshire Governor Chris Sununu discusses his possible bid for the White House and why he believes the GOP needs to move on from Trump.
THE CIRCUS is produced by Left/Right for SHOWTIME. John Heilemann, Mark McKinnon, Jennifer Palmieri, Banks Tarver, Ken Druckerman, Tom Johnson and Divya Chungi serve as executive producers. To learn more about THE CIRCUS, go to: SHO.com, follow on Twitter, Facebook, and Instagram, and join the conversation using #TheCircus.
Showtime Networks Inc. (SNI), a wholly owned subsidiary of Paramount, owns and operates the premium service SHOWTIME®, which features critically acclaimed original series, provocative documentaries, box-office hit films, comedy and music specials and hard-hitting sports. SHOWTIME is available as a stand-alone streaming service across all major streaming devices and Showtime.com, as well as via cable, DBS, telco and streaming video providers. SNI also operates the premium services THE MOVIE CHANNEL™ and FLIX®, as well as on demand versions of all three brands. SNI markets and distributes sports and entertainment events for exhibition to subscribers on a pay-per-view basis through SHOWTIME PPV®. For more information, go to www.SHO.com.
###
CONTACTS:
Cassidy Aquino
Lindsay Drewel
202-627-8100
Molly Mulrain
610-202-6782