Release
SEASON PREMIERE OF THE CIRCUS FOCUSES ON BIDEN AND THE ONE-YEAR ANNIVERSARY OF WAR IN UKRAINE
SEASON PREMIERE OF THE CIRCUS FOCUSES ON BIDEN
AND THE ONE-YEAR ANNIVERSARY OF WAR IN UKRAINE
Season Eight Premiere 'The Year of Living Dangerously' Airs Sunday, February 26 at 8 PM ET/PT on SHOWTIME®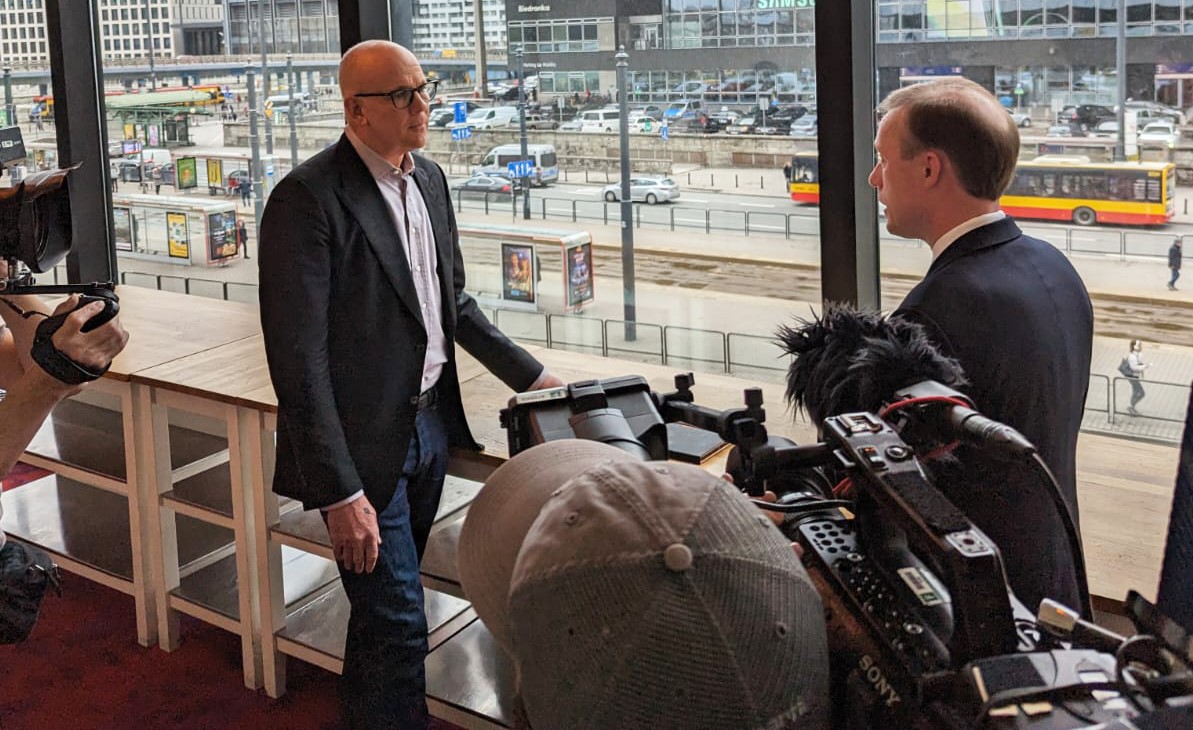 Photo: Courtesy of SHOWTIME
NEW YORK – February 24, 2023 – The Emmy® nominated docuseries THE CIRCUS: INSIDE THE GREATEST POLITICAL SHOW ON EARTH returns for its eighth season this Sunday with President Biden on the world stage in Kyiv rallying support for Ukraine on the one-year anniversary of Russia's invasion.
With host John Heilemann on the ground in Warsaw, Poland, and Mark McKinnon and Jennifer Palmieri stateside, the program explores Biden's historic struggle to keep the NATO alliance unified in its support of Ukraine and the political fallout at home. Biden's trip to Poland comes on the heels of his surprise visit to the embattled capital of Ukraine.
For a preview, go to: https://youtu.be/QdnFqZXnwlc
Episode includes:
National security adviser Jake Sullivan on President Biden's journey into the war zone, and the dangerous balance of supporting Ukraine while not sparking a wider conflict with Russia.
Retired Navy admiral James Stavridis, former NATO Supreme Allied Commander, on the state of the conflict and what it will take for Ukraine to hold off Russia's advances as the war enters its second year.
Nicolle Wallace, White House communications director for President George W. Bush, on the political impact of war on a presidency and a re-election campaign.
THE CIRCUS is produced by Left/Right for SHOWTIME. John Heilemann, Mark McKinnon, Jennifer Palmieri, Banks Tarver, Ken Druckerman, Tom Johnson and Divya Chungi serve as executive producers. To learn more about THE CIRCUS, go to: SHO.com, follow on Twitter, Facebook, and Instagram, and join the conversation using #TheCircus.
Showtime Networks Inc. (SNI), a wholly owned subsidiary of Paramount, owns and operates the premium service SHOWTIME®, which features critically acclaimed original series, provocative documentaries, box-office hit films, comedy and music specials and hard-hitting sports. SHOWTIME is available as a stand-alone streaming service across all major streaming devices and Showtime.com, as well as via cable, DBS, telco and streaming video providers. SNI also operates the premium services THE MOVIE CHANNEL™ and FLIX®, as well as on demand versions of all three brands. SNI markets and distributes sports and entertainment events for exhibition to subscribers on a pay-per-view basis through SHOWTIME PPV®. For more information, go to www.SHO.com.
###
CONTACTS:
Cassidy Aquino
Lindsay Drewel
(202) 627-8100
Molly Mulrain
(610) 202-6782