Release
SHOWTIME TO EXPAND THE HIT SERIES BILLIONS INTO GLOBAL FRANCHISE WITH MILLIONS AND TRILLIONS
SHOWTIME® TO EXPAND THE HIT SERIES BILLIONS®
INTO GLOBAL FRANCHISE WITH MILLIONS AND TRILLIONS
Network Also Developing BILLIONS: MIAMI and BILLIONS: LONDON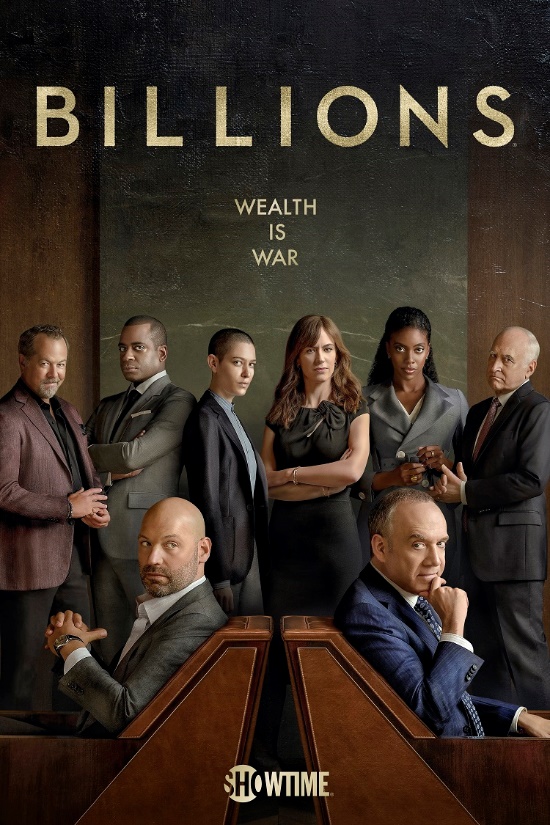 Photo: Courtesy of SHOWTIME
LOS ANGELES – February 6, 2023 – SHOWTIME has announced its development plans for series based upon the hit drama BILLIONS, starring Oscar® nominee and Emmy® winner Paul Giamatti, Corey Stoll and Maggie Siff. All of the projects are executive produced by BILLIONS showrunners Brian Koppelman and David Levien, who have established their own acclaimed brand of propulsive storytelling and articulately incorrigible characters. Season seven of BILLIONS is currently in production in New York City and will return to SHOWTIME later this year. The announcement was made by Chris McCarthy, President/CEO, SHOWTIME and Paramount Media Networks.
Currently in the process of development at SHOWTIME are projects that would expand the BILLIONS universe.
BILLIONS: MIAMI (w/t), a new installment set in the world of private aviation, where the clientele believe the rules of society, government and gravity don't apply to them, amidst the wealth, nightlife, contraband and the cryptocurrency that pulses through that city. Koppelman and Levien are already in the writing process on this project.
BILLIONS: LONDON (w/t), another iteration set across the pond and operating in the world of UK finance.
MILLIONS (w/t), a series featuring diverse, thirtysomething, financial mogul wannabes doing whatever it takes to make it in Manhattan.
TRILLIONS (w/t), a drama based on fictional stories of the richest people in the world - titans of industry living all over the country but coming into contact and conflict with one another.
"We remain fascinated by people whose ambition is boundless and who think the laws of civilization and nature don't apply to them," said Koppelman and Levien. "Miami is a vital and vibrant place the super-rich have begun taking over. We're excited to show everyone what's really going on down there."
Koppelman and Levien, whom SHOWTIME signed to a multi-year overall deal in 2019 that was recently extended, will be involved in all of the projects with SHOWTIME and MTV Entertainment Studios. The duo will continue to serve as executive producers and showrunners of BILLIONS, alongside Beth Schacter.
BILLIONS also stars David Costabile, Asia Kate Dillon, Condola Rashad, Jeffrey DeMunn and Daniel Breaker. In addition to Koppelman and Levien, the series was also created by Andrew Ross Sorkin. All previous seasons of BILLIONS are available for subscribers on SHOWTIME. For more information about BILLIONS, visit SHO.com, follow on Twitter, Instagram and Facebook, and join the conversation using #Billions.
Showtime Networks Inc. (SNI), a wholly owned subsidiary of Paramount, owns and operates the premium service SHOWTIME®, which features critically acclaimed original series, provocative documentaries, box-office hit films, comedy and music specials and hard-hitting sports. SHOWTIME is available as a stand-alone streaming service across all major streaming devices and Showtime.com, as well as via cable, DBS, telco and streaming video providers. SNI also operates the premium services THE MOVIE CHANNEL™ and FLIX®, as well as on demand versions of all three brands. SNI markets and distributes sports and entertainment events for exhibition to subscribers on a pay-per-view basis through SHOWTIME PPV®. For more information, go to www.SHO.com.
###
Contact:
Amanda Cary
(212) 708-1593