Release
SHOWTIME DOCUMENTARY FILMS ANNOUNCES THE 12TH VICTIM
SHOWTIME® DOCUMENTARY FILMS ANNOUNCES THE 12TH VICTIM
FROM OSCAR® AWARD WINNING EXECUTIVE PRODUCER MORGAN NEVILLE
AND EMMY® NOMINATED DIRECTOR NICOLA B. MARSH
Docuseries Follows the Unexamined Story of Caril Ann Fugate
And Her Involvement in Charles Starkweather's 1958 Killing Spree
Four-Part Series Premieres on Friday, February 17 at 8 PM ET/PT on SHOWTIME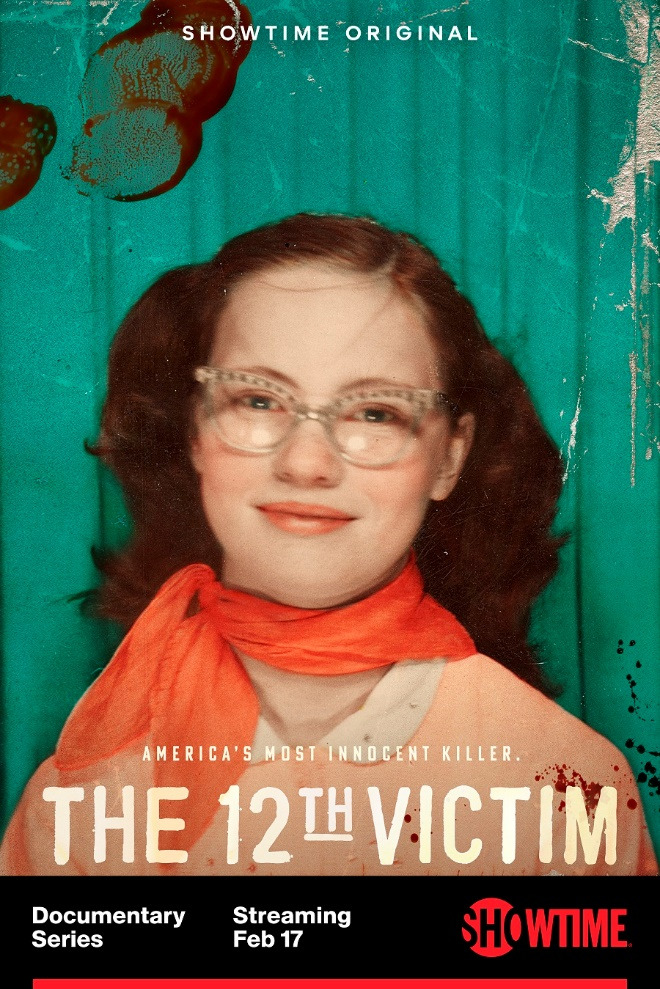 LOS ANGELES – January 24, 2023 – SHOWTIME Documentary Films announced THE 12TH VICTIM, a four-part docuseries that sheds new light on the infamous 1958 Charles Starkweather and Caril Ann Fugate murder case, in which the teenage couple was charged and convicted of brutally killing 11 victims at random. Told through a stylistic blend of archival and recreated footage and countless film and television series inspired by the killings, THE 12TH VICTIM reexamines Fugate's guilty verdict, who was 14 years old at the time of the killings, through a modern lens, questioning the media and judicial system's treatment of her despite her self-proclaimed innocence. Executive produced by Oscar-winning filmmaker Morgan Neville, the series will premiere on Friday, February 17 at 8 p.m. ET/PT, with new episodes airing weekly on Fridays at 8 p.m. ET/PT on SHOWTIME. All four episodes will also release on demand and on streaming platforms for SHOWTIME subscribers on February 17.
To watch and share the trailer ofTHE 12TH VICTIM, visit: https://youtu.be/2Qy0ucSZuo0
In 1958, a grisly string of murders terrified the Midwest, as locals watched the 18-year-old Starkweather kill 11 victims in Nebraska and Wyoming with his girlfriend Fugate by his side. Fugate went on to become the youngest female in U.S. history to be tried and convicted of first-degree murder and sentenced to life imprisonment. As one of the first true-crime stories to unfold in real time on TV, the widely covered Bonnie and Clyde-style narrative depicted Starkweather as a James Dean-wannabe and Fugate as his lascivious, bloodthirsty girlfriend, inspiring a wave of future hit films such as Badlands and Natural Born Killers. Through detailed interviews with those closest to the case and well-researched archival footage, THE 12TH VICTIM looks deeper into the original killings and Fugate's role in the crimes – not as the willing participant but as an underage girl held hostage by Starkweather – and gives credence to Fugate's claims of innocence.
Produced for SHOWTIME by Tremolo Productions and Submarine Deluxe, THE 12TH VICTIM is inspired by Linda M. Battisti and John Stevens Berry's 2014 book The Twelfth Victim: The Innocence of Caril Fugate in the Starkweather Murder Rampage. Directed by Emmy-nominated cinematographer Nicola B. Marsh (American Masters), THE 12TH VICTIM  is executive produced by Morgan Neville (Won't You Be My Neighbor?) and Caitrin Rogers (20 Feet from Stardom) of Tremolo Productions, along with Josh Braun (The Andy Warhol Diaries) and Dan Braun (Wild Wild Country) of Submarine Deluxe. Marsh also serves as an executive producer alongside Gary Lennon (Euphoria), Whitney Ransick (ER) and Rachel Libert (Boomtown).
Showtime Networks Inc. (SNI), a wholly owned subsidiary of Paramount Global, owns and operates the premium service SHOWTIME®, which features critically acclaimed original series, provocative documentaries, box-office hit films, comedy and music specials and hard-hitting sports. SHOWTIME is available as a stand-alone streaming service across all major streaming devices and Showtime.com, as well as via cable, DBS, telco and streaming video providers. SNI also operates the premium services THE MOVIE CHANNEL™and FLIX®, as well as on demand versions of all three brands. SNI markets and distributes sports and entertainment events for exhibition to subscribers on a pay-per-view basis through SHOWTIME PPV®. For more information, go to www.SHO.com.
# # #
CONTACTS:
Jamie Kekejian
(917) 613-5902
Todd Shipkey
(323) 350-4962