Release
THE CIRCUS SEASON FINALE DIVES INTO THE ELECTRIFYING MIDTERM ELECTIONS
Special One-Hour Episode 'Rip Tides' Airs Sunday, November 13 at 8 PM ET/PT on SHOWTIME®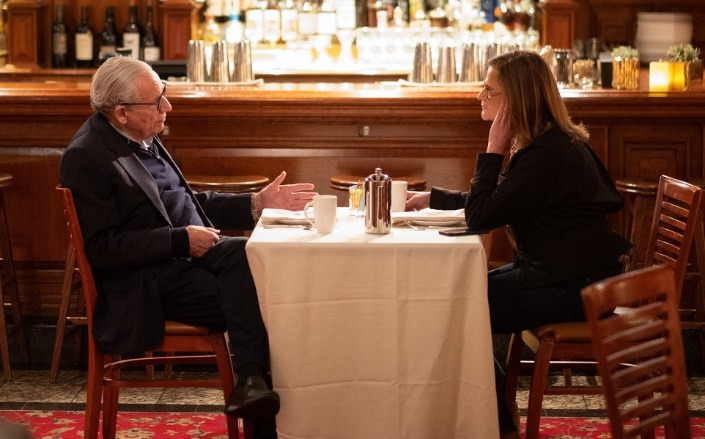 Photo: T.J. Kirkpatrick/SHOWTIME
NEW YORK – November 11, 2022 – The Emmy® nominated docuseries THE CIRCUS: INSIDE THE GREATEST POLITICAL SHOW ON EARTH wraps up its seventh season this Sunday with a special one-hour episode examining the historic midterm elections in which Democrats defied predictions by staving off a Republican red wave.
Hosts John Heilemann, Mark McKinnon and Jennifer Palmieri are joined by guest hosts Errin Haines, editor-at-large for The 19th, and Tim Miller, writer-at-large for The Bulwark, to document a dizzying election week. Criss-crossing the nation to capture the closing arguments from both sides, and an election night that stunned the nation, the program analyzes what the election revealed about America, and how it will impact Washington, Donald Trump, and the Republican Party.
For a preview, go to: https://youtu.be/9Cx-nBzRHgU.
Episode includes:
THE CIRCUS is on the ground in key battleground states – including Georgia, Pennsylvania, Arizona, Michigan, New Hampshire and Ohio – to talk to candidates and voters on both sides of the aisle.
Behind the scenes access with DCCC Chair Rep. Sean Patrick Maloney on Election Day, as he fights to defend his seat and the Democratic majority in the House.
Inside Trump's final election eve rally with J.D. Vance in Ohio, as the former president delivers his most definitive statement yet on a 2024 campaign.
Democratic Governor Gretchen Whitmer's closing argument for her re-election and the ballot initiative to protect abortion rights in Michigan.
In Georgia, Stacey Abrams on her grassroots efforts to flip her state blue.
Democratic Senator Michael Bennet on his strategy to fend off his Republican challenger in Colorado.
Democratic Ohio Senate nominee Rep. Tim Ryan on his bid to win in a Republican leaning state.
Democratic Rep. Abigail Spanberger as she canvasses in Virginia hours before the polls close.
Bob Woodward on Donald Trump's influence over the Republican Party after a disappointing election night.
THE CIRCUS is produced by Left/Right for SHOWTIME. John Heilemann, Mark McKinnon, Jennifer Palmieri, Banks Tarver, Ken Druckerman, Tom Johnson and Divya Chungi serve as executive producers. To learn more about THE CIRCUS, go to: SHO.com, follow on Twitter, Facebook, and Instagram, and join the conversation using #TheCircus.
Showtime Networks Inc. (SNI), a wholly owned subsidiary of Paramount, owns and operates the premium service SHOWTIME®, which features critically acclaimed original series, provocative documentaries, box-office hit films, comedy and music specials and hard-hitting sports. SHOWTIME is available as a stand-alone streaming service across all major streaming devices and Showtime.com, as well as via cable, DBS, telco and streaming video providers. SNI also operates the premium services THE MOVIE CHANNEL™ and FLIX®, as well as on demand versions of all three brands. SNI markets and distributes sports and entertainment events for exhibition to subscribers on a pay-per-view basis through SHOWTIME PPV®. For more information, go to www.SHO.com.
###
CONTACTS:
Cassidy Aquino
Lindsay Drewel
Molly Mulrain