Release
SHOWTIME SPORTS DOCUMENTARY FILMS RELEASES OFFICIAL TRAILER AND POSTER ART FOR NYC POINT GODS
A Look at the Style and Impact of New York City's Legendary Point Guards from Kevin Durant and Rich Kleiman's Boardroom
Available Friday, July 29 on Streaming and On Demand Platforms for SHOWTIME Subscribers; Premieres on SHOWTIME at 9 PM ET/PT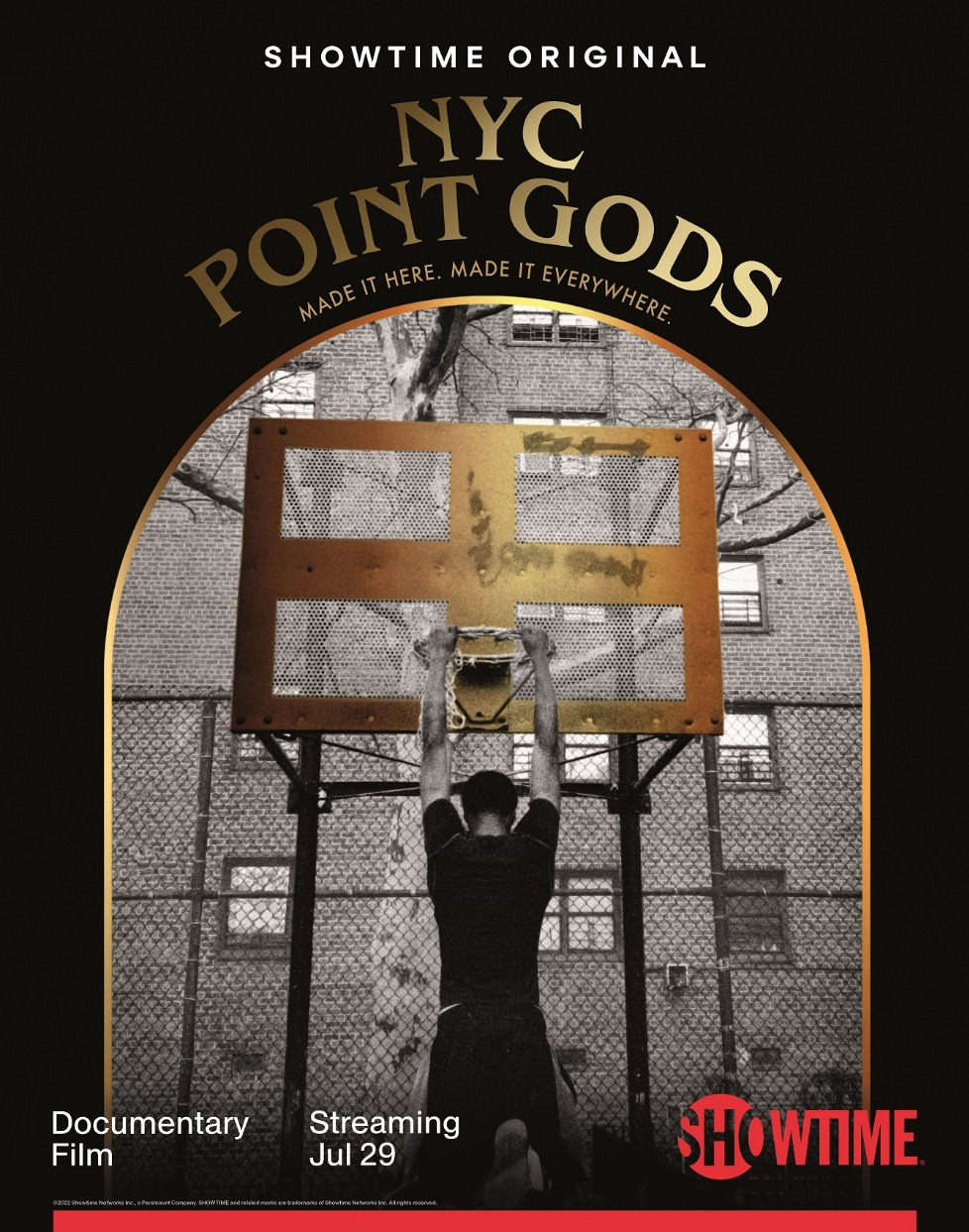 Courtesy of SHOWTIME
NEW YORK – July 6, 2022 – SHOWTIME Sports Documentary Films has released today the official trailer and poster art for its upcoming documentary NYC POINT GODS, an in-depth look at the legendary point guards of New York City who honed their craft and developed their legendary showmanship in the 1980s and '90s. NYC POINT GODS will be available across the network's streaming and on demand platforms for all SHOWTIME subscribers on Friday, July 29 and will premiere on SHOWTIME at 9 p.m. ET/PT.
To watch and share the trailer, go to: https://s.sho.com/3NNo7xT.
NYC POINT GODS spotlights the ascent of Rafer Alston, Kenny Anderson, Mark Jackson, Stephon Marbury, God Shammgod, Kenny Smith, Rod Strickland and Dwayne "Pearl" Washington in the midst of a cultural renaissance in New York City that gave us East Coast hip-hop and a style of play that has come to define an era of basketball and American culture. The documentary extends the successful collaboration between SHOWTIME and NBA superstar Kevin Durant and business partner Rich Kleiman's Boardroom, a 35V company.
The NYC point guards brought theatrics, dizzying ball control, stylish misdirection, and a shake-and-bake game from packed streetball courts to the city's hallowed high school gyms to the NBA, orchestrating successful offenses at every level. NYC POINT GODS explores how the city shaped these distinct players, and how these players then shaped and advanced the game on a global scale. The film features extensive interviews and rare footage as well as prominent New York voices such as Stephen A. Smith, Cam'ron, Fat Joe and iconic college coaches Lou Carnesecca, Jim Boeheim and Rick Pitino.
NYC POINT GODS is a collaboration with Durant and entrepreneur Kleiman's Boardroom (BASKETBALL COUNTY: In The Water), is executive produced by Coodie and Chike (jeen-yuhs) and directed by Sam Eliad. NYC POINT GODS is the latest addition to SHOWTIME SPORTS® unparalleled lineup of premium basketball content. Additional titles include KOBE BRYANT'S MUSE, QUIET STORM: THE RON ARTEST STORY and SHUT UP AND DRIBBLE.
Showtime Networks Inc. (SNI), a wholly owned subsidiary of Paramount, owns and operates the premium service SHOWTIME®, which features critically acclaimed original series, provocative documentaries, box-office hit films, comedy and music specials and hard-hitting sports. SHOWTIME is available as a stand-alone streaming service across all major streaming devices and Showtime.com, as well as via cable, DBS, telco and streaming video providers. SNI also operates the premium services THE MOVIE CHANNEL™ and FLIX®, as well as on demand versions of all three brands. SNI markets and distributes sports and entertainment events for exhibition to subscribers on a pay-per-view basis through SHOWTIME PPV®. For more information, go to www.SHO.com.
# # #
CONTACTS:
Kate Howard
(917) 831-7152
Colin Bradley
(860) 490-3748
Barry Parasram
(917) 749-8324
barry@kevindurant.com