Release
PARAMOUNT+ ORIGINAL DOCUMENTARY SERIES "FOOTBALL MUST GO ON" TELLS THE STORY OF UKRAINE SOCCER CLUB AMID ONGOING WAR
Four-Part Docuseries Follows Ukraine Soccer Club Shakhtar Donetsk Through the 2022-2023 UEFA Champions League Season During War in Ukraine
Docuseries Premieres Tuesday, Sept. 12
Series Expands Paramount+'s "Stories from the Beautiful Game" Soccer Documentary Collection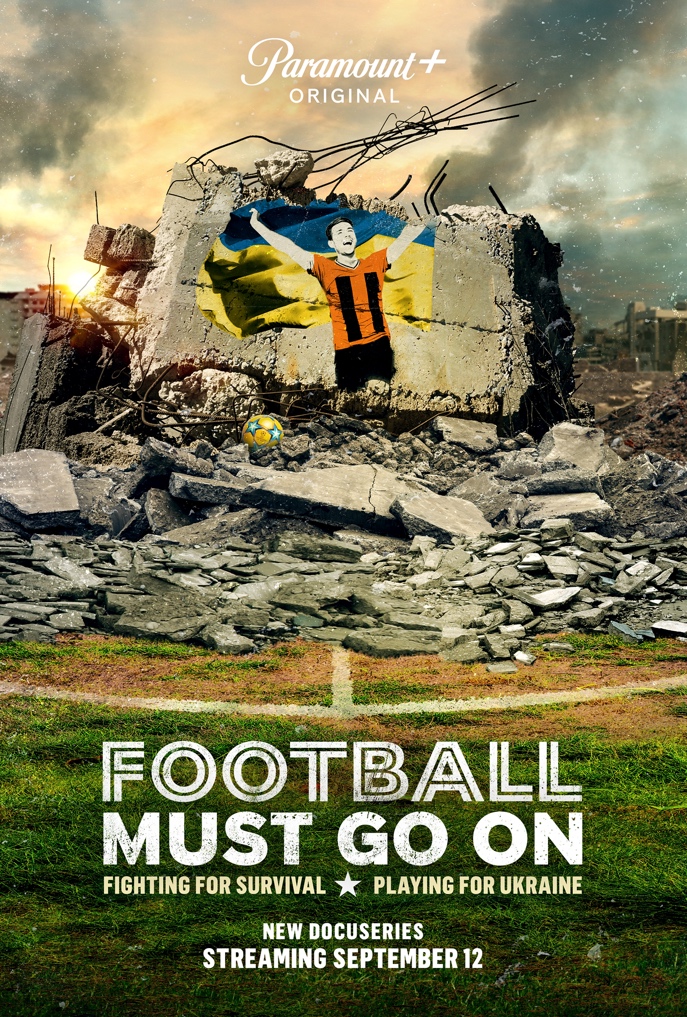 Click Here to Watch the Official Trailer
Aug. 24, 2023 – Paramount+ today announced the four-part original soccer documentary series FOOTBALL MUST GO ON will premiere exclusively on the service in the U.S. on Tuesday, Sept. 12.
FOOTBALL MUST GO ON follows the emotional and physical journey of Ukraine soccer club Shakhtar Donetsk as they compete in the 2022-2023 UEFA Champions League season against the constant backdrop of their homeland being ravaged by war. The fly-on-the-wall documentary series gives viewers an in-depth look at the upheaval and challenges by the Ukraine champions that no team in modern-day sports has ever faced.
Granted unique access by the team, Paramount+ and CBS Sports go with Shakhtar as the players and coaches juggle the demands of playing in club football's biggest tournament, while monitoring the horrors unfolding at home. Living in Ukraine and ultimately forced by war to decamp to Poland, Shakhtar must play at "home" against European giants Real Madrid, and others, in a Warsaw stadium that also houses refugees from their homeland.
Wherever they play, Shakhtar must focus on the game at hand with the fate of their loved ones and homeland always on their minds. FOOTBALL MUST GO ON is a unique juxtaposition of sports glory, the agony of war and the triumph of the human spirit.
"UEFA Champions League is the most prestigious annual soccer tournament in the world filled with incredible drama, but we've never seen a team become the biggest story because of ongoing war in its homeland," said coordinating producer Pete Radovich. "A heartfelt thank you to sporting director Darijo Srna, and every staff member, player and coach at Shakhtar Donetsk for their incredible generosity and openness in allowing us to tell their story to the world."
FOOTBALL MUST GO ON is a Paramount+ Original and the latest installment from STORIES FROM THE BEAUTIFUL GAME, Paramount+'s soccer documentary collection that also includes DESTINATION: EUROPEAN NIGHTS and Emmy-nominated SIR ALEX FERGUSON: NEVER GIVE IN.
FOOTBALL MUST GO ON is directed by BAFTA winner Alex Gale ("Scotland 78: A Love Story"). Emmy Award winner Pete Radovich is coordinating producer.
About Paramount+
Paramount+, a direct-to-consumer digital subscription video on-demand and live streaming service, combines live sports, breaking news and a Mountain of Entertainment™. The premium streaming service features an expansive library of original series, hit shows and popular movies across every genre from world-renowned brands and production studios, including BET, CBS, Comedy Central, MTV, Nickelodeon, Paramount Pictures and the Smithsonian Channel. Paramount+ with SHOWTIME, the service's cornerstone plan, is also home to SHOWTIME content including scripted hits, critically acclaimed nonfiction projects, SHOWTIME SPORTS® (including industry-leading SHOWTIME Boxing) and films. This premium plan includes unmatched events and sports programming through the local live CBS stream, including golf to basketball and more, plus streaming access to CBS News Network for 24/7 news and CBS Sports HQ for sports news and analysis.
For more information about Paramount+, please visit www.paramountplus.com and follow @ParamountPlus on social platforms.
***
Press Contact:
Paul-Michael Ochoa – paulmichael.ochoa@paramount.com