Release
WATCH THE OFFICIAL TRAILER FOR "ZOEY 102" PREMIERING JULY 27, EXCLUSIVELY ON PARAMOUNT+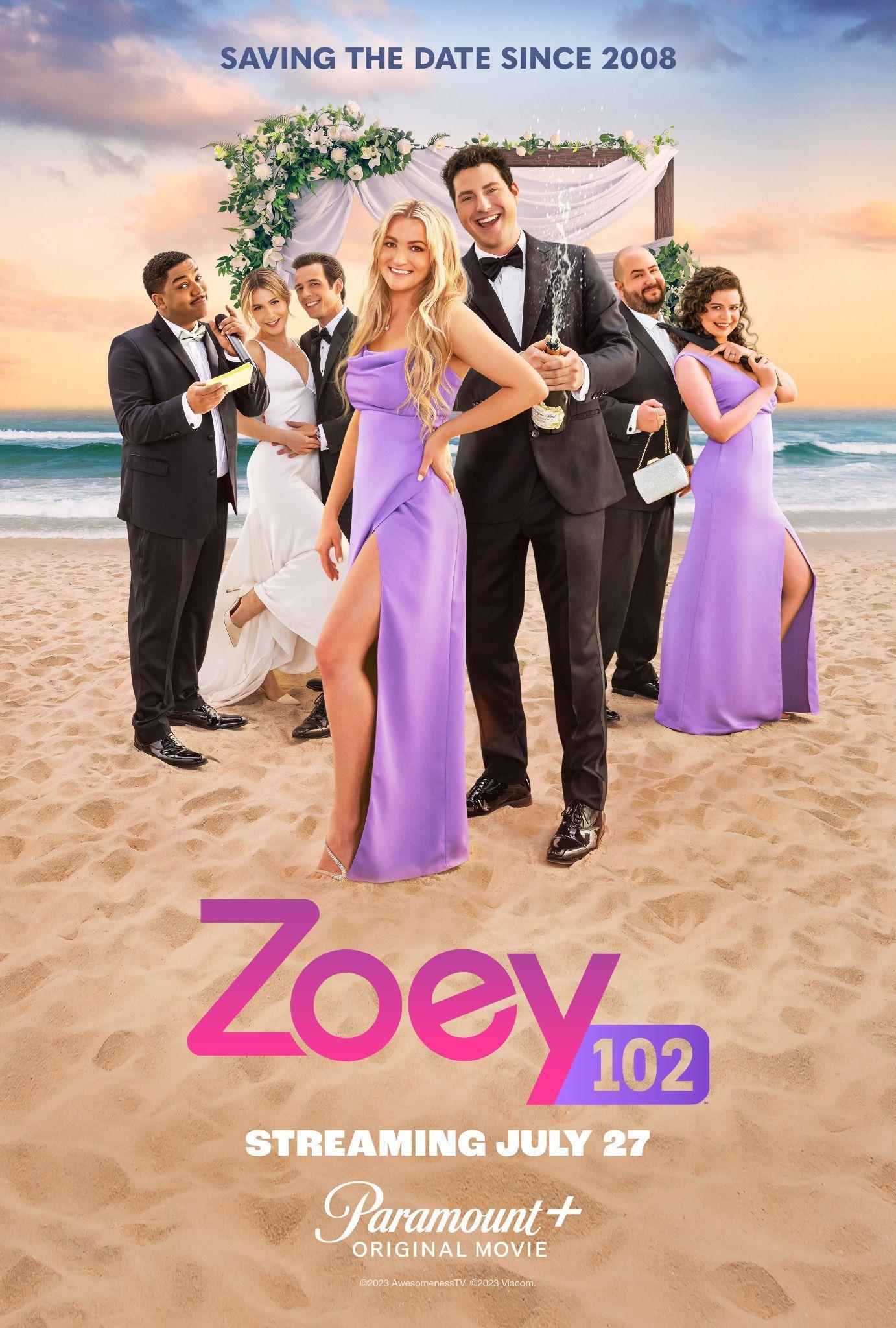 Original Cast Members from Zoey 101 Reunite,
Including Jamie Lynn Spears, Erin Sanders, Sean Flynn, Matthew Underwood, Christopher Massey, Abby Wilde and Jack Salvatore
Produced by Nickelodeon Studios, The All-New Original Film Also Features
Dean Geyer, Owen Thiele, Thomas Lennon, Audrey Whitby and Zach Zagoria
CLICK HERE to Watch the Official Trailer
CLICK HERE to Download the Official Film Key Art
June 20, 2023 – Paramount+ today released the official trailer and key art for ZOEY 102, the all-new original movie based on characters from the hit live-action Nickelodeon series Zoey 101. In the movie, Pacific Coast Academy alumni return to Malibu for an over-the-top wedding that turns into a high school reunion for the books. ZOEY 102 will be available to stream beginning Thursday, July 27, in the U.S. and Canada, and the following day in the U.K. Additionally, the movie will premiere on Tuesday, August 1, in Australia, on Friday, August 11, in Latin America and Brazil, and on Friday, November 17, in Italy, France, Germany, Austria and Switzerland.
Over a decade after the iconic series ended, ZOEY 102 finds Zoey Brooks still trying to figure out life and love, this time in her 20s. Zoey and Chase did not end up in Hawaii that summer and haven't heard from each other since. When close friends Quinn and Logan announce they're getting married, Zoey and Chase find themselves in the wedding party.
Jamie Lynn Spears returns as Zoey Brooks, who graduated alongside the first female class ever to be allowed into Pacific Coast Academy. Erin Sanders returns as Zoey's best friend, Quinn Pensky. Sean Flynn returns as Zoey's on again, off again love interest Chase Matthews. Also returning are Matthew Underwood as Logan Reese; Christopher Massey as Michael Barret; Abby Wilde as Stacey Dillsen and Jack Salvatore as Mark Del Figgalo. The wedding reunion includes new cast members: Thomas Lennon as Zoey's boss Kelly Kevyn; Owen Thiele as Zoey's friend Archer March; and Dean Geyer as a charismatic actor, Todd, along with Audrey Whitby as Lyric, Logan's younger sister and Zach Zagoria as Jordan B., a reality dating show contestant that Zoey must work with.
ZOEY 102 is directed by Nancy Hower (Saturdays, So Help Me Todd, QuickDraw) and Monica Sherer & Madeline Whitby (Betch, Drama Club, All That) wrote the script. Jamie Lynn Spears serves as executive producer along with Alexis Fisher, Hower and Sherer & Whitby. Production of ZOEY 102 for Nickelodeon Studios is overseen by Shauna Phelan and Zack Olin, co-heads of Nickelodeon & Awesomeness Live-Action.
The YA film ZOEY 102 is based on characters from the iconic series Zoey 101, which debuted on Nickelodeon in January 2005, and quickly emerged as one of the top live-action kids' series on all of television. The series follows Zoey Brooks as she enrolls in Pacific Coast Academy, a school that previously only allowed boys to attend. Throughout the series, Zoey and her friends navigate life as teenagers at a boarding school. The original Nickelodeon series was created by Dan Schneider.
ZOEY 102 joins Paramount+'s growing lineup of YA content, including the service's hit series iCARLY, SCHOOL SPIRITS and WOLF PACK as well as original films like HONOR SOCIETY and upcoming films LOVE IN TAIPEI, GOOD BURGER 2 and LITTLE WING.
About Paramount+
Paramount+, a direct-to-consumer digital subscription video on-demand and live streaming service, combines live sports, breaking news and a Mountain of Entertainment™. The premium streaming service features an expansive library of original series, hit shows and popular movies across every genre from world-renowned brands and production studios, including BET, CBS, Comedy Central, MTV, Nickelodeon, Paramount Pictures and the Smithsonian Channel. The service is also the streaming home to unmatched sports programming, including every CBS Sports event, from golf to football to basketball and more, plus exclusive streaming rights for major sports properties, including some of the world's biggest and most popular soccer leagues. Paramount+ Premium also enables subscribers to stream local CBS stations live across the U.S. in addition to the ability to stream CBS News Network for 24/7 news and CBS Sports HQ for sports news and analysis.
For more information about Paramount+, please visit www.paramountplus.com and follow @ParamountPlus on social platforms.
About Nickelodeon
Nickelodeon, now in its 44th year, is the number-one entertainment brand for kids. It has built a diverse, global business by putting kids first in everything it does. The brand includes television programming and production in the United States and around the world, plus consumer products, digital, location-based experiences, publishing and feature films. For more information or artwork, visit nickpress.com. Nickelodeon is a part of Paramount's (Nasdaq: PARA, PARAA) global portfolio of multimedia entertainment brands.
Facebook/Twitter/Instagram/TikTok: @ParamountPlus @Nickelodeon
#ParamountPlus #Zoey101 #Zoey102
* * *
Paramount+ U.S. Press Contacts:
Tiffany Girardi – Tiffany.Girardi@paramount.com
Kylie Burnett – Kylie.Burnett@paramount.com
Nickelodeon Press Contacts:
Lilah Kojoori – Lilah.Kojoori@nick.com
Tiffany Chao – Tiffany.Chao@nick.com
Paramount+ International Press Contacts:
Christine Woo – Christine.Woo@paramount.com
Debbie Bonora – Debbie.Bonora@paramount.com