Release
NICKELODEON AND CBS SPORTS TEAM UP WITH NFL FOR THE 2023 SEASON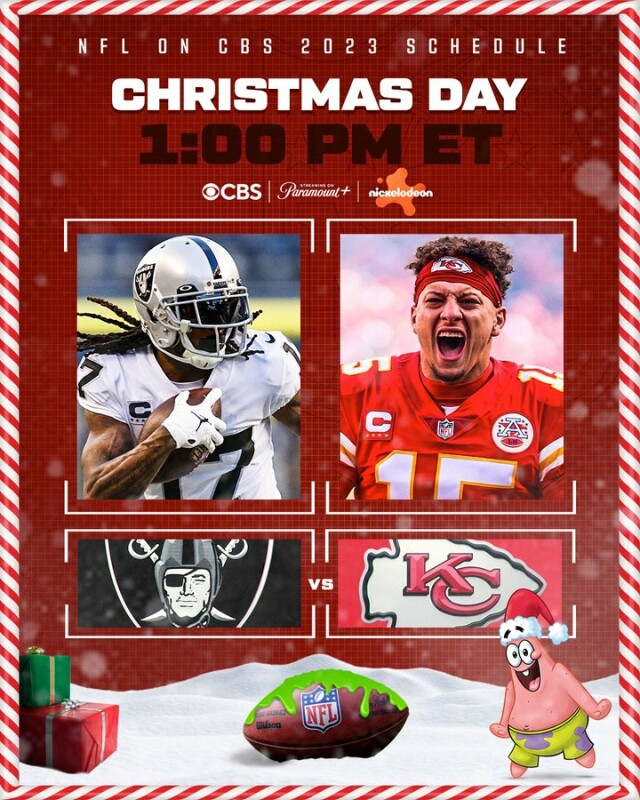 NICKELODEON AND CBS SPORTS TEAM UP WITH NFL
FOR THE 2023 SEASON
Special Slime-Filled Telecast of Christmas Day Game Returns to Nickelodeon with
Kansas City Chiefs Hosting Las Vegas Raiders, Alongside CBS Sports' Coverage on The CBS Television Network on Monday, Dec. 25, at 1:00 PM, ET
NFL Weekly Series NFL Slimetime Renewed for Third Season on Nickelodeon
Share it: @NFL @Nickelodeon @CBSSports
Click HERE to view the announcement on CBS Mornings and HERE for asset.
Today on CBS Mornings, Nickelodeon and CBS Sports announced they are teaming up with the National Football League (NFL) again for the 2023 football season with the Nickelodeon NFL Nickmas Game, a special slime-filled Christmas Day game tailored for kids and families on Monday, Dec. 25, at 1:00 PM, ET between the Las Vegas Raiders and Kansas City Chiefs, and a third season of Nick's weekly NFL series, NFL Slimetime. CBS Sports' presentation of the Christmas Day game will be broadcast on The CBS Television Network, and available to stream live on Paramount+ and on mobile with NFL+, while the special slime-filled presentation for family-viewing fun will air exclusively on Nickelodeon.
NFL Slimetime, the 2023 two-time Sports Emmy Award-nominated weekly show, will return for a third season on Nickelodeon in September at the start of the football season, with episodes available to stream on Paramount+. Hosted by CBS Sports analyst and former NFL standout Nate Burleson and Nick star Young Dylan (Dylan Gilmer, Tyler Perry's Young Dylan), the show will continue to feature Nick-ified highlights, expert advice and special guest appearances for kids and families to enjoy together.
The full 2023 NFL Schedule will be released tonight, Thursday, May 11, at 8:00 PM, ET on NFL Network, NFL.com and the NFL app. NFL GameDay View: Schedule Release will stream that night at 8:00 PM, ET on NFL.com, the NFL app, YouTube and the NFL Channel.
Contacts:
Nickelodeon:
Maggie Wang Maggie.Wang@nick.com
Tiffany Chao Tiffany.Chao@nick.com
CBS Sports:
Bailey Knecht Bailey.Knecht@cbs.com