Release
BRIAN NEMITZ NAMED VICE PRESIDENT AND NEWS DIRECTOR AT CBS TELEVISION STATIONS' MINNEAPOLIS-ST. PAUL PROPERTIES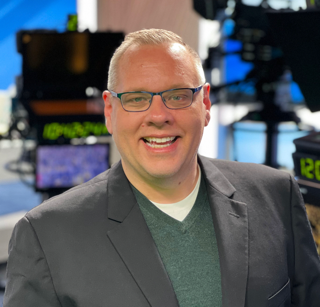 Sept. 13, 2023 – Emmy-winning local news executive Brian Nemitz has been named vice president and news director at CBS News and Stations' local businesses in Minneapolis-St. Paul, including WCCO-TV, the CBS News Minnesota streaming channel and WCCO.com, as of Monday, Nov. 27. The announcement was made today by Ann Ouellette, president and general manager of CBS Minnesota.
A native of Black River Falls, Wis., Nemitz is returning to the Upper Midwest after most recently serving as the news director at WLOS-TV, the ABC affiliate in Asheville, N.C., since 2018.
Nemitz will succeed Kari Patey as the news director at WCCO after Patey was promoted in May to the newly created position of vice president of producer development at CBS Stations. Patey will continue to lead the WCCO news team until Nemitz's arrival.
"We are excited to welcome Brian Nemitz to our WCCO family," Ouellette said. "Brian and Kari embrace the same values as journalists and empathetic leaders, which gives me confidence that we will have a smooth transition and he will be well received by his new colleagues."
"The opportunity to come back to the Midwest and work at the station I watched and admired when I was growing up in Western Wisconsin is a dream come true," Nemitz said. "WCCO was and still is one of the finest local news stations in the country, and I am excited to support the great work being done by the exceptional team there."
While Nemitz served as news director at WLOS, the station won the Southeast Regional Emmy Award for Best Newscast in 2019, 2022 and 2023, several regional Edward R. Murrow Awards, and Station of the Year honors from the National Press Photographers Association in 2018. During his nine years at the station, including four years as assistant news director, Nemitz led the growth of WLOS's digital platforms, expanded the station's investigative news team and created its first-ever documentary unit.
Nemitz's background also includes four years as an executive producer at WTVJ-TV in Miami, where he oversaw the station's 11:00 PM newscast; and three years as an executive producer at WEAR-TV in Pensacola, Fla.
His producing experience also includes work at WZZM-TV in Grand Rapids, Mich., as well as WQOW-TV and WEAU-TV, both in Eau Claire, Wis.
Nemitz majored in journalism at the University of Wisconsin in Eau Claire.
***
Press Contact: