Release
CBS NEWS DETROIT LAUNCHES TONIGHT
"Newsroom of the Future" to Debut on WWJ-TV and the CBS News Detroit Streaming Channel at 6:00 PM, ET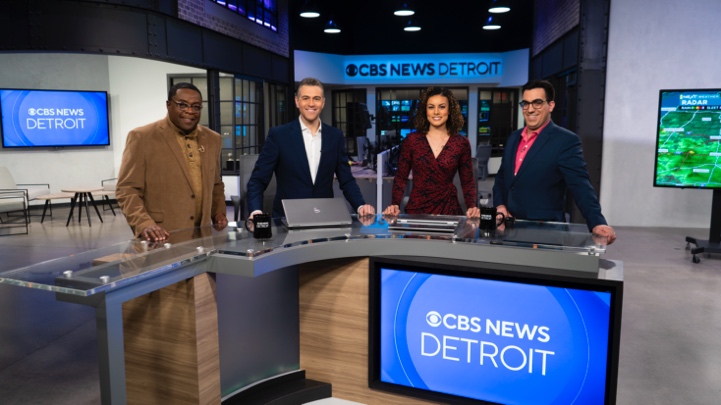 (From left, the CBS News Detroit evening team: sports anchor Ronnie Duncan, news anchors Jeff Skversky and Shaina Humphries and meteorologist Ahmad Bajjey)
Jan. 23, 2023 – CBS News Detroit, the hyper-local streaming and broadcast news service based at WWJ-TV, the CBS-owned station in Detroit, will launch this evening with 6:00 PM and 11:00 PM, ET newscasts that will be broadcast on WWJ and simulcast on the CBS News Detroit streaming channel.
CBS News Detroit is a local news operation that has been built from scratch over the past 12 months. The launch will give WWJ its own full-scale local news department for the first time since becoming a CBS Television Network-owned station in 1995.
Billed as the "Newsroom of the Future," CBS News Detroit has been designed and built with a streaming-first mentality. The backbone of the organization is a team of multi-skilled professionals who will write, shoot, edit and report their own stories. The reporting staff consists of a diverse team of journalists who are embedded full-time in communities across the Detroit area, as well as at the state capital in Lansing, Mich.
The initial launch of CBS News Detroit will feature live local evening newscasts on weekdays. In the coming weeks, the service will expand by rolling out live local newscasts in other weekday and weekend dayparts. When the rollout is complete, the CBS News Detroit streaming channel will feature local news 24 hours a day, seven days a week. In addition, WWJ will broadcast live CBS News Detroit newscasts 40 hours per week in early morning, midday, early and late evenings.
With the launch of CBS News Detroit, CBS News and Stations has debuted local news streaming channels in all 14 major U.S. markets where Paramount Global owns local CBS stations. The CBS News Streaming Network also includes local channels from New York, Los Angeles, Chicago, Philadelphia, Dallas-Fort Worth, Boston, the San Francisco Bay Area, Minneapolis-St. Paul, Denver, Miami, Sacramento, Pittsburgh and Baltimore.
***
Press Contact: