Release
CBS NEWS PRESENTS "HER MAJESTY THE QUEEN: A GAYLE KING SPECIAL," MARKING THE PLATINUM JUBILEE OF ELIZABETH II, TO BE BROADCAST THURSDAY, JUNE 2, ON CBS
Special Celebrates the Queen's Unprecedented 70-Year Reign and Looks Ahead to the Future of the British Monarchy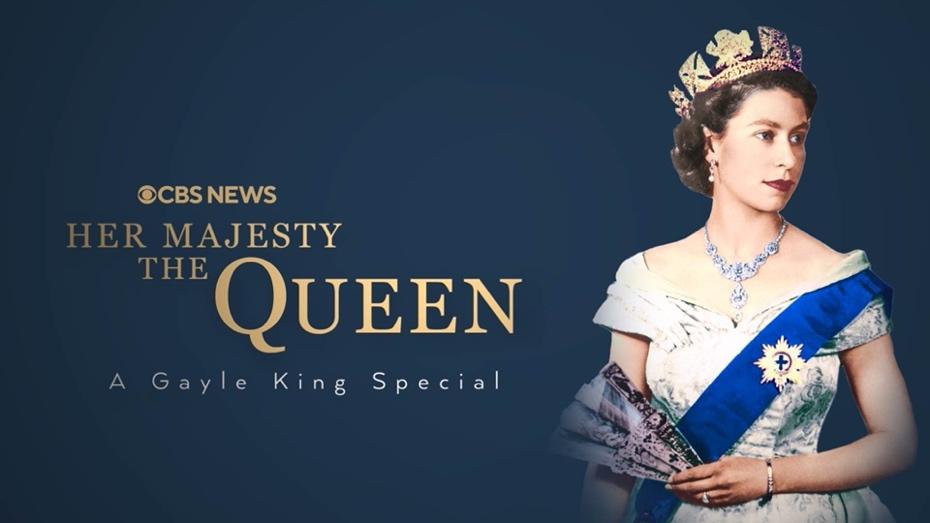 CBS News will mark the Platinum Jubilee of Queen Elizabeth II in HER MAJESTY THE QUEEN: A GAYLE KING SPECIAL, to be broadcast Thursday, June 2 (10-11 PM, ET/PT) on the CBS Television Network and streaming on Paramount+.
HER MAJESTY THE QUEEN: A GAYLE KING SPECIAL will look at the triumphs and the turbulence surrounding the queen's unprecedented milestone and the strength it has taken to move her family and her country forward. The broadcast will feature the high points of her extraordinary reign, and interviews with those she has touched along the way, including Sir Paul McCartney, who has a lifelong connection to the queen. The special includes insight from royal experts such as CBS News royal contributor Tina Brown and royal commentator Wesley Kerr. (Additional interviews will be announced closer to air.)
On June 2, 1,400 soldiers, 200 horses, 400 musicians and the British royal family will come together in a spectacular parade for their queen, who has ruled longer than any other monarch in British history. Millions will mark this historic moment, kicking off four days of festivities, full of symbolism and tradition to pay tribute to Her Majesty. She was only 25 years old when she became queen. Now, over 70 years later, Queen Elizabeth II has become one of the most respected and popular people on the planet.
"And people love her for so many things," says Brown. "They love her for her authenticity, for her sense of duty, for her sense of service, for her dry sense of humor … "
Brown also sheds light on the painful events in the queen's private life and the impact they have had on her: the loss of her beloved husband, Prince Philip; the departure of Prince Harry and Meghan Markle, duchess of Sussex, to California; and the scandal engulfing her son, Prince Andrew, because of his connection to convicted sex offender Jeffrey Epstein.
"For the queen to have to … essentially cancel her own son, was very painful. Not something she liked doing," says Brown, whose new book, The Palace Papers: Inside the House of Windsor – the Truth and the Turmoil, is making headlines around the world. "And it's been, really sad to see that … in this glorious, really, national, 'thank you' of the Jubilee, that she's had to deal with such shabby behavior in her family."
The special will also include highlights from the first day of the Jubilee. During the celebration, the queen is expected to appear on the balcony of Buckingham Palace as the Royal Air Force fly-past takes place overhead. There is growing speculation about who will stand next to the queen that day, and what it might mean. Will Meghan and Harry show? Will Prince Andrew be invited to stand with the family? Will Prince William and Prince Harry repair their so-called fractured relationship?
"Do you think that would weigh heavily on the queen?" King asks Kerr of Prince William and Prince Harry's relationship. "Or would she say, 'Look, they're both grown up. … We're all grownups here,' and let them work it out and decide what works for them?"
"I think that's exactly what the queen would say: 'Let them work it out,'" Kerr says.
McCartney talks with King about being knighted in 1997 and how proud his parents would have been with the honor. Decades later, McCartney was back at Buckingham Palace to receive one of the highest honors the queen could bestow, the Companion of Honour. By then, the former Beatle had seen the queen on several occasions, and performed the song he wrote for her, "Her Majesty," at her 2002 Golden Jubilee celebration.
"When I was made Companion of Honour, I went again to the palace," McCartney remembers, laughing. "I'm getting used to this routine, you know? So I do the walk again, walk up to her … so I was feeling pretty cheeky by now and I'm thinking, you know, 'I'm getting quite at home here.'" The former Beatle says he then joked to the queen, "We have to stop meeting like this."
Follow CBS News on Twitter, Instagram, Facebook and CBSNews.com. Stream on Paramount+.
***
Press Contact: