Release
CBS REPORTS' "BLACK TWITTER: THE TWITTERVERSE THAT CHANGED A GENERATION" PREMIERES TONIGHT ON CBS NEWS STREAMING
CBS Reports Explores Impact of Black Twitter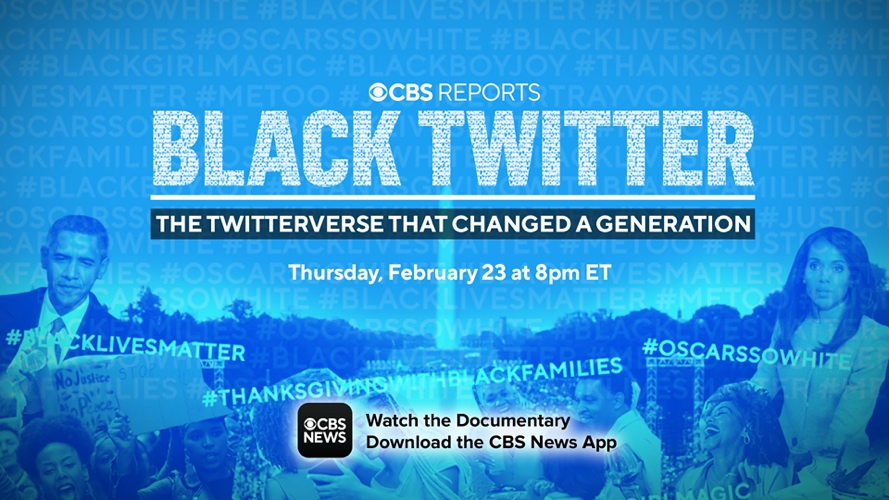 CBS News' Jericka Duncan joined CBS Mornings' "What to Watch" to Discuss the Upcoming CBS Reports Black Twitter Documentary
Watch the documentary online HERE and stream on CBS News, the CBS News App and Paramount+ on Thursday, Feb. 23, at 8:00 p.m. ET
You may know the hashtags and the groundbreaking movements - #BlackLivesMatter, #OscarsSoWhite, #SayHerName - but now you'll get an inside look at where they were born: Black Twitter. The documentary will premiere on Thursday, Feb. 23 (8:00 PM, ET) on the CBS News Streaming Network and will be available on CBSNews.com, the free CBS News App and Paramount+. The documentary re-airs at 11:00 PM and 2:00 AM.
Black Twitter is the barbershop or beauty salon of social media that has made massive waves across America and the world.
CBS REPORTS interviews celebrities and influencers like The Daily Show's Roy Wood Jr., author and journalist Jemele Hill, comedian Kevin Fredericks, and cultural critic Jamilah Lemiuex. These and other thought leaders chronicle the history of Black Twitter, how it has spread to other platforms like Instagram, LinkedIn and TikTok, and explore the social sphere where Black people started a community and ended up creating a pop culture juggernaut and driver of social justice.
Watch BLACK TWITTER: THE TWITTERVERSE THAT CHANGED A GENERATION on CBS News, Paramount+ or by downloading the free CBS News App.
READ the CBSNews.com story: How these 3 hashtags from Black Twitter changed America
WATCH all the CBS REPORTS documentaries at cbsnews.com/cbs-reports.
***
Press Contact:
April Andrews: april.andrews@viacomcbs.com