Release
"CBS MORNINGS" LAUNCHES TODAY!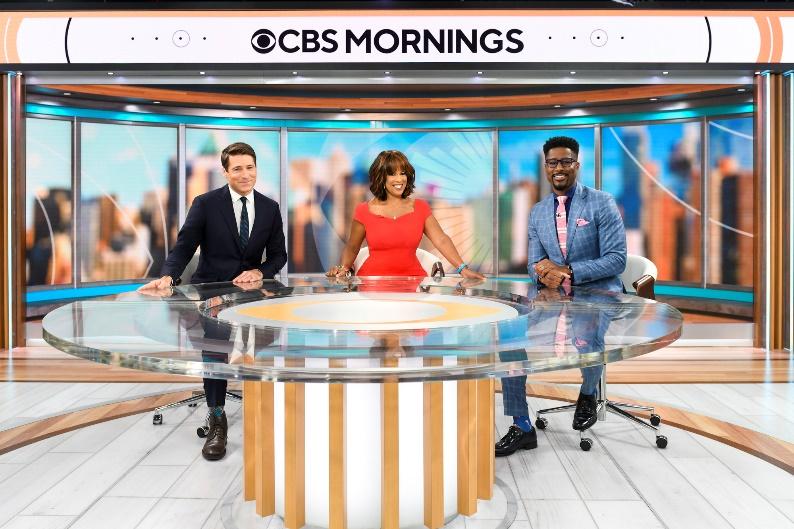 Today we are officially launching CBS MORNINGS, a new, reimagined morning news program with co-hosts Gayle King, Tony Dokoupil and Nate Burleson from its new, state-of-the-art studio in Times Square. Announcement HERE. Below are a few highlights of what you'll see. We hope you will tune in!
Tuesday, Sept. 7:
- Gayle King looks into how Times Square maintains its iconic look [https://bit.ly/3zRDDmd]
- Norah O'Donnell and CBS News' two-year investigation into domestic violence in the U.S. military [https://cbsn.ws/3jSfw1f]
- Lee Cowan looks back on the history of grunge music and one often overlooked key figure in the birth of this musical movement, Tina Bell
- Singer-songwriter Kim Petras live in studio to discuss performing at Sunday's VMA preshow, her new single and her upcoming debut album. Petras will also announce the next round of VMA performers only on CBS MORNINGS
- Feature reporting from David Begnaud and Jericka Duncan
Promo video: https://cbsn.ws/3zRnwFh
Sneak peek at new studio: https://bit.ly/2VlF6lN
Gayle King lit Times Square's newest billboard in honor of the show moving to its new studio. WATCH: https://bit.ly/3jMiNPx
Press release announcing CBS MORNINGS: https://bit.ly/3n7yOl6
Photos are available at: https://www.viacomcbspressexpress.com/cbs-news/
CBS MORNINGS, launching Sept. 7, each day delivers two hours of original reporting, breaking news, top-level newsmaker interviews and artful storytelling from the new, state-of-the-art studio inside the ViacomCBS world headquarters in the heart of Times Square. CBS MORNINGS, with co-hosts Gayle King, Tony Dokoupil and Nate Burleson, combines impactful journalism and rich storytelling that leaves viewers more informed, more prepared and more uplifted to take on the day.
Shawna Thomas is the executive producer of CBS MORNINGS.
Follow CBS MORNINGS on Twitter, Facebook, Instagram and YouTube.
* * *
Press Contacts:
| | | |
| --- | --- | --- |
| Samantha Graham | | |
| Tucker Hart | | |