Release
WHEN A TEXAS WOMAN'S HUSBAND WAS SHOT DEAD OUTSIDE THEIR HOME, NEIGHBORS RAISED MONEY TO HELP – BUT THEN THE VICTIM'S WIFE USED SOME OF THAT MONEY AS A PERSONAL PIGGY BANK TO SHOWER HER HUSBAND'S ALLEGED KILLER WITH CASH AND GIFTS
"48 Hours" Investigates in "The Plot to Kill Jamie Faith"
Saturday, April 9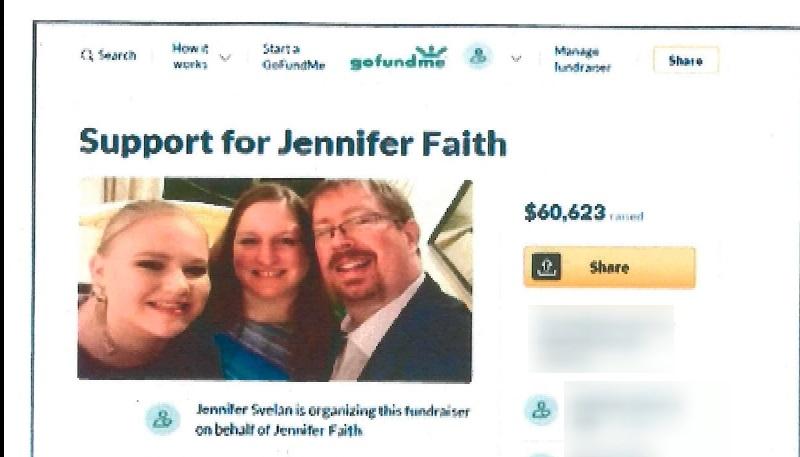 Was a mild-mannered airline employee the target of a murder plot, or was he the victim of a robbery gone bad? Correspondent Peter Van Sant and 48 HOURS investigate the death of a Texas man and the twisted tale behind his murder in "The Plot to Kill Jamie Faith," to be broadcast Saturday, April 9 (10:00 PM, ET/PT) on the CBS Television Network and streamed on Paramount+.
Jamie Faith and his wife, Jennifer, set out from their Dallas home on an early morning dog walk on Oct. 9, 2020. It would be the last walk Jamie Faith ever took. Moments after they left home, Jamie was shot dead. Jennifer Faith was unharmed. It was a murder that stunned their friends and neighbors.
"To say it was a shocking murder would be an understatement … Broad daylight, seven shots, one person killed," says Steve Pickett, who covered the case for CBS' KTVT-TV in Dallas/Fort Worth. "We see murders all day. This one looked different."
"Three times to the head, three times to the chest and once to the groin. … And then [someone] turns to the wife, takes the time to pull out duct tape and wrap her wrists," says Christy Jack, a prominent defense attorney who reviewed the case for 48 HOURS, adding, "As soon as I saw it, I thought, 'That's a hit.'"
The community rallied around Jennifer, raising more than $60,000 in a GoFundMe account to help her and her daughter make up for Jamie's lost income. They also provided meals for the grieving family. Investigators, however, learned that Jennifer had been in constant contact with a man she dated in high school, Darrin Lopez. Investigators found a gun with Jamie's blood on it inside Lopez's home and soon learned that Jennifer was using some of the money from the GoFundMe account as a personal piggy bank to shower Lopez with cash, airline tickets and even a large screen TV.
The question became: how much did Jennifer Faith know about her husband's murder, and was Lopez operating on his own or under Jennifer's direction?
48 HOURS: "The Plot to Kill Jamie Faith" is produced by Paul La Rosa, Dena Goldstein and Josh Yager. Claire St. Amant and David Dow are the development producers. Jordan Kinsey is the field producer. Atticus Brady, Marcus Balsam, Gary Winter and George Baluzy are the editors. Peter Schweitzer is the senior producer. Nancy Kramer is the executive story editor. Judy Tygard is the executive producer.
48 HOURS is broadcast Saturdays at 10:00 PM, ET/PT on CBS, and streams anytime on Paramount+. There's also a new way to watch 48 HOURS. You'll find us on the CBS News Streaming Network Wednesdays at 8:00 PM, ET. Download the CBS News app on your phone or connected TV. Follow 48 HOURS on Twitter, Facebook and Instagram. Listen to podcasts at CBSAudio.
***
Press Contact: