Release
CBS NEWS WINS EIGHT GRACIE AWARDS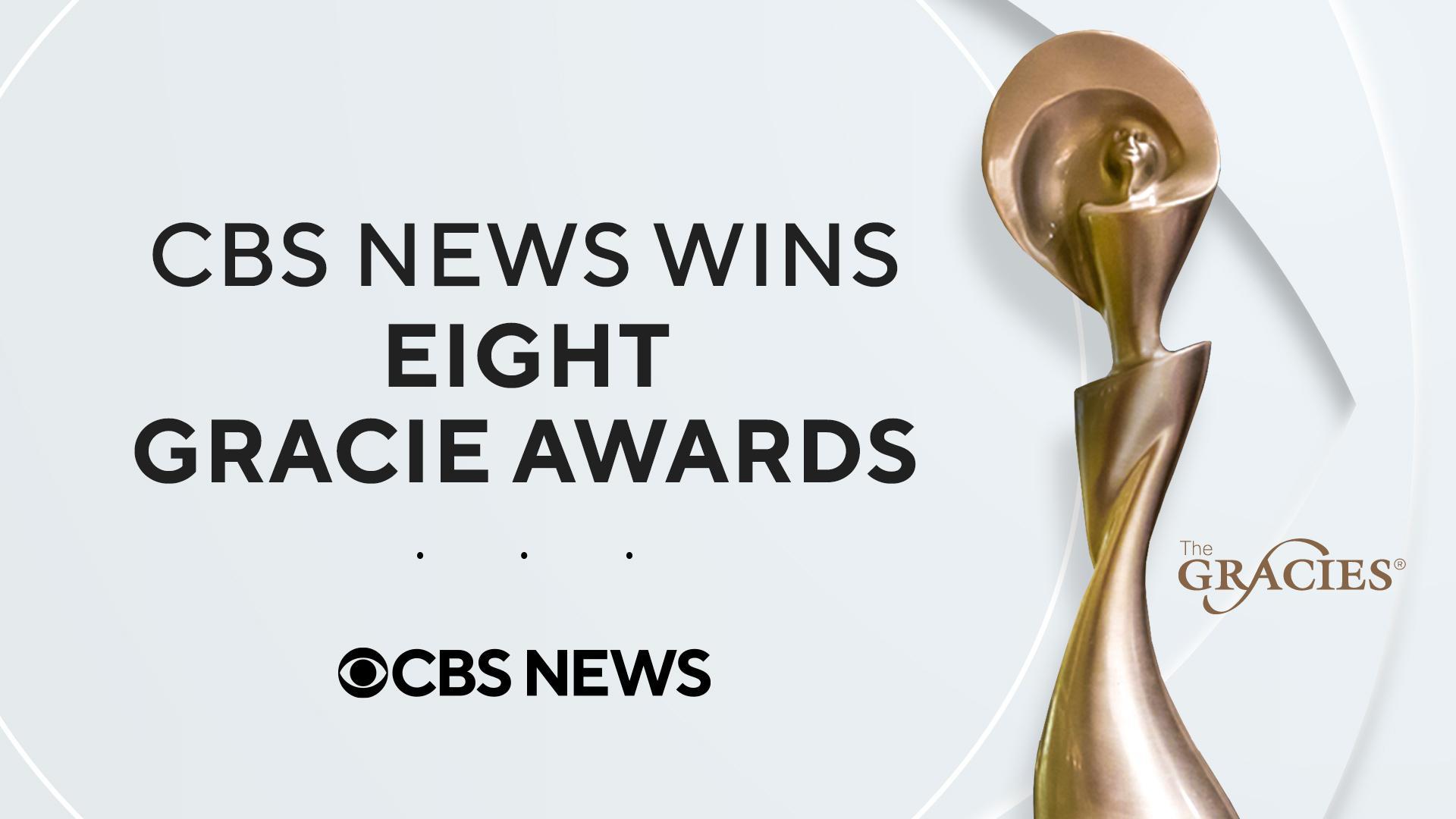 CBS News has been honored with eight Gracie Awards from the Alliance for Women in Media Foundation, which recognizes individual achievement and programming by, for and about women in all facets of media and entertainment.
CBS News won five Gracies for its original reporting at the height of the COVID crisis, two exclusive CBS THIS MORNING interviews by Gayle King, incisive reporting from the team at 60 MINUTES and an episode of the Mo Rocca podcast MOBITUARIES. CBS News Radio won three Gracies for the CBS WORLD NEWS ROUNDUP, the CBS WEEKEND ROUNDUP and JILL ON MONEY. Click here to read the full list of Gracie winners.
The CBS News winners are:
BRAVERY AND HOPE: 7 DAYS ON THE FRONT LINE – CBS News spent seven days inside the Montefiore Medical Center in the Bronx, N.Y. at the height of the COVID-19 pandemic. The CBS News special won in the Documentary - COVID Special category.
CBS THIS MORNING: BREONNA TAYLOR: HER LIFE, DEATH AND LEGACY – Breonna Taylor's boyfriend, Kenneth Walker, shared the details of the night she was fatally shot by police in her own home in an exclusive broadcast interview with CBS THIS MORNING co-host Gayle King. King also sat down with two grand jurors. Those exclusive interviews were recognized in the Hard News Feature - Interview category.
60 MINUTES: TALKING TO THE PAST – Lesley Stahl's reporting on the effort underway to preserve the stories of Holocaust survivors even after they pass away using artificial intelligence was recognized in the Soft News Feature category.
60 IN 6: COVID AND DOMESTIC ABUSE – Laurie Segall's story on how the pandemic can make life at home for victims of domestic abuse even more dangerous was honored in the Investigative Feature category.
MOBITUARIES: ANNA MAY WONG, DEATH OF A TRAILBLAZER – In partnership with CBS SUNDAY MORNING, Mo Rocca examined the life of Hollywood's very first Chinese-American star. The MOBITUARIES episode won in the Podcast - Entertainment category.
The CBS News radio winners are:
JILL ON MONEY – CBS News Business Analyst Jill Schlesinger's show for CBS News Radio produced by Mark Talercio was honored in the Talk Show [Radio - Nationally Syndicated Commercial] category.
CBS WORLD NEWS ROUNDUP – Reporting from CBS News' co-anchors Cami McCormick and Deborah Rodriguez and producer/copy-editor Matt Cherry were recognized in the Crisis Coverage [Radio - National Syndicated Commercial] category.
CBS WEEKEND ROUNDUP – Host Allison Keyes and Executive Editor Tara Lipinsky's reporting was honored in the Frontline - Special Report [Radio National] category.
Follow CBS News on Twitter, Facebook and Instagram, and listen to podcasts at CBS Audio.
# # #
Press contact: Lance Frank FrankL@cbsnews.com