Release
60 MINUTES' CECILIA VEGA JOINS "CBS MORNINGS" AHEAD OF HER FIRST REPORT, AIRING THIS SUNDAY, MAY 14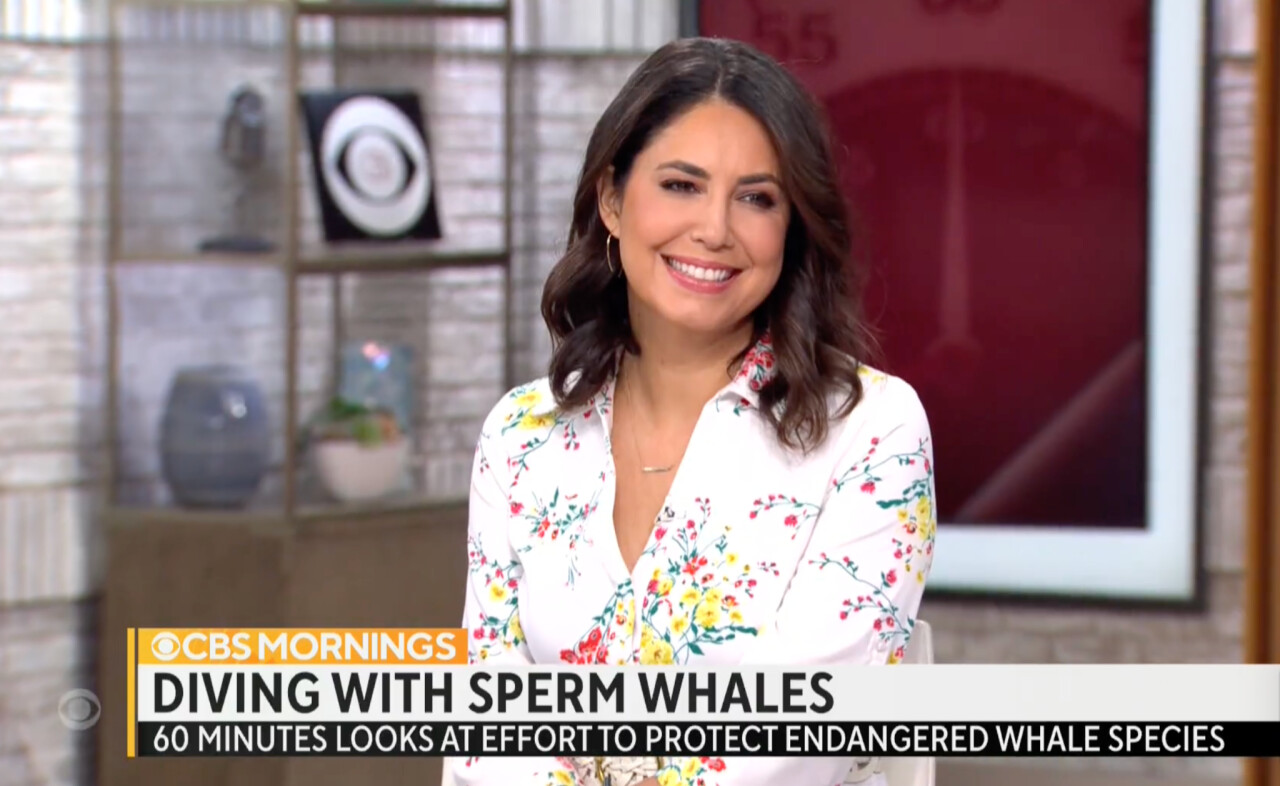 Vega Discusses Reporting On Sperm Whales Of Dominica
This morning, 60 MINUTES correspondent Cecilia Vega joined CBS MORNINGS to share a preview of her first report with the CBS newsmagazine. Vega traveled to the Caribbean island of Dominica to report on sperm whales, one of the largest endangered animals in the sea, and efforts to protect the vulnerable species.
Click here to watch.
The report will be broadcast Sunday, May 14 on 60 MINUTES (7:00 PM, ET/PT) on the CBS Television Network, and available to stream on Paramount+. A transcript of the report excerpt is below.
MUST CREDIT 60 MINUTES
TRANSCRIPT EXCERPT
CURT BENOIT: You guys ready? GO, GO, GO. Go guys, go! Look in the water coming straight to you.
CECILIA VEGA STUDIO: MOST OF ENRIC SALA'S DIVES DON'T START LIKE A FIRE DRILL … EVEN THOUGH HE HAS SPENT THOUSANDS OF HOURS UNDERWATER AS AN EXPLORER.
BENOIT: Look down and in back of you. (First mate) This way, this way.
VEGA STUDIO: WE CAME FACE TO FACE WITH A POD OF WHALES – BUT THESE ARE NOT THE WHALES WE TRAVELED ALL THIS WAY TO SEE. THEY ARE PYGMY KILLER WHALES KNOWN TO THREATEN SPERM WHALES. AND BECAUSE THEY ARE HERE, THE SPERM WHALES ARE NOT. THESE KILLER WHALES CAN GROW UP TO EIGHT AND A HALF FEET IN SIZE. SALA TOLD US SEEING THEM UP CLOSE ALMOST NEVER HAPPENS.
VEGA: You've never been able to get into the water with one of these. They're that elusive.
ENRIC SALA: They are very elusive.
VEGA: Why is that? Why do you not see them?
SALA: They are very smart. They hunt like wolves. They hunt in groups. And they don't care about interacting with humans. They are after the prey.
VEGA STUDIO: WE WERE OFF THE COAST OF DOMINICA – A COUNTRY IN THE EASTERN CARIBBEAN. RESIDENTS CALL IT NATURE ISLAND. THOSE RAINFOREST-COVERED VOLCANIC PEAKS DROP THOUSANDS OF FEET DOWN TO THE SEAFLOOR BELOW – WHICH IS WHY HUNDREDS OF SPERM WHALES LIVE IN THESE WATERS. THEY ARE ONE OF THE DEEPEST DIVING MAMMALS ON THE PLANET. THEY ARE MOSTLY FEMALES HERE – FAMILIES MADE UP OF GRANDMOTHERS, MOTHERS AND DAUGHTERS WHO STAY TOGETHER FOR LIFE … NURSING AND RAISING THEIR YOUNG.
WHEN ENRIC SALA WAS HERE IN DECEMBER, HIS NATIONAL GEOGRAPHIC TEAM FILMED THIS.
IT IS A POD OF SLEEPING FEMALE SPERM WHALES – VERTICAL GIANTS UP TO 40 FEET LONG SUSPENDED NEAR THE SURFACE. THEIR NAP LASTS ONLY ABOUT 15 MINUTES … UNTIL THE WHALES ARE READY TO DIVE AGAIN IN WHAT CAN BE AN HOUR-LONG JOURNEY FOR SQUID THOUSANDS OF FEET DOWN.
EVEN TO RESEARCHERS, WHY THEY SLEEP LIKE THIS IS ONE OF THE GREAT MYSTERIES.
***
Natalie Pahz
Communications
60 MINUTES