Release
CBS STATIONS TO PRESENT "KIDS IN CRISIS," A WEEK-LONG SERIES OF SOLUTIONS-ORIENTED REPORTS ADDRESSING THE YOUTH MENTAL HEALTH CRISIS IN AMERICA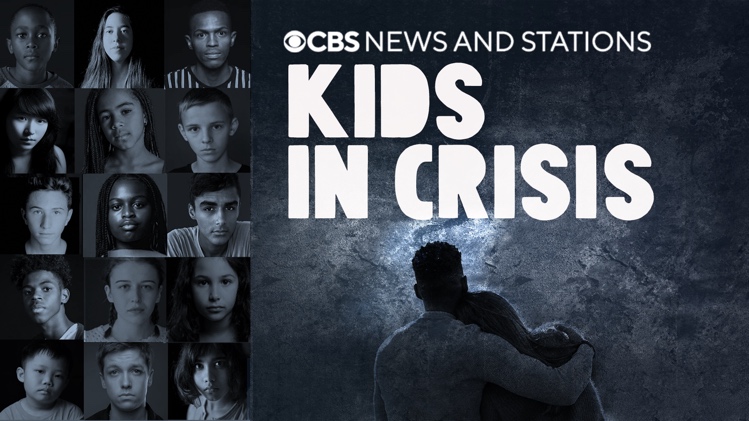 Original Reporting Includes Individual Stories Produced by the Local News Departments and their Executive Producers of Community Impact at CBS Stations in 14 Markets
CBS Local News Innovation Lab to Provide Special Reports for Stations and CBS News National Audiences
CBS Stations' Streaming Channels and Websites to Show the Exclusive Nationwide Release of "Connecting the Dots," a First-of-Its-Kind Documentary on Mental Health
Feb. 27, 2023 – CBS-owned stations across the country will present the most comprehensive and collaborative series of solutions-oriented reports on a single topic in the history of the station group this week under the banner of "Kids in Crisis," an in-depth and multiplatform commitment to addressing the youth mental health crisis in America.
Throughout the week, all 14 CBS Television Network-owned stations, their local streaming channels and websites will be exploring solutions to the pressing needs in the communities they serve. According to Mental Health America, more than 60% of youth with major depression do not receive any mental health treatment. And approximately 80% of states across the country have a severe shortage of child psychiatrists, according to data from the American Academy of Child and Adolescent Psychiatry.
"As someone who has the privilege of leading CBS Stations and, even more importantly, as a parent, I am extremely proud of the work our teams at every station and the CBS Local News Innovation Lab have done and will continue to do to shine a light on the issues surrounding this crisis, and also present solutions that will make a real difference in the lives of children and their families," said Wendy McMahon, president and co-head of CBS News and Stations.
Adrienne Roark, president of CBS Stations, added: "This project reflects the first time that the executive producers of community impact in each of our newsrooms have come together and collaborated on reports that will not only super serve each local market, but also be extremely relevant for audiences in other cities across the country. Our audiences will be able to view reports from each local station's news team as well as from other CBS Stations across the country."
In addition to the reports produced by individual stations, the CBS Local News Innovation Lab will present three special reports for CBS Stations. The reporting will also be featured on CBS News national platforms such as CBS MORNINGS, CBS News streaming and CBSNews.com.
CBS MORNINGS will supplement and highlight the reporting with a conversation with Jamie Howard, PhD, of the Child Mind Institute. Correspondent Meg Oliver will also explore how a program that brings social workers into a high school is seeing results with students who are experiencing challenges with their mental health.
"Everyone at the Innovation Lab and across our station group wants to help spark national and local conversations about the issues and potential solutions surrounding mental health," said Chad Cross, vice president of content development at CBS Stations. "We've done a lot of listening to what kids and teens across the country have to say about the current state of their well-being. As a result, the reports being produced by our teams in support of 'Kids in Crisis' represent the most important and, hopefully, the most impactful work we've done since launching the Innovation Lab last year."
On Monday, Feb. 27, CBS Stations consumer correspondent Ash-har Quraishi will report on the impact of mental health misinformation on TikTok and reveal how the platform's algorithm can lead to the most vulnerable young users making faulty self-diagnoses. Quraishi will introduce a social media star who has gained more than 1 million TikTok followers as she debunks inaccurate content on the platform. He will also explore possible solutions, including an innovative program launched by Meta that aims to combat mental health misinformation on Instagram.
Quraishi's report is available for viewing here.
On Tuesday, Feb. 28, CBS Stations national investigative correspondent Stephen Stock will report on the shortage of mental health professionals. Analysis by CBS data journalists shows 41 states have a severe shortage of child psychiatrists. In Texas and Illinois, about 80% of their counties have no child psychiatrists. These shortages make it difficult for parents to find help for their children in the early stages of a mental health crisis. Their struggle eventually worsens until it reaches a breaking point – forcing parents to take their children to a hospital emergency room.
Stock's investigation goes on to reveal the magnitude of the problem happening in ERs across the country. One children's hospital said every month it sees an average of 500 children with mental health issues in the ER. Kids are kept safe there, but get little or no mental health treatment.
In a one-on-on interview with the U.S. secretary of health and human services, Stock questions Xavier Becerra about how the federal government is responding to the crisis. Stock asked, "Is it acceptable that we've got young people in ERs with mental health issues all over this country?" "It's not acceptable. It's not care. It's housing them," Becerra responded.
Stock's report also looks at a Denver-area school district's innovative solution: a mental health day treatment center.
On Thursday, March 2, CBS Stations environmental correspondent David Schechter will report on the results of research on "climate change anxiety." Schechter will introduce viewers to a professor of psychology who has discovered a solution to help youth address their feelings about what's happening to our environment and visit with a group of teenagers who are following the professor's advice.
An additional centerpiece of CBS Stations' spotlight on the youth mental health crisis will be the exclusive nationwide release of CONNECTING THE DOTS, a one-hour documentary from filmmaker Noemi Weis that will debut on CBS Stations' 14 local news streaming channels on Wednesday, March 1 following each market's early evening newscasts (e.g. 6:30 PM, ET on the CBS News New York streaming channel). The film is managed & represented by MoJo Global Arts.
"Noemi's work stands out as a first-of-its-kind documentary that goes beyond just talking to experts and provides an opportunity for audiences to hear directly from young people who wish to have their voices heard," Roark said.
"We need to listen to young people in a way that is with open eyes, providing a safe space and no judgment," Weis said. "As much as we believe that we are in a world where we are all connected, the disconnect is huge. The isolation, the loneliness kids feel needed to be addressed."
Following the initial streaming presentation of CONNECTING THE DOTS, the documentary will be available for on-demand viewing on dedicated "Kids in Crisis" landing pages on each CBS Station's website. The landing pages will also include viewing guides created by Weis for parents and educators' use while they watch the documentary, reports produced by stations and the CBS Local News Innovation Lab, and links to providers of mental health resources.
Stories produced by CBS Stations and the CBS Local News Innovation Lab are available for on-demand viewing here. This page will be updated daily as additional stories are published.
***
Press Contact: