Release
CBS NEWS WILL PROVIDE COMPREHENSIVE COVERAGE OF THE 2023 STATE OF THE UNION ADDRESS AND THE REPUBLICAN RESPONSE ON FEB. 7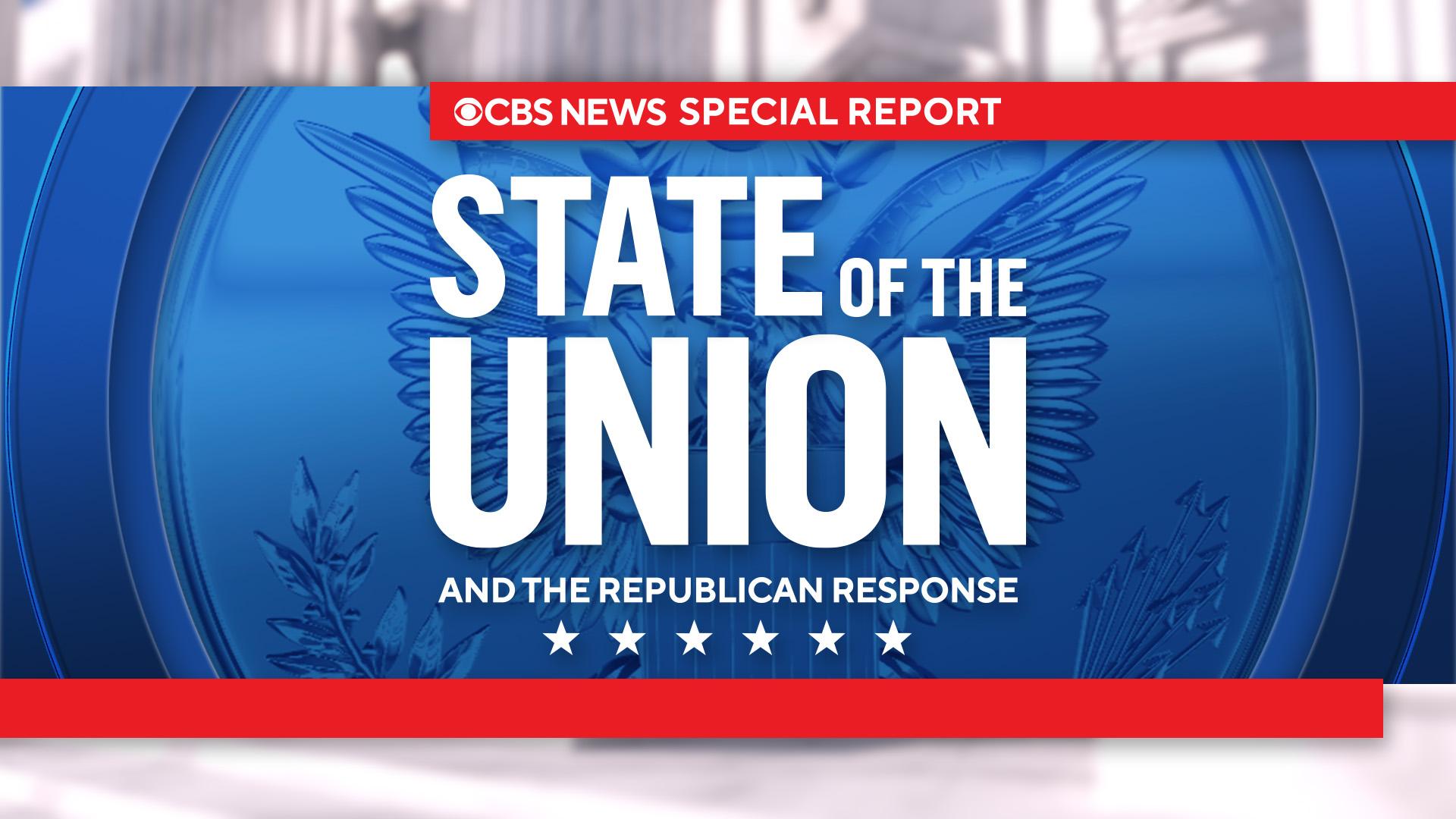 CBS News Streaming Network's Live Coverage Will Begin at 5:00 PM, ET
Primetime Coverage Begins Streaming at 8:00 PM, ET on CBS News and Continues on Television and Streaming from 9:00-11:00 PM, ET, Led by Norah O'Donnell with John Dickerson, Margaret Brennan, Major Garrett, Robert Costa, Nancy Cordes, Ed O'Keefe, Weijia Jiang Nikole Killion and Scott MacFarlane
CBS News and Stations will deliver comprehensive, multiplatform coverage and analysis of President Joe Biden's second State of the Union address and the Republican response on Tuesday, Feb. 7 across all broadcasts and platforms. The CBS News Streaming Network will feature coverage beginning at 5:00 PM, ET. Primetime coverage begins at 8:00 PM, ET, on CBS News Streaming and continues with a CBS News Special Report on streaming and on the CBS Television Network from 9:00-11:00 PM, ET. CBS News' coverage on all platforms will include extensive reporting and analysis before and after the speech, in addition to reporting from the team of correspondents in Washington, D.C., the U.S. Capitol and at the White House.
CBS EVENING NEWS anchor and managing editor Norah O'Donnell will anchor the multiplatform coverage from Washington, D.C., joined by CBS News chief political analyst John Dickerson, FACE THE NATION moderator and chief foreign affairs correspondent Margaret Brennan, chief Washington correspondent Major Garrett, chief election & campaign correspondent Robert Costa, chief White House correspondent Nancy Cordes, senior White House and political correspondent Ed O'Keefe, senior White House correspondent Weijia Jiang, and congressional correspondents Nikole Killion and Scott MacFarlane. CBS News director of elections and surveys Anthony Salvanto will have the latest views from Americans on their top priorities and what they hope President Biden covers in his address. CBS News political analyst Leslie Sanchez and political contributor Ashley Etienne will contribute analysis.
In addition, follow the latest headlines on CBS News' State of the Union live blog and find the latest streaming coverage on Paramount+, CBSNews.com/live, on the CBS News app, the CBS News YouTube channel and CBS News' social channels.
CBS News broadcasts will cover President Biden's second State of the Union address in the days leading up to and following the address, including CBS MORNINGS, anchored by Gayle King, Tony Dokoupil and Nate Burleson (7:00-9:00 AM, ET); the CBS EVENING NEWS with NORAH O'DONNELL (6:30 PM, ET); and FACE THE NATION with MARGARET BRENNAN (Sundays at 10:30 AM, ET).
Additional details for CBS News' division-wide coverage are below:
The CBS News Streaming Network's dedicated live coverage of the State of the Union will begin at 5:00 PM, ET, with a special edition of the stream's daily politics show, RED & BLUE, anchored by Ed O'Keefe and political correspondent Caitlin Huey-Burns. A special edition of CBS NEWS PRIME TIME WITH JOHN DICKERSON, anchored by John Dickerson, will stream live from Washington, D.C., at 7:00 PM, ET. Beginning at 8:00 PM, ET, CBS News Streaming will present an hour-long live State of the Union special anchored by Norah O'Donnell and will simulcast the Network's coverage of President Biden's speech and the Republican response from 9:00-11:00 PM, ET. The post-address coverage and analysis will stream immediately after, followed by a replay of the Network's State of the Union coverage in its entirety as a benefit for late-night and West Coast audiences.

CBS Newspath will provide coverage of the address to its 200+ affiliates nationwide and to broadcasters around the world with Skyler Henry and Nicole D'Antonio offering live reports around the clock from Washington, D.C.

CBS News Radio's live, anchored coverage will begin at 9:00 PM, ET, covering the address and the Republican response. White House correspondent Steven Portnoy will anchor, joined by correspondent Steve Dorsey on Capitol Hill, business analyst Jill Schlesinger, military consultant retired Col. Jeff McCausland and CBS News correspondent covering the United Nations Pamela Falk.
***
Press Contacts:
Hugo Rojo, CBS News Communications
Amanda Leonard, CBS News Communications