Release
CBS NEWS STREAMING WILL DELIVER LIVE SPECIAL COVERAGE OF AUGUST MIDTERM PRIMARY ELECTIONS STARTING TONIGHT, AUGUST 2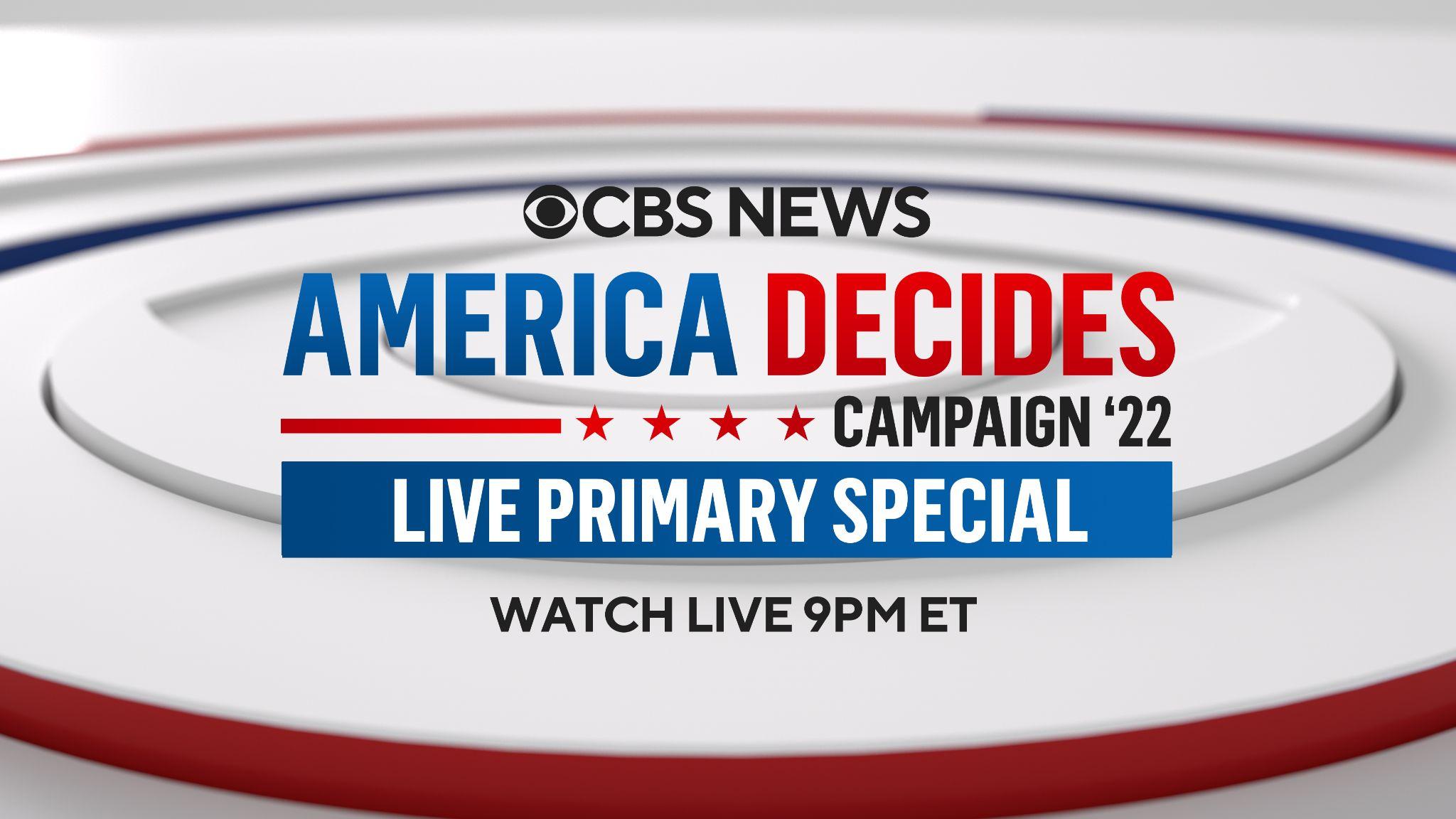 Live Coverage Begins Tonight at 9:00 PM, ET with One-Hour Special Anchored by CBS News Chief Washington Correspondent Major Garrett
Additional Live Specials on Key Battleground Primary Races to Stream August 16 and 23
The CBS News Streaming Network, CBS News' 24/7 live streaming news service, will have special live coverage of the primaries leading into the consequential 2022 midterm elections beginning tonight, Tuesday, August 2 (9:00 PM, ET). Tonight's live special, the first in a series of three during the month of August, will highlight and contextualize key trends of voter sentiment for viewers ahead of the midterm elections in November. Tonight's special will include coverage of races in Arizona, Kansas, Missouri, Washington and Michigan.
CBS News chief Washington correspondent Major Garrett will anchor tonight's streaming special from Washington joined in-studio by chief White House correspondent Nancy Cordes, chief election and campaign correspondent Robert Costa and congressional correspondent Nikole Killion.
CBS News elections and surveys director Anthony Salvanto will be at the helm of a dedicated interactive board pulling context from the latest CBS News Battleground Tracker, which explains what's on voters' minds and will provide regular detailed snapshots of the 2022 midterm elections in every state and district throughout the 2022 campaign.
CBS News senior White House and political correspondent Ed O'Keefe is in Arizona covering the GOP governor's race and political correspondent Caitlin Huey-Burns is in Kansas as voters in that state weigh in on abortion rights. CBS News political contributor Joel Payne and political analyst Leslie Sanchez will also join the coverage.
Additional streaming specials for coverage of primaries this month will include:
Tuesday, August 16: Special edition of RED AND BLUE (8:00 PM, ET), that will cover the primary races in Alaska and Wyoming, including on-the-ground reporting from Robert Costa on the pivotal re-election campaign of Rep. Liz Cheney (R-Wyo.).

Tuesday, August 23: CBS News chief political analyst John Dickerson anchors that night's primetime streaming coverage (9:00 PM, ET) on the special primary races in New York and Florida.
In addition to tonight's coverage on CBS News Streaming, CBSNews.com will offer a dedicated live blog detailing up-to-the-minute primary election updates, including sidebars and explainers for each race. Coverage of the primary races will be available to watch at CBSNews.com and the Network's YouTube channel. CBS News' comprehensive coverage of the 2022 midterm elections will be announced at a later date.
About CBS News Streaming:
CBS News Streaming Network is the premier 24/7 anchored streaming news service from CBS News and Stations that is available free to everyone with access to the internet. The CBS News Streaming Network is the destination for breaking news, live events, original reporting and storytelling, and programs from CBS News and Stations' top anchors and correspondents working locally, nationally and around the globe. CBS News' streaming services, across national and local, amassed more than 1.01 billion streams in 2021. Launched in November 2014 as CBSN, the CBS News Streaming Network is available on 30 digital platforms and apps, as well as CBSNews.com and Paramount+. The service is available live in 91 countries.
***
Press Contacts:
April Andrews, CBS News Streaming Communications
Hugo Rojo, CBS News Communications