Release
The Exhibit: Finding The Next Great Artist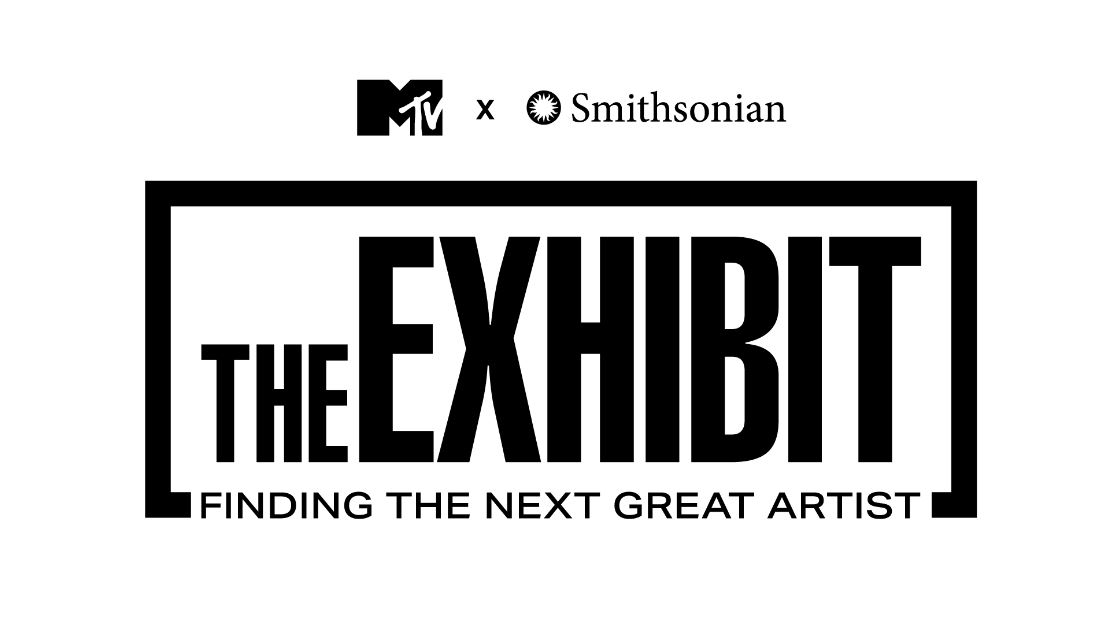 MTV announces The Exhibit: Finding The Next Great Artist is set to premiere on Friday, March 3 at 9PM ET/PT
Produced in partnership with Smithsonian Channel™ and the Smithsonian's Hirshhorn Museum and Sculpture Garden, the new docu-competition series hosted by MTV News' Dometi Pongo will follow seven diverse artists as they compete for a once-in-a-lifetime exhibit at the Hirshhorn
Featuring Melissa Chiu, Director of the Hirshhorn Museum and Sculpture Garden, as lead judge with respected art-world insiders Abigail DeVille, JiaJia Fei, Samuel Hoi, Adam Pendleton, Keith Rivers, Kenny Schachter and Sarah Thornton as guest judges
NEW YORK – February 9, 2023 – MTV and Smithsonian Channel™ today announced the premiere of The Exhibit: Finding The Next Great Artist, a first-of-its-kind docu-competition series in which seven diverse artists compete for a $100,000 cash prize and a once-in-a-lifetime, career-defining exhibit at the Smithsonian's Hirshhorn Museum and Sculpture Garden in Washington, DC. Each rising artist is tasked to create a museum exhibit based on the Hirshhorn's mission to feature art that "responds to history in real time." This series is produced in partnership with Smithsonian Channel™ and the Hirshhorn.
Hosted by MTV News' Dometi Pongo, The Exhibit: Finding The Next Great Artist will feature Melissa Chiu, Director of the Hirshhorn Museum and Sculpture Garden as lead judge along with respected art-world insiders Abigail DeVille, JiaJia Fei, Samuel Hoi, Adam Pendleton, Keith Rivers, Kenny Schachter and Sarah Thornton, as guest judges. The six-episode series features weekly competitions centered around the hot-button issues of our time, leading to a grand finale at the Hirshhorn Ball, the museum's annual gala, where the winning artist will be chosen.
The Exhibit: Finding The Next Great Artist premieres Friday, March 3 at 9PM ET/PT on MTV and will air on Smithsonian Channel™ on Tuesday, March 7 at 9PM ET/PT and every week thereafter. Beginning on Friday, March 10 the series will move to its regular time slot at 10PM ET/PT on MTV. See MTV's upcoming Friday night programming schedule below:
Friday, 3/3 at 8PM-9PM ET/PT – RuPaul's Drag Race

Friday, 3/3 at 9PM-10PM ET/PT– The Exhibit: Finding The Next Great Artist

Friday, 3/3 at 10PM ET/PT - RuPaul's Drag Race: Untucked

Fri, 3/10 at 8PM-9:30PM ET/PT – RuPaul's Drag Race (90 mins)

Fri, 3/10 at 9:30PM-10PM ET/PT – RuPaul's Drag Race: Untucked

Fri, 3/10 at 10PM ET/PT – The Exhibit: Finding The Next Great Artist
Be sure to follow this inspiring art docu-competition series onMTV Instagram, Smithsonian Channel Instagram and Tik Tok. Join the conversation using #TheExhibit.
Todd Radnitz, Nadim Amiry, Rachel Watson-Pass and Tim Evans serve as executive producers for MTV Entertainment Studios. Patty Ivins Specht and Lisa Fletcher are executive producers for PB&J TV + Docs, with Azon Juan and Mikell Ivey serving as co-executive producers.
Meet the host and lead judge:
Dometi Pongo is host of multiple MTV News franchises including its flagship program, "Need to Know," which provides award-winning analysis of trending news stories.

Melissa Chiu is director of the Smithsonian's Hirshhorn Museum and Sculpture Garden, the national museum of modern and contemporary art in Washington D.C. She is a world-renowned expert on modern and contemporary art, with a PhD in art history. She has worked with some of the world's best-known artists to curate or commission groundbreaking exhibitions of their work.
Meet the artists:
Jamaal Barber | Atlanta, GA
An artist, printmaker, and educator whose mixed media practice examines the ways in which social issues, culture, and identity can overlap with Blackness. Barber is currently a visiting lecturer at the Ernest G. Welch School of Art & Design in Atlanta, GA.
Frank Buffalo Hyde | Minneapolis, MN
An Onondaga/Niimíipuu (Nez Perce) artist whose paintings examine and elevate an image of contemporary Indigenous life through a vibrant pop-sensibility and uncompromising satirical eye. Hyde lives and works in Northfield, MN.
Baseera Khan | Brooklyn, NY
A New York-based performance, sculpture, and installation artist whose work explores materials and their economies, and the effects of these relationships upon labor, family structures, religion, and spiritual well-being.
Misha Kahn | New York, NY
A New York-based artist and designer who works at the intersection of design and sculpture and is best known for creating whimsical and playful objects made through a variety of materials and array of processes.
Clare Kambhu | Queens, NY
An artist and arts educator in New York City that creates paintings that draw attention to everyday, often overlooked objects, with a recent focus on how these items might reveal the potential for humanity to break the constraints of educational institutions.
Jillian Mayer | Miami, FL
Working across video, sculpture, photography, performance, web-based experiences, and installation, Mayer is a Miami-based artist whose practice explores the intersection of technology and human existence, particularly how our participation in a digital landscape reshapes our physical experiences.
Jennifer Warren | Chicago, IL
A Chicago-based oil painter whose work explores themes around nature, beauty, and the Black body. Largely self-taught, Warren's practice reflects her passion for incorporating new ideas and techniques that aim to convey the lived Black experience through everyday intimate and meditative moments.
Paramount Media Networks & MTV Entertainment Studios
Paramount Media Networks & MTV Entertainment Studios is one of the preeminent media entities in the world that connects with global audiences through its nine iconic brands – MTV, Comedy Central, VH1, CMT, Pop, Logo, Smithsonian Channel, Paramount Network and TV Land – and its Studios arm which produces acclaimed series and movies as well as award-winning documentaries through MTV Documentary Films.
PB&J TV + Docs
Founded in 2004 by Patty Ivins, PB&J TV + Docs is an award-winning media company. PB&J TV + Docs' work shines a light on unseen stories and amplifies creative voices which others have overlooked. For almost twenty years, the company has created hundreds of hours of innovative television series in every nonfiction category for top broadcasters such as MTV, NBC, FOX, Showtime, OWN, A&E, CMT, and Lifetime including "Growing Up is a Drag" and "Hungry" among others. In addition to TV, PB&J TV + Docs is dedicated to creating high impact, culturally relevant documentaries about racism, sexual violence and womanhood that have premiered at film festivals globally. Recent film and television projects are feature documentary DECONSTRUCTING KAREN on itunes and MTV and The Smithsonian Channel's "The Exhibit: Finding the Next Great Artist."
###
Paramount Media Networks & MTV Entertainment Studios
Lauren Nowell, Lauren.Nowell@paramount.com
Lauren Woulard, Lauren.Woulard@paramount.com
Renee Oliver, Renee.Oliver@paramount.com
CIVIC Entertainment Group
Dominique McDonald, Dominique.McDonald@Civic-US.com