Release
SMITHSONIAN CHANNEL PARTNERS WITH OPRAH WINFREY'S HARPO PRODUCTIONS ON NEW DOCUMENTARY "THE COLOR OF CARE"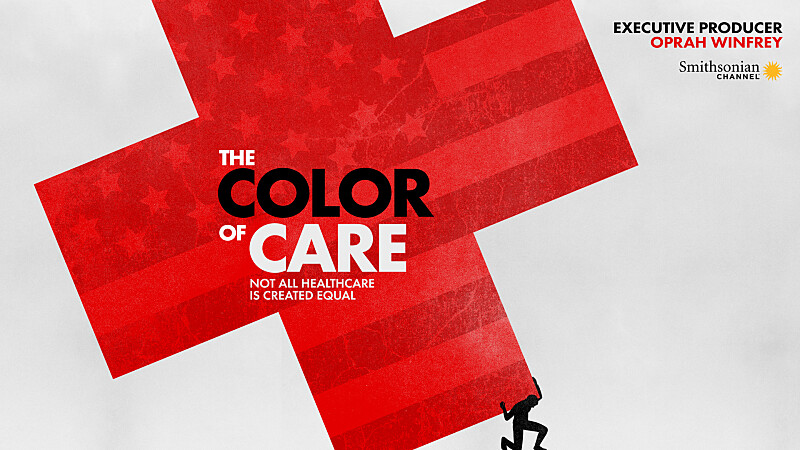 Powerful film exposes deep-seated racial disparities in healthcare in the U.S. that led to tragic consequences during COVID-19 pandemic; premieres May 1st at 8/7c
NEW YORK – March 3, 2022 – Smithsonian ChannelTM and Oprah Winfrey's Harpo Productions are partnering to release The Color of Care, an original documentary that chronicles how people of color suffer from systemically substandard healthcare in the United States and how COVID-19 exposed the tragic consequences of these inequities. In addition, The Color of Care will launch a robust impact campaign that activates medical and nursing schools, healthcare workers, policymakers, and impacted communities to advance solutions toward health equity. The campaign will also engage Historically Black Colleges and Universities (HBCUs), to further empower all communities to take note of this national health crisis and take actions toward ending it.
The Color of Care traces the origins of racial health disparities to practices that began during slavery in the U.S. and continue today. Using moving testimony from those who lost loved ones to COVID-19 and frontline medical workers in overwhelmed hospitals, expert interviews and powerful data, the film exposes the devastating toll of racism that is embedded in our healthcare system.
"People of color have long endured the fatal consequences of racial health disparities and the COVID-19 pandemic made these inequalities plain for all to see," said James Blue, Head, Smithsonian Channel. "I hope our documentary event, 'The Color of Care,' will be a catalyst for action. I am delighted to partner with Oprah Winfrey and Harpo Productions on this vital project."
"At the height of the pandemic, I read something that stopped me in my tracks," said Oprah Winfrey, Executive Producer. "I read a story about Gary Fowler, a Black man that died in his home because no hospital would treat him despite his COVID-19 symptoms. As we continued to hear how the racial disparities in our country were exacerbated by the effects of the pandemic, I felt something needed to be done. This film is my way of doing something, with the intention that the stories we share serve as both a warning and foster a deeper understanding of what changes need to take place to better serve us all."
The Color of Care will be an impetus for a vital reckoning around health equity and is part of a broader effort driven by Smithsonian Channel to move conversation and action around this topic forward. The film will also prepare future doctors, nurses and medical professionals to play an active role in combating systemic racism in the delivery of healthcare. The Color of Care is produced by Harpo Productions with executive producers Oprah Winfrey, Terry Wood and Catherine Cyr. The film is directed by OSCAR®-nominated and Emmy® award-winning director Yance Ford, with producer Kate Bolger. James Blue and Tim Evans are executive producers for Smithsonian Channel, with producer Najma Nurridin.
The Color of Care premieres on May 1, 2022 at 8/7c on the Smithsonian ChannelTM in the United States and Canada, with premieres in the United Kingdom, Ireland, Canada, and across Latin America shortly afterwards in early May. The film will also premiere simultaneously, for free, on Smithsonian Channel Selects on Pluto TV in the United States. The Color of Care film and impact campaign are components of Paramount's Content for Change initiative which seeks to transform the entire creative ecosystem by supporting inclusive creators and content.
MTV Entertainment Group
MTV Entertainment Group is a one of the preeminent youth media companies in the world that connects with global audiences through its nine iconic brands – MTV, Comedy Central, VH1, CMT, Pop, Logo, Smithsonian Channel, Paramount Network and TV Land – as well as MTV Entertainment Studios, which produces acclaimed series and movies and the award-winning MTV Documentary Films.
ABOUT HARPO PRODUCTIONS
Harpo Productions is the production division of Oprah Winfrey's multimedia company Harpo, Inc. The company produces premium film, television, digital and social media content and is based in Los Angeles.
###