Release
Smithsonian Channel™ Series "Inside The Factory" Premieres Two New Seasons Monday, August 15 at 8/7c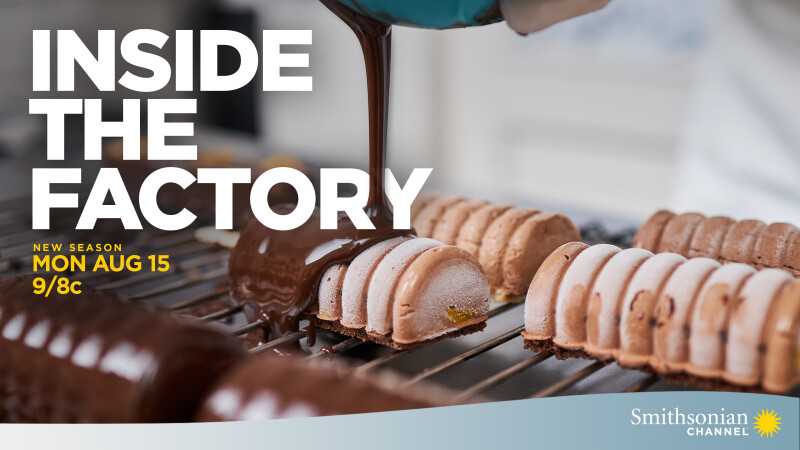 Smithsonian Channel™ is set to premiere two new seasons of Inside The Factory on Monday, August 15th at 8/7c. The 14 episodes will take a deep dive into some of the largest factories in the world, revealing the secrets behind their large-scale production.
Hosts Gregg Wallace and Cherry Healey explore the engineering secrets behind the factories that make the products we all know and love. With exclusive access to some of the world's biggest factories, the pair investigate the journey of everyday items, from how the raw materials are sourced to how the products are made, packaged and transported to the supermarket shelves. Historian Ruth Goodman also provides insight into the history of the production and demand of some of Britain's favorite products. Inside the factory, the ordinary becomes extraordinary. Inside The Factory makes you question everything you know about the ordinary products around us.
Episode Descriptions:
301: Tea Bags (8/15 at 8/7c) / Gregg and Cherry visit the Typhoo factory to learn the secrets of how they make their tea bags. Cherry looks at the process of how the tea leaves first start out before being shipped to the factories.

302: Pasta (8/22 at 8/7c) / Gregg and Cherry are at Barilla, the world's largest dried pasta factory in Italy, where they produce 150,000 km of spaghetti each day.

303: Biscuits (8/29 at 8/7c) / Gregg and Cherry visit the McVitie's factory to look at the production of chocolate digestive biscuits. Cherry looks at the preparation of the chocolate and the creation of the bronze molds used to make biscuits.

304: Fish Fingers (9/5 at 8/7c) / Gregg visits a Grimsby factory that makes 80,000 fish fingers daily. Cherry travels to Iceland, where she follows fish through a processing factory. Ruth investigates the origins of cod fish fingers.

305: Sauces (9/12 at 8/7c) / Gregg visits a factory in the Netherlands that produces a quarter of a million tons of condiments per year. Cherry finds out how glass jars are made. Ruth investigates Britain's love of mayonnaise and tells the history of Worcestershire sauce.

306: Soft Drinks (9/19 at 8/7c) / Gregg is at the Ribena factory in Gloucestershire, which produces three million bottles of the soft drink per week. Cherry discovers how berries are harvested and visits a plastic recycling plant that processes 2.5 million bottles per day. Ruth investigates the origins of fizzy drinks.

401: Coffee (9/26 at 8/7c) / Gregg visits the Nestle coffee factory that produces 175,000 jars of instant coffee per day. Cherry is in the lab where she discovers the chemical composition of coffee. Ruth investigates the origins of instant coffee.

402: Toilet Roll (10/3 at 8/7c) / Gregg is at a factory in Manchester that makes 700,000 toilet rolls a day. He follows the raw material from Sweden, where it is harvested from a sustainable forest. Cherry finds out how they churn out 1,000 toilets a day at Britain's oldest toilet factory and sees how wastewater is treated at a plant in Brighton. Ruth discovers what items were used before the invention of toilet paper.

403: Sausages (10/10 at 8/7c) / Gregg is in North Yorkshire at a factory that makes 625,000 sausages a day. Cherry finds out the best way to cook your sausage. Ruth discovers how a German bratwurst created the hot dog.

404: Curry (10/17 at 8/7c) / Gregg visits a Nottinghamshire factory that makes 250,000 jars of curry sauce daily. Cherry heads to India to follow the harvest of chilies on a farm. Ruth discovers the origins of curry in Britain may be as far back as 1747.

405: Potato Waffle (10/24 at 8/7c) / Gregg is in Lowestoft at a frozen food factory where they produce one million potato waffles a day. Cherry learns about the different types of potatoes. Ruth finds out how the potato was popularized and meets one of the inventors of the potato waffle.

406: Pizza (10/31 at 8/7c) / Gregg visits Italy where they make 400,000 frozen pizzas a day. Cherry discovers that not all cheeses are equal and which work best on pizza. Ruth finds out the history of freezer transport.

407: Beer (11/7 at 8/7c) / Gregg follows the production at Britain's biggest brewery where they make 3,000,000 pints of beer a day. Cherry finds out how basic ingredients can make a wide variety of beers. Ruth discovers why Burton upon Trent became the heart of brewing in Britain in the 1800s.

408: Pencils (11/14 at 8/7c) / Gregg is at the Faber-Castell factory in Stein, Bavaria, which makes 600,000 pencils a day. Cherry uncovers the properties of graphite - the main material that makes up a pencil. Ruth tells of the earliest pencils used in Britain.

409: Cheese (11/21 at 8/7c) / Gregg visits the Primula cheese factory in Gateshead which makes 3,000 tons of spreadable cheese each year. Cherry discovers what determines the smell, taste and appearance of different types of cheese. Ruth finds out how cheddar became the most popular hard cheese worldwide.
###