Release
PROGRAMMED BY HUMANS, PLUTO TV IS DELIVERING TV THE WAY IT SHOULD BE
Brand Campaign Highlights Best-In-Class Programming and Human Curators
Latest Evolution of Pluto TV Brings A New Channel Lineup and Categories to Optimize and Ease Navigation, Viewing and Discovery of Content Across the Platform
OCTOBER 2, 2023 Los Angeles, CA - As a pioneer of FAST, Pluto TV's signature style of curation, with hundreds of channels and categories programmed daily, is a known catalyst that sparked acceleration and fandom around free, ad-supported streaming television. With nearly a decade of experience, a dedicated and proprietary team of over 50 curators who apply passion and expertise alongside audience behavior and insights with advanced technologies to deliver the best entertainment experience for all audiences.
Beginning today, Pluto TV is rolling out a new brand campaign, building on the popular Stream Now Pay Never series, that puts a spotlight on the heart and humanity behind the award-winning service. Two new themes are being introduced to the market - Programmed By Humans and TV The Way It Should Be. This new positioning will take center stage in a multifaceted campaign spotlighting the human-powered innovation behind Pluto TV that is building upon the best parts of television and adapting it for the future of streaming television.
Programmed by Humans looks to shine a light on Pluto TV's best-in-class programming and the programmers who curate the channels. The human element of Pluto TV is a centerpiece connecting programming with viewers in a way that is unparalleled to any other FAST service. Programmed by Humans will air with three unique commercial spots, each paying heed to a Pluto TV fandom; sci-fi, romantic comedy and true crime. Each spot speaks to the distinctive quality of the subgenre where fictionalized expert curators appear in living rooms to resolve the paradox of choice and underscore the free, easy-to-use, "something for everyone" value proposition.
"When developing this campaign, we set out to connect with audiences in a meaningful way that captures the essence of Pluto TV and how transformative it has been to the world of television," states Val Kaplan, Global SVP, Head of Consumer Marketing, Pluto TV. "Our creative focus was to spotlight what sets Pluto TV apart in the increasingly competitive streaming market– the human element of curation that is intrinsic to the very human experience of watching television."
The Programmed By Humans campaign debuts today and will run through the remainder of the year. The spots take flight across global linear, CTV, digital, out-of-home, streaming audio, terrestrial radio and social platforms. Tapping into the power of the Paramount Global ecosystem, the campaign will be cross-promoted across the company's marquee lineup of linear, streaming and digital properties.
Additionally, an evergreen campaign, TV the Way It Should Be, will launch out-of-home creative at major sports arenas, airports and ferries, shopping venues, as well as NYC's Times Square, home to Paramount Global, while the creative spots will air during select NFL and NBA games.
MEDIA AND CREDITS BELOW
In concert with the brand campaign, Pluto TV is introducing the first installment of a recategorization that will take place between now and early 2024. The first of the new categories include DRAMA, SCI-FI, and TRUE CRIME with additional categories in development. Inspired by downstream viewing habits, programmers created these categories based on patterns that emerged in the form of a visual roadmap that offered a deeper understanding of how users are navigating the service.
"With the growth of the platform there are opportunities to better align the categories on our guide to help our users find the content they want to watch faster," states Scott Reich, SVP Programming, Pluto TV. "These changes are based on long-term user data trends and preparing for future content expansions as we continue to entertain the planet and drive viewing hours to new heights."
Curated by the Pluto TV programmers and inspired by fandoms, these new categories seek to further enhance the user experience through the consolidation of content for easier and smoother discoverability.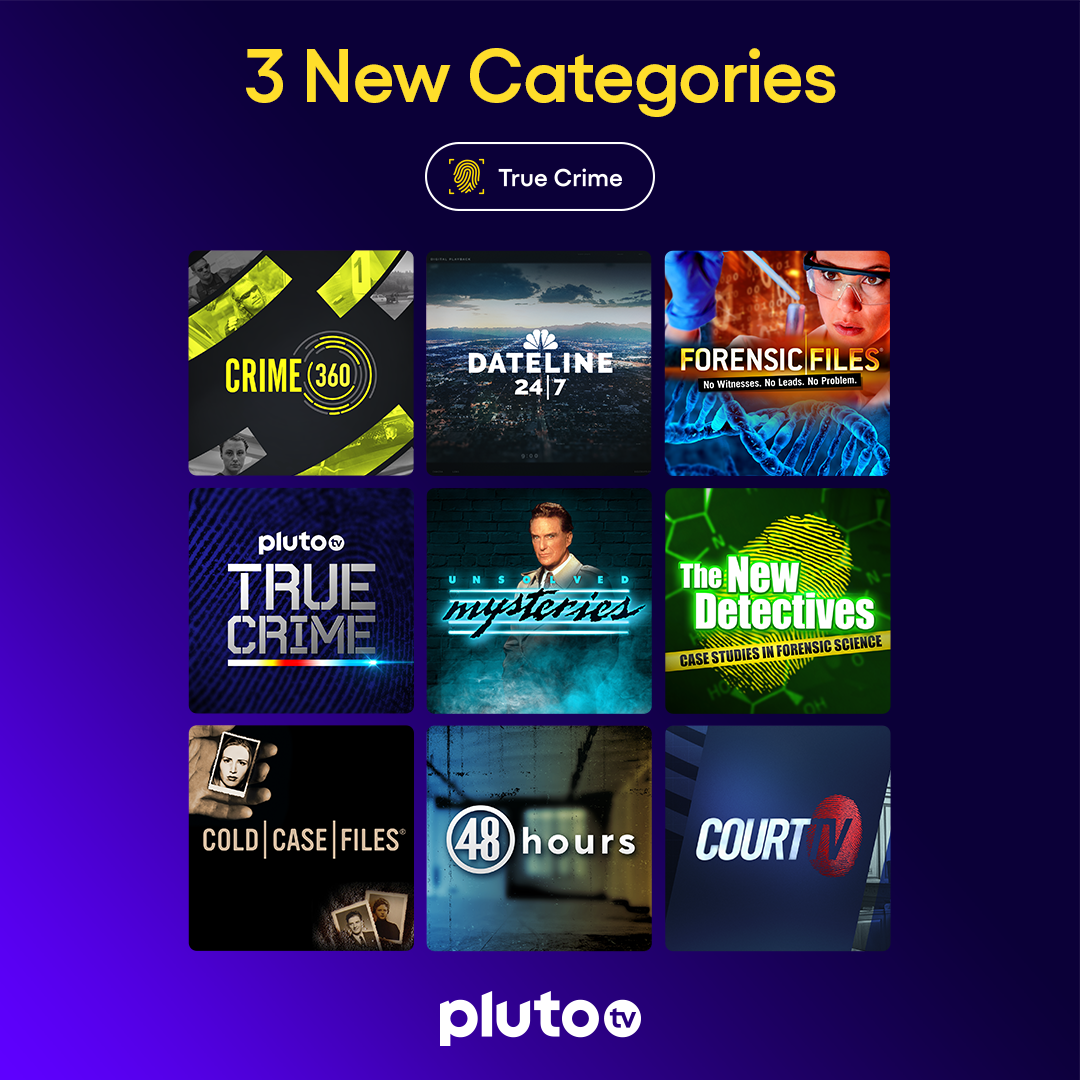 To see the actual curators who program Pluto TV - CLICK HERE!
About Pluto TV
Pluto TV, a Paramount Company, is the leading free streaming television service delivering hundreds of live linear channels and thousands of titles on-demand to a global audience. The Emmy ® award-winning service curates a diverse lineup of channels, in partnership with over 400 international media companies, offering a wide array of genres, languages and categories featuring movies, television series, sports, news, lifestyle, kids and much more. Pluto TV can be easily accessed and streamed across mobile, web and connected TV devices. Headquartered in Los Angeles, Pluto TV's growing international footprint extends across four continents and over 35 markets.
MEDIA CONTACT:
Pluto TV Communications Team
pr@pluto.tv
###
MEDIA ASSETS + SPOTS
CREDITS LIST
Spot titles:
"True Crime Curator" :30/:20/:15
"Sci Fi Curator" :60/:30/:20/:15
"Rom Com Curator" :60/:30/:20/:15
Paramount Streaming
Tom Ryan, President & CEO Streaming
Domenic DiMeglio, EVP, CMO Streaming
Olivier Jollet, EVP & International General Manager
Val Kaplan, Global SVP, Head of Consumer Marketing
Terry Minogue, SVP, Creative Marketing Streaming
Zeynep Zileli, VP, Creative
Pete Ireland, Director, Design
Jodi Lederman, VP, Head of Global Communications
Kim Kahne, VP, Campaign Management
Katherine Kelly, Director, Campaign Management
Marquis Avery, Brand Marketing Director
Karly Peterson, Brand Marketing Manager
Debbie Beiter, SVP Production & Operations Marketing
Rob Monforto, Senior Director, Operations


O POSITIVE - Production Company
Director: David Shane / Michael Clancy
Writer: Ian Reichenthal
Executive Producers: Ralph Laucella, Marc Grill, Ken Licata
Producer: Jason Reda
Production Supervisor: Luke Flegar
DP: Polly Morgan
Production Designer: Phillip Williams
Costume Designer: Christopher Lawrence


MACKCUT – Editorial, Visual Effects & Finishing
Gavin Cutler, Editor
Louisa Phillips, Assistant Editor
Gina Pagano, Executive Producer
Joseph Miller, Flame
Sam Shaffer, Sound Designer & Mixer


COMPANY 3 - Color
Tom Poole, Colorist