Release
PARAMOUNT+ UNVEILS OFFICIAL TRAILER FOR NEW DOCUSERIES "THE FAMILY STALLONE" PREMIERING MAY 17
Produced by MTV Entertainment Studios and Bunim-Murray Productions, Series Stars Academy Award Nominee Sylvester Stallone, Wife Jennifer Flavin Stallone and Daughters Sophia, Sistine and Scarlet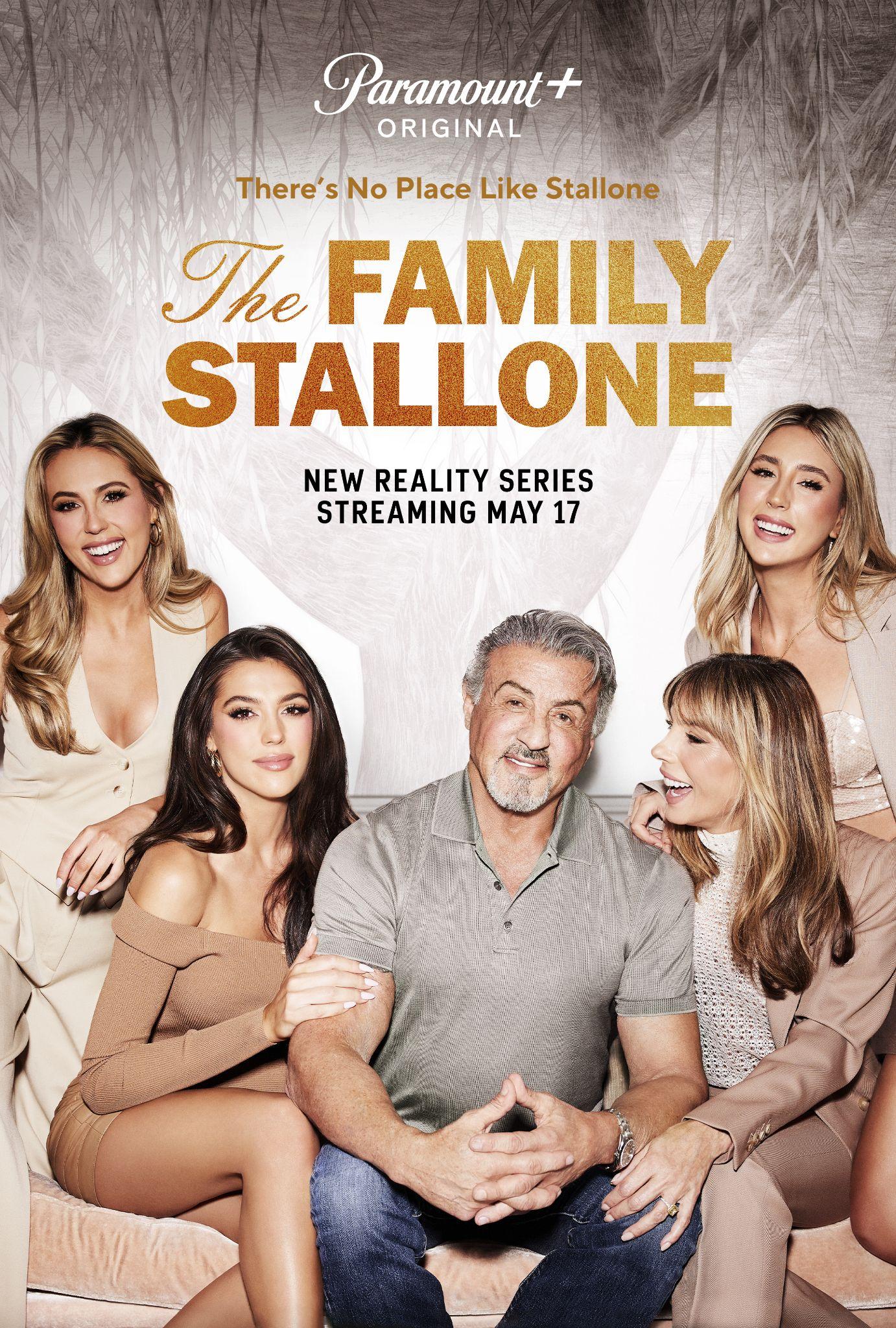 View Trailer Here
Download Key Art Here
April 11, 2023 – Paramount+ today announced that the new docuseries THE FAMILY STALLONE, starring Academy Award nominee Sylvester Stallone, wife Jennifer Flavin Stallone and daughters Sophia, Sistine and Scarlet, will premiere exclusively on the service Wednesday, May 17 in the U.S., Canada, Latin America and Brazil. The series will also premiere on Thursday, May 18 in the U.K., Australia and Italy, with further international markets to follow. An official trailer and art for the series were also released.
After playing some of the most legendary characters in cinematic history, three-time Academy Award nominee Sylvester Stallone is ready to give cameras access to what he would consider the greatest role of his lifetime: Dad. This new series starring Stallone's three daughters, wife and himself offers a seat at the table of one of Hollywood's most famous families.
THE FAMILY STALLONE is produced by MTV Entertainment Studios, with Benjamin Hurvitz, Jessica Zalkind and Nadim Amiry as executive producers. Julie Pizzi, Farnaz Farjam, and Jonathan Singer serve as executive producers for Bunim-Murray Productions, with Lauren Goldstein, Valana Hunn, Chris Ray and Jason Williams as co-executive producers.
Join the conversation using #TheFamilyStallone, and follow @TheFamilyStallone on Instagram and TikTok.
About Paramount+
Paramount+, a direct-to-consumer digital subscription video on-demand and live streaming service, combines live sports, breaking news and a mountain of entertainment. The premium streaming service features an expansive library of original series, hit shows and popular movies across every genre from world-renowned brands and production studios, including BET, CBS, Comedy Central, MTV, Nickelodeon, Paramount Pictures and the Smithsonian Channel. The service is also the streaming home to unmatched sports programming, including every CBS Sports event, from golf to football to basketball and more, plus exclusive streaming rights for major sports properties, including some of the world's biggest and most popular soccer leagues. Paramount+ also enables subscribers to stream local CBS stations live across the U.S. in addition to the ability to stream CBS News Network for 24/7 news and CBS Sports HQ for sports news and analysis.
For more information about Paramount+, please visit www.paramountplus.com and follow @ParamountPlus on social platforms. Join the conversation using #TheFamilyStallone, and follow @TheFamilyStallone on Instagram and TikTok.
Paramount Media Networks & MTV Entertainment Studios
Paramount Media Networks & MTV Entertainment Studios is one of the preeminent media entities in the world that connects with global audiences through its nine iconic brands – MTV, Comedy Central, VH1, CMT, Pop, Logo, The Smithsonian Channel, Paramount Network and TV Land – and its Studios arm which produces acclaimed series and movies as well as award-winning documentaries through MTV Documentary Films.
About Bunim-Murray Productions
Bunim/Murray Productions (BMP), a division of Banijay Americas, is the leading producer of innovative entertainment content. The Emmy Award-winning company is widely credited with creating the reality television genre with its hit series The Real World on MTV, the first reality game show, Road Rules (MTV), in 1995; the first reality sitcom, The Simple Life (E!), in 2003; and the first reality soap opera, Starting Over, in 2003. BMP's current programming includes Emmy-winning Lizzo's Watch Out For The Big Grrrls (Amazon), The Challenge (MTV), The Challenge USA (CBS), The Challenge All Stars (Paramount+),The Challenge World Championship (Paramount+),Born This Way (A&E), Kim Kardashian West: The Justice Project (Oxygen), Ball in the Family (Facebook Watch), Miz and Mrs. (USA Network), Don't Forget The Lyrics (FOX), Family or Fiancé (OWN) and Total Bellas (E!). BMP, through BMP Films, has also produced Transhood (HBO) They Call Us Monsters (PBS), Valentine Road (HBO), Pedro (MTV), and the Emmy Award-winning Autism: The Musical, and Autism: The Sequel (HBO). Based in Glendale, CA, the company was founded in 1987 by Jonathan Murray and the late Mary-Ellis Bunim, who were inducted into the Television Academy's Hall of Fame in 2012. The company joined Banijay Group in 2010.
***
Paramount+ Press Contacts:
Brian Bahr brian.bahr@paramount.com
Joe Regan joe.regan@paramount.com
Paramount+ International Press Contact:
Harriet Scott heather.brown@paramount.com
MTV Entertainment Studios Press Contacts:
Michael Fabiani michael.fabiani@paramount.com
Kelly Andersen kelly.andersen@paramount.com
Lauren Woulard lauren.woulard@paramount.com