Release
PARAMOUNT+ REVEALS OFFICIAL TRAILER AND PREMIERE DATE FOR THE SECOND SEASON OF THE ORIGINAL THRILLER SERIES THE ENVOYS (LOS ENVIADOS)

PARAMOUNT+ REVEALS OFFICIAL TRAILER AND PREMIERE DATE FOR THE SECOND SEASON OF THE ORIGINAL THRILLER SERIES THE ENVOYS (LOS ENVIADOS)
STARRING LUIS GERARDO MÉNDEZ AND MIGUEL ÁNGEL SILVESTRE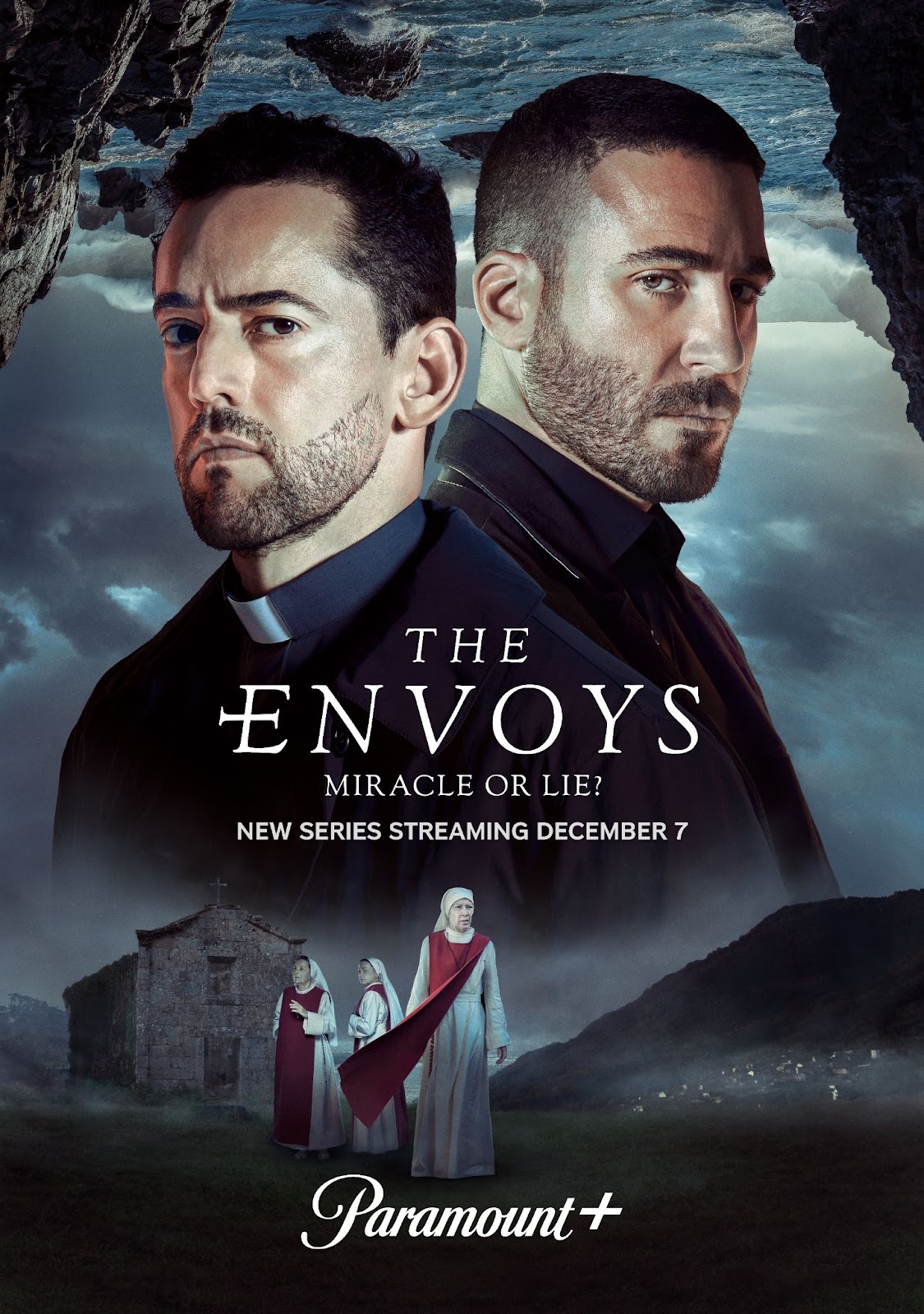 Produced by Renowned Director, Screenwriter and Oscar® Winner Juan José Campanella, THE ENVOYS' Second Season Will Premiere Globally on December 7
First Season of THE ENVOYS Was the Best-Performing Spanish-Language Scripted Series on the Platform in the U.S.
Watch Official Trailer HERE
Download Key Art HERE
November 16, 2023 – Paramount+ today released the official trailer for the second season of the Spanish-language thriller series THE ENVOYS (LOS ENVIADOS), premiering globally on Paramount+ on Thursday, Dec. 7. The original series features an all-star cast, including Luis Gerardo Méndez (Narcos: Mexico, Nosotros Los Nobles, Club de Cuervos) and Miguel Ángel Silvestre (Narcos, Sense8, Velvet, Sin Tetas No Hay Paraíso) with Assira Abbate. Oscar winner Juan José Campanella (El Secreto de Sus Ojos) serves as showrunner, producer and director. All eight episodes will be available to binge exclusively on Paramount+.
In the second season, Priests Pedro Salinas (Méndez) and Simón Antequera (Silvestre) delve into a web of mystery and murder in a Galician convent. With three blind nuns bearing witness to a supposed miracle, the battle between lies and faith escalates. As they probe deeper, tragedy strikes with the sudden demise of their host Joaquin. Now entangled in a dual investigation, the priests confront not only the mystical, but also a much earthlier truth. As the battle between deceit and faith escalates, this season promises an electrifying fusion of mystery, murder and heart-pounding thrills.
In addition to stars Méndez, Silvestre, and Abbate, the cast also includes Marta Etura, Susi Sánchez, Charo Zapardiel, Cristina Marcos, Ricardo de Barreiro, Isabel Naveira, Miquel Insúa, Pepo Suevos, Guillermo Carbajo, Francis Lorenzo, Carlos Olalla and Luis Iglesia. Season two of THE ENVOYS (LOS ENVIADOS) was filmed in various locations throughout Galicia, Spain. Season one was the best-performing Spanish-language scripted series on the platform in the U.S. and earned Gold for Best Drama and Silver for Best Screenplay at the New York Festivals® TV & Film Awards, one of the most prestigious international awards in the industry.
Campanella is a renowned director and screenwriter who has been honored throughout his career with several international awards, including two Emmy® Awards and an Oscar for Best Foreign Film for El Secreto de Sus Ojos. The series is produced by Paramount Television International Studios in association with 100 Bares and Portocabo and is directed by Campanella, along with Martino Zaidelis, Camilo Antolini and Inma Torrente. Written by Eduardo Sacheri, Emanuel Diez, Juan Pablo Domenech and Campanella, the second season is executive produced by Muriel Cabeza for 100 Bares and Alfonso Blanco for Portocabo.
# # #
About Paramount+
Paramount+ is a global digital subscription video streaming service from Paramount that features a mountain of premium entertainment for audiences of all ages. Internationally, the streaming service features an expansive library of original series, hit shows and popular movies across every genre from world-renowned brands and production studios, including SHOWTIME®, BET, CBS, Comedy Central, MTV, Nickelodeon, Paramount Pictures and the Smithsonian Channel™, in addition to a robust offering of premier local content. The service is currently live in the U.S., the U.K., Canada, Latin America, the Caribbean, Australia, Italy, France, Germany, Switzerland, Austria, and South Korea.
For more information about Paramount+, please visit www.paramountplus.com
PRESS CONTACTS:
Paramount International Markets Publicity
Christine Woo: Christine.woo@paramount.com
Debbie Bonora: debbie.bonora@paramount.com
Paramount+
Nicole Elice: nicole.elice@showtime.com