Release
THE PARAMOUNT+ HOLIDAY COLLECTION RETURNS WITH EVEN MORE SEASONAL CONTENT TO UNWRAP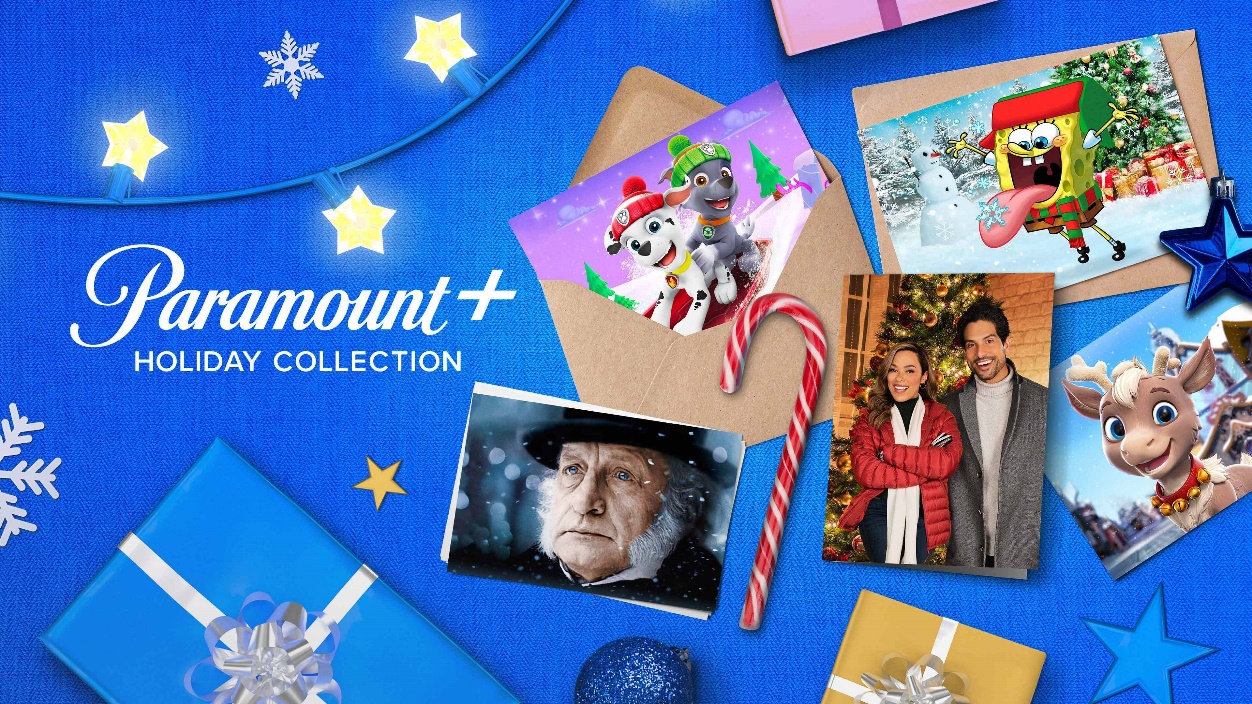 The Festive Collection Includes the Premiere of the Holiday Film "Snow Day," Plus Special New Holiday Episodes from Popular Series Such as "Ghosts," "Baby Shark" and More
With More Than 15 Curated Carousels, the Collection Features Something for Everyone, Including Family Favorites, Christmas Classics and Special Holiday Episodes
Stream the Seasonal Holiday Collection HERE, Watch the Campaign Trailer Featuring "Star Trek's" Celia Rose Gooding HERE and the Official Trailer for "Snow Day" HERE
NEW YORK – Nov. 16, 2022 – This holiday season Paramount+ is celebrating with an expanded collection of festive movies and episodes, offering over twice as many movies and specials as well as three times as many holiday episodes this year. The Paramount+ holiday spectacular, which kicks off today, includes a carefully crafted assortment of holiday merriment featuring seasonal favorites alongside the premiere of new movies and episodes, including SNOW DAY (Friday, Dec. 16), an original movie musical from Nickelodeon; a special one-hour holiday episode of GHOSTS (Thursday, Dec. 15); the highly anticipated two-hour concert special MARIAH CAREY: MERRY CHRISTMAS TO ALL! (Tuesday, Dec. 20) and more. The Holiday Collection on Paramount+ can be found here.
With more cheer than ever before, this year's seasonal library features an array of entertainment. With more than 15 fun and creative carousels, there is something for everyone in the family this holiday season, including:
Falalala Family Fun: Premieres such as REINDEER IN HERE on Tuesday, Nov. 29 and SNOW DAY on Friday, Dec. 16, plus holiday delights including BABY SHARK'S BIG FISHMAS SPECIAL, SONIC CHRISTMAS BLAST, TOP ELF and more.

More the Merrier from CBS*: Much anticipated new CBS movies coming to Paramount+, including FIT FOR CHRISTMAS on Sunday, Dec. 4, MUST LOVE CHRISTMAS on Sunday, Dec. 11, WHEN CHRISTMAS WAS YOUNG on Sunday, Dec. 18 and THE GIFT: KINDNESS GOES VIRAL on Wednesday, Dec. 28, as well as special events such as THE NATIONAL CHRISTMAS TREE LIGHTING on Sunday, Dec. 11; MARIAH CAREY: MERRY CHRISTMAS TO ALL! on Tuesday, Dec. 20, A HOME FOR THE HOLIDAYS AT THE GROVE on Friday, Dec. 23 and NEW YEAR'S EVE LIVE: NASHVILLE'S BIG BASH on Saturday, Dec. 31.

Ha Ha Holidays: Jolly episodes from fan-favorite comedies such as FRASIER, EVERYBODY HATES CHRIS, DARIA and BEAVIS AND BUTT-HEAD, as well as a special new GHOSTS episode, "The Christmas Spirit," on Thursday, Dec. 15.

Season's Greetings: A sleigh-load of holiday favorites such as A CHRISTMAS CAROL (1938, 1984), SCROOGE, DADDY'S HOME 2, LAST HOLIDAY, A CHRISTMAS PROPOSAL and CHRISTMAS TAKES FLIGHT.

Nick Jr. Nickmas: Seasonal favorites from Nick Jr. series such as PAW PATROL, PEPPA PIG, BUBBLE GUPPIES and BLUE'S CLUES & YOU!

Celebrate Nickmas: Holiday episodes from family-friendly franchises, including SPONGEBOB SQUAREPANTS, RUGRATS, HEY ARNOLD, THE FAIRLY ODDPARENTS, THE LOUD HOUSE and more.

Christmas Classics: Beloved specials from popular series such as CHEERS, FAMILY TIES, STAR TREK, THE TWILIGHT ZONE, HAPPY DAYS, THE BRADY BUNCH and more.

Holiday Horror Movies: Festive frights including MERCY CHRISTMAS, AMERICAN EXORCIST, NEW YEAR'S EVIL and SNOWBEAST.
Paramount+ with SHOWTIME® bundle subscribers will find an extra gift in the collection, with access to seasonally themed titles. So, bundle up and tune-in for the merry, music-filled comedy special MATT ROGERS: HAVE YOU HEARD OF CHRISTMAS? (Friday, Dec. 2). Additionally, bundle subscribers can catch the latest SHOWTIME festive movies like BAD SANTA, BAD SANTA 2, BRIDGET JONES'S DIARY and EIGHT CRAZY NIGHTS.
Subscribers who need a break from the holiday marathon, can also binge this year's most popular Paramount+ Originals including TULSA KING, HALO, STAR TREK: STRANGE NEW WORLDS, BEAVIS AND BUTT-HEAD DO THE UNIVERSE and JERRY AND MARGE GO LARGE, as well as recent family friendly hits like BLUE'S BIG CITY ADVENTURE (Friday, Nov. 18), SONIC THE HEDGEHOG 2, SECRET HEADQUARTERS and TRANSFORMERS: EARTHSPARK.
Paramount+ is also home to CBS Sports' marquee matchups this holiday season, streaming some of the biggest games, including the NFL ON CBS on Thanksgiving Day featuring the Buffalo Bills at Detroit Lions (12:30 PM, ET), and Christmas Day when the Denver Broncos take on the Los Angeles Rams (4:30 PM, ET), as well as the SEC Championship at 4:00 PM, ET, on Saturday, Dec. 3, and the CBS Sports Classic featuring North Carolina vs. Ohio State (3:00 PM, ET), followed by Kentucky vs. UCLA on Saturday, Dec. 17.
The Paramount+ Holiday Collection is available to stream now. To view the holiday campaign trailer performed by Celia Rose Gooding of STAR TREK: STRANGE NEW WORLDS, click here.
*Paramount+ Premium subscribers will have access to stream live via the live feed of their local CBS affiliate on the service as well as on-demand. Essential tier subscribers will have access to on-demand the day after the episode airs.
About Paramount+
Paramount+, a direct-to-consumer digital subscription video on-demand and live streaming service, combines live sports, breaking news and a mountain of entertainment. The premium streaming service features an expansive library of original series, hit shows and popular movies across every genre from world-renowned brands and production studios, including BET, CBS, Comedy Central, MTV, Nickelodeon, Paramount Pictures and the Smithsonian Channel. The service is also the streaming home to unmatched sports programming, including every CBS Sports event, from golf to football to basketball and more, plus exclusive streaming rights for major sports properties, including some of the world's biggest and most popular soccer leagues. Paramount+ also enables subscribers to stream local CBS stations live across the U.S. in addition to the ability to stream CBS News Streaming Network for 24/7 news, CBS Sports HQ for sports news and analysis.
For more information about Paramount+, please visit www.paramountplus.com and follow @ParamountPlus on social platforms.
***
Paramount+ Press Contacts:
Stephanie Clark
Alexis Madrigal