Release
"NEVER SEEN AGAIN," THE TOP PERFORMING ORIGINAL DOCUSERIES ON PARAMOUNT+, RETURNS FOR A SECOND SEASON ON JULY 26
New Season Features 10 Episodes of The Bingeable Docuseries Exploring Cases Where Families Grapple with the Inexplicable Disappearance of a Loved One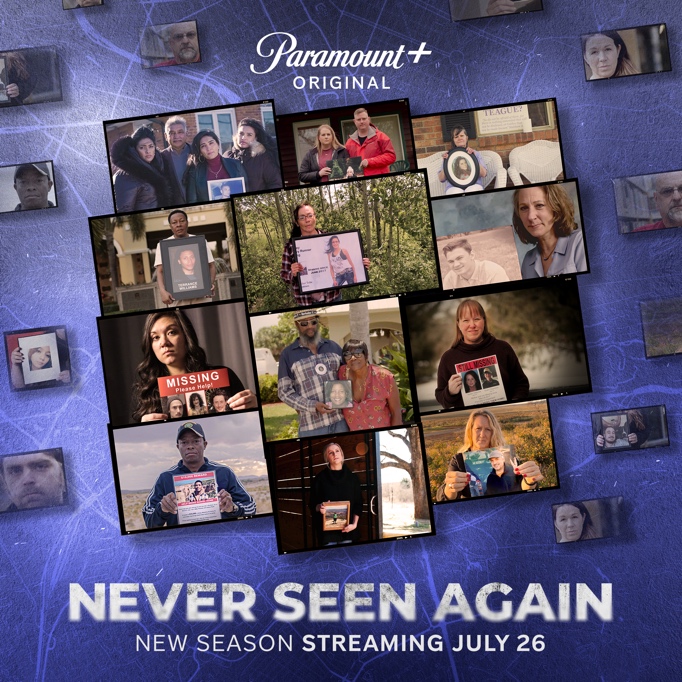 July 25, 2022 – NEVER SEEN AGAIN, the top performing original docuseries on Paramount+, returns for a second season on the streaming service July 26. The new season is an enthralling episodic deep dive into 10 baffling cases in which individuals disappear, often leaving tantalizing clues, but sometimes without a trace. The heartbroken families and friends who tell these unfolding stories hope the show's interactive use of social media will help bring answers. True to the program's catchphrase, they are convinced that someone out there knows something.
NEVER SEEN AGAIN launched in May 2022 and quickly became a bingeable hit.
The second season kicks off with a bizarre two-part tale of Caleb Diehl, a popular and hard-working high school senior who fails to show up for school one day. Could he have crashed his truck? Did he travel out of state to work for a girlfriend's relative? Or did a prominent local businessman, a close family friend of the Diehls, know more than he was letting on?
The investigation into Diehl's whereabouts ends up uncovering sinister secrets that had lain hidden for years in a small Texas town, including shocking revelations about the man who has been a pillar of the tightknit community.
"Everybody loved him. He was everybody's friend. He was everybody's banker," says Kelsy Mittauer, a TV producer at the Dallas-Ft. Worth CBS affiliate KTVT.
"In 27 years as a special agent with the FBI, I've never seen that before," says FBI agent David Burns about one aspect of the case. "I haven't seen it since."
Other mysterious vanishings this season include:
Ashley Loring Heavy Runner leaves the Blackfeet Indian Reservation in Montana for a college career and a brighter future. When she disappears, the police response is lackluster until a local reporter leads the charge. Ashley has become a symbol of the national epidemic of Missing and Murdered Indigenous Women, of which there are currently about 4,200 unsolved cases.

Heather Teague is an all-American girl, a former high school cheerleader determined to become a nurse. But while sunbathing by a country lake she is brutally abducted by a stranger.

Susan Osborne's husband says she took his stepson Evan Chartrand, walked out one day and never came back. The police find signs that the floor has been bleached and has new carpeting. Her best friend says she had made a discovery that might have cost her life.

Ali Gilmore is a graduate of Florida A&M holding down two jobs. She has goals and a plan to achieve them. But a complicated love life might have derailed her.

Oakley Carlson is a 5-year-old girl whose foster parents reluctantly gave her back to her biological parents. A fire at Oakley's house leads to a school principal asking for a welfare check. Oakley's parents tell police they haven't seen her in a week.

Michael Samdass is the life of the party and the apple of his family's eye. Why did he leave? Or did he?

Cortney Lake is a single mom who wages a successful campaign to enter a beauty pageant that doesn't allow mothers to compete. She also goes to the police when a relationship grows abusive. But despite Lake sticking up for herself, her mother knows something has gone terribly wrong when she goes missing.

Jon Riley adores sailing, rock climbing and the great outdoors. But when he goes missing and a human foot is found in a nearby lake, his family fears the worst. Then they learn that Jon had a meeting with a serial killer. Could Riley have become one of the victims?
Each episode of NEVER SEEN AGAIN begins with a friend or family member describing the last time they saw their missing loved one. The portraits of the missing are deeply moving and the need for closure intense. Each episode is a cry for help from viewers who can use the on-screen QR code to send in tips, call the relevant police department or "Crime Stoppers." There is also an active page for NEVER SEEN AGAIN on Facebook.
NEVER SEEN AGAIN is produced by Efran Films Canada for See It Now Studios. For Efran Films Canada, Solly Granatstein is executive producer and showrunner, and executive producers are Shawn Efran, Azadeh de Leon and Jordan J. Mallari. For See It Now Studios, Susan Zirinsky and Terence Wrong are the executive producers, Aysu Saliba is the supervising producer and Adam Goldfried is the executive director.
About Paramount+
Paramount+, a direct-to-consumer digital subscription video on-demand and live streaming service, combines live sports, breaking news and a mountain of entertainment. The premium streaming service features an expansive library of original series, hit shows and popular movies across every genre from world-renowned brands and production studios, including BET, CBS, Comedy Central, MTV, Nickelodeon, Paramount Pictures and the Smithsonian Channel. The service is also the streaming home to unmatched sports programming, including every CBS Sports event, from golf to football to basketball and more, plus exclusive streaming rights for major sports properties, including some of the world's biggest and most popular soccer leagues. Paramount+ also enables subscribers to stream local CBS stations live across the U.S. in addition to the ability to stream the company's other live channels: The CBS News Streaming Network, for 24/7 news, CBS Sports HQ for sports news and analysis, and ET Live for entertainment coverage.
For more information about Paramount+, please visit www.paramountplus.com and follow @ParamountPlus on social platform
About See It Now Studios
See It Now Studios develops and produces original documentaries and docuseries for Paramount+, CBS, the Paramount Global television networks, international providers and third-party platforms. Since launching in September 2021, See It Now Studios has produced such projects as RACE AGAINST TIME: THE CIA AND 9/11, THE 26th STREET GARAGE: THE FBI'S UNTOLD STORY OF 9/11, SECETS OF THE OLIGARCH WIVES, INDIVISIBLE – HEALING HATE, GHISLAINE – PARTNER IN CRIME, WATERGATE: HIGH CRIMES IN THE WHITE HOUSE, and interview specials with Halle Berry and Chris Rock. Susan Zirinsky is the president of See It Now Studios.
About Efran Films Canada Inc
Efran Films Canada is an Emmy-winning production company with offices in Toronto and New York. The company produces high-quality factual and unscripted series for linear and digital distribution. It was founded by Emmy- and Peabody-winning producer Shawn Efran.
Press Contacts:
Susan Lundgren – susan.lundgren@viacomcbs.com
Richard Huff – Huffr@viacomcbs.com