Release
PARAMOUNT+ ANNOUNCES NEW DOCUMENTARY MIXTAPE TO PREMIERE AUGUST 1
PARAMOUNT+ ANNOUNCES NEW DOCUMENTARY MIXTAPE
TO PREMIERE AUGUST 1
In Celebration of Hip Hop's 50th Anniversary, Documentary Explores History of Mixtape Culture and Features Lil Wayne, DJ Khaled, Fat Joe,
2 Chainz, Big Boi, DJ Drama, Kid Capri, KRS-One and More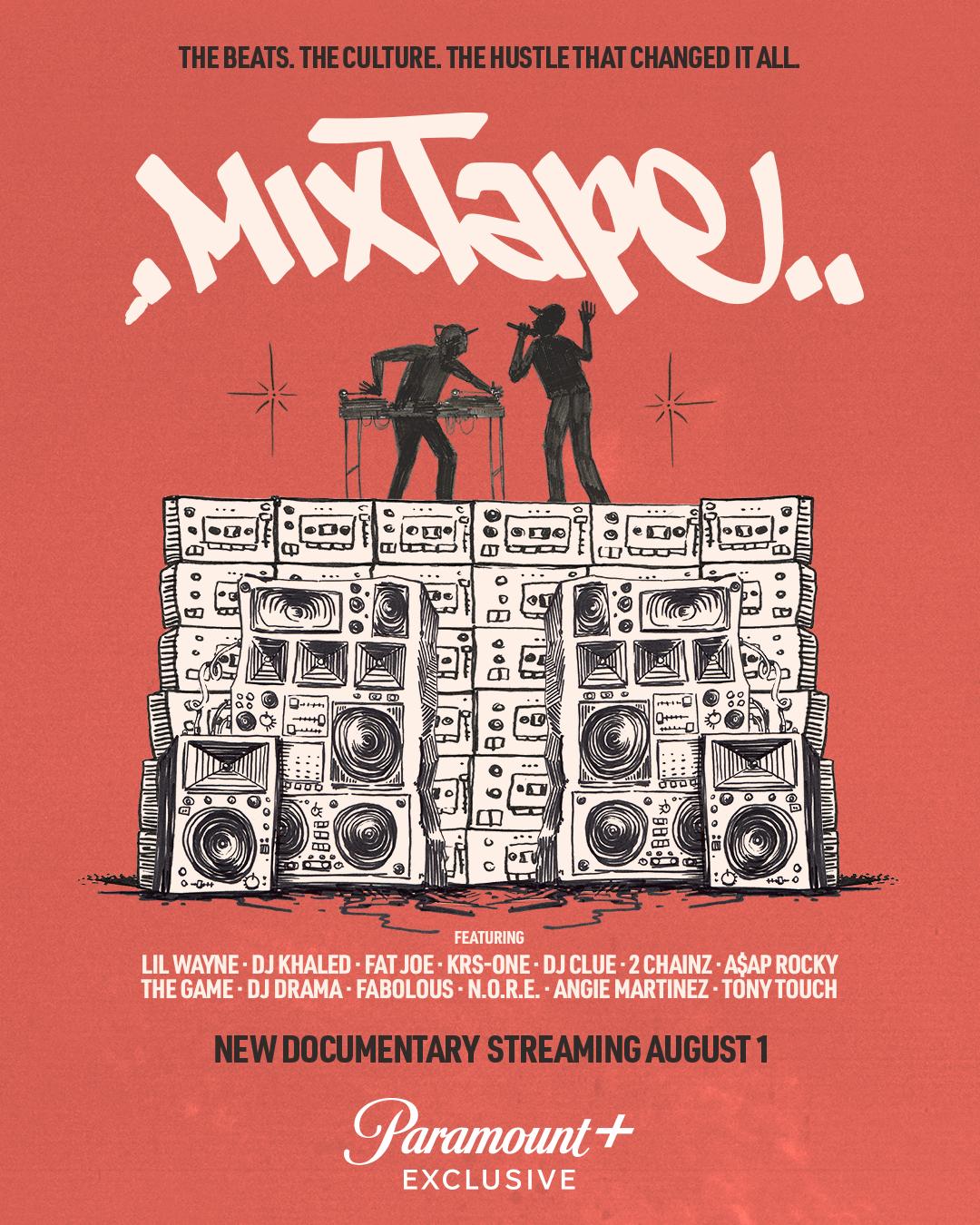 Trailer Here
Key Art Here
July 13, 2023 – Paramount+ today announced that MIXTAPE, a new documentary exploring how the creation of mixtapes launched hip hop into mainstream culture, will premiere exclusively on the service Tuesday, August 1 in the U.S. and Canada and Wednesday, August 2 in the U.K., Australia, Latin America and Brazil, with further international markets to follow later in the year.
MIXTAPE is the story of hip hop refusing to take no for an answer. Before radio play, the internet, and social media, there were mixtapes. DJs were tastemakers, trendsetters and creators of the sound that became the biggest musical genre on the planet. The importance of mixtapes goes well beyond the tapes themselves. Mixtapes were a form of currency and a signifier that someone was "in the know" and had their ear to the streets. The culture was too strong to be stopped, and the artists were too talented to be ignored – so they turned the sub-culture into the mainstream, and made hip hop what it is today.
"Hip-Hop is 50 years old and I can't think of a better way to celebrate its journey and contextualize its evolution than through the story of the mixtape. Every voice in this film played a critical role, especially the DJs who, as KRS-ONE says beautifully in the film, risked everything to 'bring us the music'," said Omar Acosta, director of MIXTAPE. Producer Tony Touch added "it's an honor to be involved in this film and to help tell the real story of the mixtape, its origins, its impact, and its on-going relevance for the culture."
The documentary features 2 Chainz, A$AP Rocky, Dante Ross, DJ Bobbito, DJ Clue, DJ Drama, DJ Enuff, DJ Green Lantern, DJ Jazzy Joyce, DJ Kay Slay, DJ Khaled, DJ S&S, DJ Scratch, DJ Stretch Armstrong, DJ Whoo Kid, Doo Wop, Fabolous, Fat Joe, Funkmaster Flex, The Game, Grandmaster Caz, Jadakiss, James Cruz, Jeezy, Kid Capri, Kool DJ Red Alert, KRS-One, Lil Wayne, Mark Ronson, Mike Tyson, N.O.R.E., Ron G, Shaq, Tommy Hilfiger, Tony Touch, Trouble, Tuma Basa and more.
MIXTAPE is produced by MTV Entertainment Studios, Mercury Studios and Saboteur Media in association with Def Jam Recordings. David Kennedy, Tony Touch, Nick Quested and Daniel Seliger serve as producers with executive producers Paul Rosenberg and Barak Moffit. The film is directed and produced by Omar Acosta (Stretch and Bobbito: Radio That Changed Lives). The Def Tape, the official soundtrack to MIXTAPE, is set for an August release via Def Jam Recordings.
About Paramount+
Paramount+, a direct-to-consumer digital subscription video on-demand and live streaming service, combines live sports, breaking news and a Mountain of Entertainment™. The premium streaming service features an expansive library of original series, hit shows and popular movies across every genre from world-renowned brands and production studios, including BET, CBS, Comedy Central, MTV, Nickelodeon, Paramount Pictures and the Smithsonian Channel. Paramount+ with SHOWTIME, the service's cornerstone plan, is also home to SHOWTIME content including scripted hits, critically acclaimed nonfiction projects, SHOWTIME SPORTS® (including industry-leading SHOWTIME Boxing) and films. This premium plan includes unmatched events and sports programming through the local live CBS stream, including golf to basketball and more, plus streaming access to CBS News Network for 24/7 news and CBS Sports HQ for sports news and analysis.
For more information about Paramount+, please visit www.paramountplus.com and follow @ParamountPlus on social platforms.
About Paramount Media Networks & MTV Entertainment Studios
Paramount Media Networks & MTV Entertainment Studios is one of the preeminent media entities in the world that connects with global audiences through its nine iconic brands – MTV, Comedy Central, VH1, CMT, Pop, Logo, The Smithsonian Channel, Paramount Network and TV Land – and its Studios arm which produces acclaimed series and movies as well as award-winning documentaries through MTV Documentary Films.
About Mercury Studios
Mercury Studios is a full-service production studio originating, producing, selling, distributing, and investing in scripted, unscripted, and live content. Editorially independent, Mercury Studios is powered by Universal Music Group and represents the world's leading catalogue of music-related content. Current and recent projects include If These Walls Could Sing, the untold story of the world-famous Abbey Road Studios, directed by celebrated British photographer and filmmaker Mary McCartney for Disney+, "My Life as a Rolling Stone," a four-part docuseries of intimate portraits of Mick Jagger, Keith Richards, Ronnie Wood and Charlie Watts for the BBC and Epix, Shania Twain: Not Just a Girl, a career documentary about the superstar that is available on Netflix; and "Mars," a short film based on an original universe and characters created by Yungblud, starring Yasmin Finney, that premiered at the London Film Festival and screens later this summer at the Tribeca Film Festival.
About Def Jam Recordings
For 40 years and counting, Def Jam Recordings has been synonymous with hip-hop music, and has been home to the boundary-breaking artists who define the sound, style and impact of hip- hop culture worldwide. Today, Def Jam is a global multimedia brand, built on daring creativity, authenticity, and an unwavering commitment to quality which extends from marquee artists to new signings to its global expansion into the UK, Africa, India, Southeast Asia, and beyond. Worldwide, Def Jam is the most recognizable brand in hip-hop. Def Jam Recordings is a division of Universal Music Group, the world leader in music-based entertainment.
# # #
PARAMOUNT+ PRESS CONTACTS:
Brian Bahr: brian.bahr@paramount.com
Joe Regan: joe.regan@paramount.com
PARAMOUNT+ INTERNATIONAL PRESS CONTACT:
Harriet Scott: harriet.scott@paramount.com
MTV ENTERTAINMENT STUDIOS PRESS CONTACT:
Lauren Woulard: lauren.woulard@paramount.com
DEF JAM RECORDINGS UNIVERSAL MUSIC GROUP CONTACTS:
Gabe Tesoriero: g.t@umusic.com
Annie Imamura: annie.imamura@umusic.com