Release
"MIKE JUDGE'S BEAVIS AND BUTT-HEAD" SERIES TO PREMIERE EXCLUSIVELY ON PARAMOUNT+ THURSDAY, AUGUST 4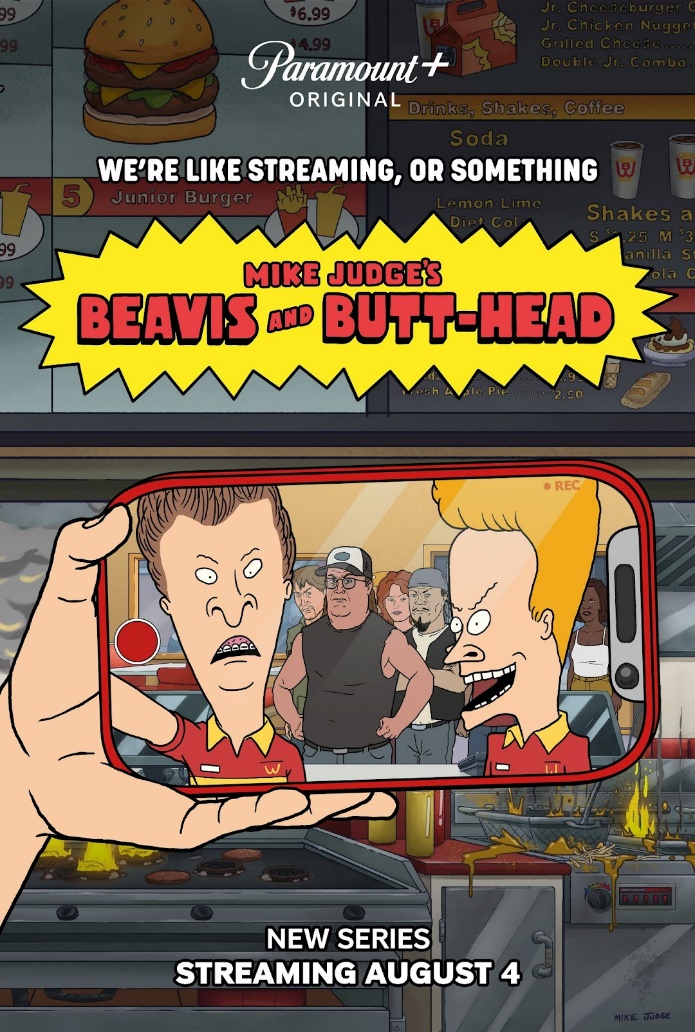 From Creator Mike Judge and MTV Entertainment Studios, the New Series Features the Iconic Duo's First Original Episodes in Over 10 Years
Mike Judge Will Also Join the Paramount+ Lineup at San Diego Comic-Con,
With an Intimate One-on-One Conversation and Exclusive First Look at the Series
Link to Official Trailer HERE
Link to Key Art HERE
July 14, 2022 – Paramount+ today announced that its upcoming new adult animated series, MIKE JUDGE'S BEAVIS AND BUTT-HEAD, will premiere on the service Thursday, August 4 in the U.S. and will also be available to stream internationally in all territories where the service is available. The new series follows on the heels of the recently released and critically acclaimed Paramount+ original film BEAVIS AND BUTT-HEAD DO THE UNIVERSE, which is now available to stream. The service also hosts the 1996 classic movie "Beavis and Butt-Head Do America," as well as remastered versions of the classic series, with the full library available soon.
In MIKE JUDGE'S BEAVIS AND BUTT-HEAD, Beavis and Butt-Head are back and stupider than ever.
"Beavis and Butt-Head" creator Mike Judge will also be featured in Paramount+'s slate of panels at San Diego Comic-Con on Thursday, July 21 at 4:45PM in Ballroom 20. Judge and moderator Paul Scheer will discuss the upcoming original series, as well as the recently released film BEAVIS AND BUTT-HEAD DO THE UNIVERSE. An exclusive look at the new series will also debut during the panel.
Created and voiced by writer, producer and director Mike Judge, the characters of Beavis and Butt-Head originated in Judge's 1992 short film "Frog Baseball," which was broadcast by MTV's animation showcase "Liquid Television." After MTV commissioned a full series around the characters, "Beavis and Butt-Head" ran for seven seasons from March 8, 1993 to Nov. 28, 1997. The series was revived in 2011 with an eighth season airing on MTV. During its initial run, "Beavis and Butt-Head" received widespread critical acclaim for its satirical, scathing commentary on society. The show's popularity spawned various related media, including the theatrical film "Beavis and Butt-Head Do America" in 1996.
MIKE JUDGE'S BEAVIS AND BUTT-HEAD is executive-produced by Mike Judge, Lew Morton and Michael Rotenberg, and Chris Prynoski, Shannon Prynoski, Ben Kalina, and Antonio Canobbio for Titmouse.
Follow Paramount+ on Instagram, TikTok, Twitter and Facebook, and subscribe to Paramount+ on YouTube. Follow BEAVIS AND BUTT-HEAD on Facebook, Instagram, and TikTok, and join the conversation with #BeavisAndButtHead.
About Paramount+
Paramount+ combines live sports, breaking news and a mountain of entertainment. The premium streaming service features an expansive library of original series, hit shows and popular movies across every genre from world-renowned brands and production studios, including BET, CBS, Comedy Central, MTV, Nickelodeon, Paramount Pictures and the Smithsonian Channel. The service is also the streaming home to unmatched sports programming, including every CBS Sports event, from golf to football to basketball and more, plus exclusive streaming rights for major sports properties, including some of the world's biggest and most popular soccer leagues. Paramount+ also enables subscribers to stream local CBS stations live across the U.S. in addition to the ability to stream other live channels: CBSN for 24/7 news, CBS Sports HQ for sports news and analysis and ET Live for entertainment coverage.
For more information about Paramount+, please visit www.paramountplus.com and follow @ParamountPlus on social platforms.
About MTV Entertainment
MTV Entertainment Group is one of the preeminent youth media companies in the world that connects with global audiences through its nine iconic brands – MTV, Comedy Central, VH1, CMT, Pop, Logo, Smithsonian, Paramount Network and TV Land – as well as MTV Entertainment Studios which produces acclaimed series and movies and the award-winning, Oscar nominated MTV Documentary Films.
About Titmouse
Titmouse is an independent Emmy award-winning animation production company. Our artist-run studios in Los Angeles, New York City, and Vancouver keep the most talented people in the industry pushing creative boundaries. Writers, producers, directors, storyboard artists, animators, compositors, editors, and artists of all kinds are right here, in house. Titmouse founders Chris and Shannon Prynoski launched Titmouse in Los Angeles, the birthplace of the American entertainment industry. Known for series such as "The Venture Bros.," "Big Mouth," "The Legend of Vox Machina," "Midnight Gospel," "Star Trek: Lower Decks" and "Metalocalypse," Titmouse creates high-quality cartoons for all ages and interests. Visit us online at titmouse.net
***
Paramount+ Press Contacts:
Morgan Seal Morgan.Seal@viacomcbs.com
Brian Bahr Brian.Bahr@viacomcbs.com
Paramount+ International Press Contact:
Heather Brown Heather.Brown@paramount.com
MTV Entertainment Studios Press Contacts:
Lauren Nowell Lauren.Nowell@viacomcbs.com
Nicole Platt Nicole.Platt@viacomcbs.com
Imani Punch Imani.Punch@viacomcbs.com