Release
PARAMOUNT+ REVEALS TEASER TRAILER AND ANNOUNCES NOVEMBER 5 PREMIERE DATE FOR ORIGINAL SERIES LAWMEN: BASS REEVES

PARAMOUNT+ REVEALS TEASER TRAILER AND ANNOUNCES NOVEMBER 5 PREMIERE DATE FOR ORIGINAL SERIES LAWMEN: BASS REEVES
The Anthology Series Will Premiere Globally on Sunday, November 5, in the U.S. and All Paramount+ International Markets
Starring Executive Producer and Emmy® Award Nominee David Oyelowo, Lauren E. Banks, Demi Singleton, Forrest Goodluck, Emmy® Award Winner Barry Pepper, Honorary Oscar® Recipient Donald Sutherland and Emmy Award Nominee Dennis Quaid
Series Is Executive Produced by Oscar Nominee Taylor Sheridan And Created for Television by Executive Producer and Showrunner Chad Feehan
Produced by MTV Entertainment Studios, 101 Studios, Bosque Ranch Productions and Yoruba Saxon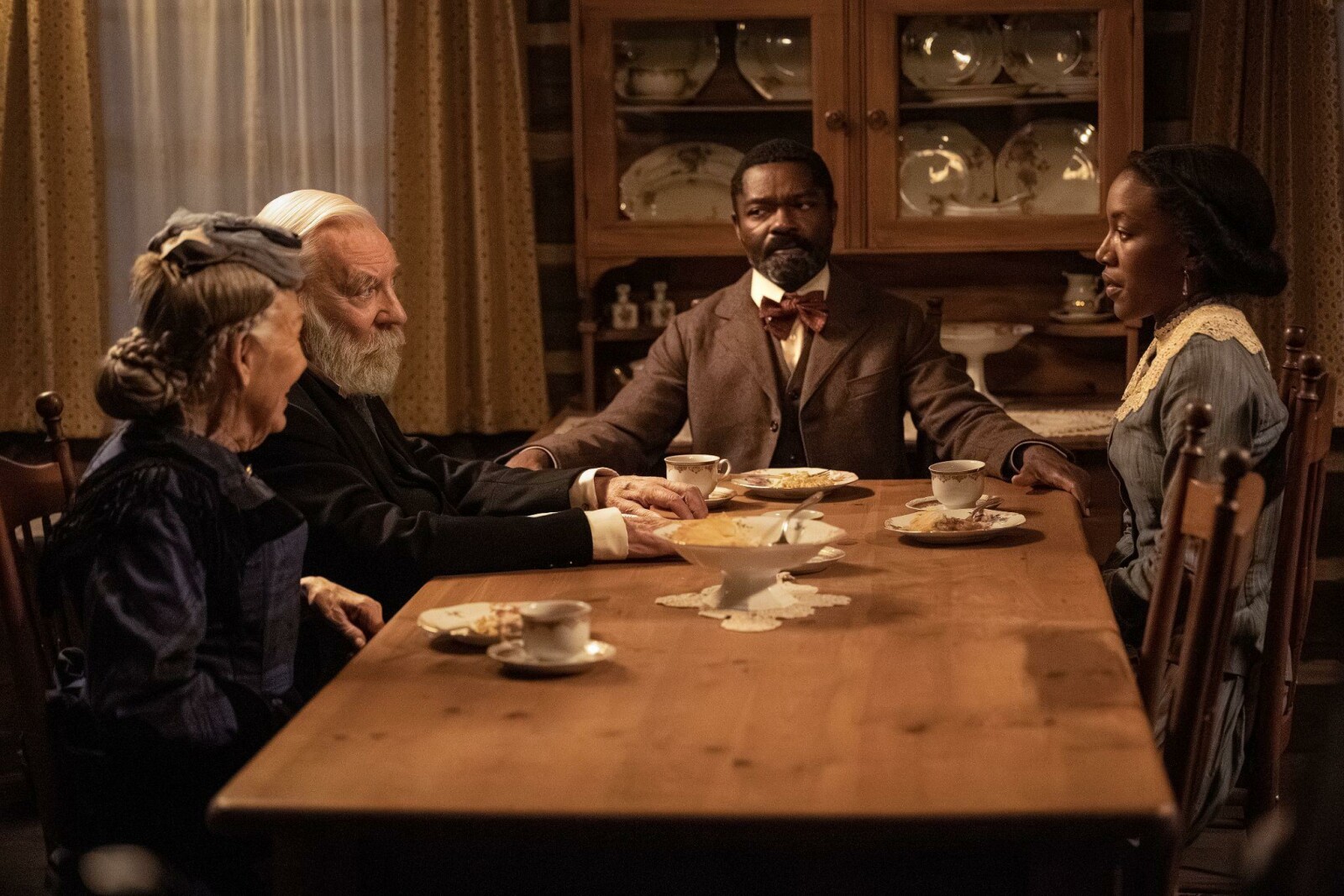 Watch the Teaser Trailer Here
Download Additional Series Images Here
September 7, 2023 – Paramount+ today debuted the teaser trailer for the highly anticipated original series LAWMEN: BASS REEVES, which will premiere exclusively on the service with two episodes on Sunday, November 5 in the U.S. and all Paramount+ international markets. The anthology series stars executive producer and Emmy Award nominee David Oyelowo, Lauren E. Banks, Demi Singleton, Forrest Goodluck, Emmy Award winner Barry Pepper, Honorary Oscar recipient Donald Sutherland and Emmy Award nominee Dennis Quaid.
Revealing the untold story of the most legendary lawman in the Old West, LAWMEN: BASS REEVES follows the journey of Reeves (Oyelowo) and his rise from enslavement to law enforcement as the first Black U.S. Marshal west of the Mississippi. Despite arresting over 3,000 outlaws during the course of his career, the weight of the badge was heavy, and he wrestled with its moral and spiritual cost to his beloved family. LAWMEN: BASS REEVES is an all-new, standalone anthology series and future iterations will follow other iconic lawmen and outlaws who have impacted history.
The cast includes Shea Whigham and Garrett Hedlund as guest stars, and, in recurring roles, Joaquina Kalukango, Lonnie Chavis, Grantham Coleman, Tosin Morohunfola, Dale Dickey, Rob Morgan, Ryan O'Nan, Margot Bingham, Mo Brings Plenty, Justin Hurtt-Dunkley and Bill Dawes.
Created for television by executive producer and showrunner Chad Feehan, LAWMEN: BASS REEVES also is executive produced by Oscar nominee Taylor Sheridan, David Oyelowo, David C. Glasser, Jessica Oyelowo, David Permut, Christina Alexandra Voros, Ron Burkle, Bob Yari and David Hutkin. The series is produced by MTV Entertainment Studios, 101 Studios, Sheridan's Bosque Ranch Productions and Oyelowo's Yoruba Saxon and is distributed by Paramount Global Content Distribution outside of Paramount+ international markets.
LAWMEN: BASS REEVES is the latest addition to Sheridan's growing slate on Paramount+, which includes 1923, 1883, MAYOR OF KINGSTOWN, TULSA KING, SPECIAL OPS: LIONESS and the upcoming series LAND MAN.
For more information about Paramount+ and LAWMEN: BASS REEVES, please visit www.paramountplus.com and follow @ParamountPlus and @lawmenbassreeves on Facebook and Tik Tok, @bassreevespplus on X and @LawmenBassReeves on Instagram.
About Paramount+
Paramount+, a direct-to-consumer digital subscription video on-demand and live streaming service, combines live sports, breaking news and a Mountain of Entertainment™. The premium streaming service features an expansive library of original series, hit shows and popular movies across every genre from world-renowned brands and production studios, including BET, CBS, Comedy Central, MTV, Nickelodeon, Paramount Pictures and the Smithsonian Channel. Paramount+ with SHOWTIME, the service's cornerstone plan, is also home to SHOWTIME® content, including scripted hits, critically acclaimed nonfiction projects, SHOWTIME SPORTS® (including industry-leading SHOWTIME BOXING®) and films. This premium plan includes unmatched events and sports programming through the local live CBS stream, including golf, basketball and more, plus streaming access to CBS News Network for 24/7 news and CBS Sports HQ for sports news and analysis.
For more information about Paramount+, please visit www.paramountplus.com and follow @ParamountPlus on social platforms.
About Paramount Media Networks & MTV Entertainment Studios
Paramount Media Networks & MTV Entertainment Studios is one of the preeminent media entities in the world that connects with global audiences through its nine iconic brands – MTV, Comedy Central, VH1, CMT, Pop, Logo, The Smithsonian Channel, Paramount Network and TV Land – and its Studios arm which produces acclaimed series and movies as well as award-winning documentaries through MTV Documentary Films.
About 101 Studios
101 Studios is a global entertainment company dedicated to the acquisition, financing, development, production and distribution of high-caliber, creator-driven storytelling. 101 empowers content creators through first-class collaboration and innovation. On the television side, 101 produces Taylor Sheridan's Emmy nominated series "Yellowstone," "Mayor of Kingstown," "1883" "1923" "George & Tammy," "Tulsa King," "Special Ops: Lioness" and the upcoming "Lawmen: Bass Reeves." 101 Studios oversees and manages the newly formed Sports Illustrated Studios, a content platform based on the most compelling stories, characters and moments in sports past, present and future. Upcoming projects include "Paradise Found" based on the true story of high school football coach Rick Prinz; a docuseries about the sexual abuse and cover-up at Ohio State University, co-produced by George Clooney and Grant Heslov's Smokehouse Pictures; and the docuseries "Covers," a behind-the-scenes look at Sports Illustrated's top cover stories of all time. SI Studios has also exclusively partnered with iHeartMedia to create and distribute original podcasts through the iHeartPodcast network. On the film side, past releases include "The Current War: Director's Cut," the Sundance Audience award winner "Burden" as well as the family comedy "The War with Grandpa."
***
Paramount+ Press Contacts:
Morgan Seal: Morgan.Seal@paramount.com
Kate Mann: Kate.Mann@paramount.com
Natalie Speck: Natalie.Speck@paramount.com
Amy Wesson: Amy.Wesson@paramount.com
MTV Entertainment Studios Contacts:
Chris Delhomme: Chris.Delhomme@paramount.com
Joyia Sandoval: Joyia.Sandoval@paramount.com
Karen Damoah: Karen.Damoah@paramount.com
101 Studios Contact:
Dani Weinstein: dweinstein@101studiosco.com