Release
PARAMOUNT+ ANNOUNCES MUSIC DOCUSERIES "FAMILY LEGACY" TO PREMIERE TUESDAY, APRIL 25
Produced by MTV Entertainment Studios and Glass Entertainment Group, New Series Features Interviews with the Children of Legendary Musicians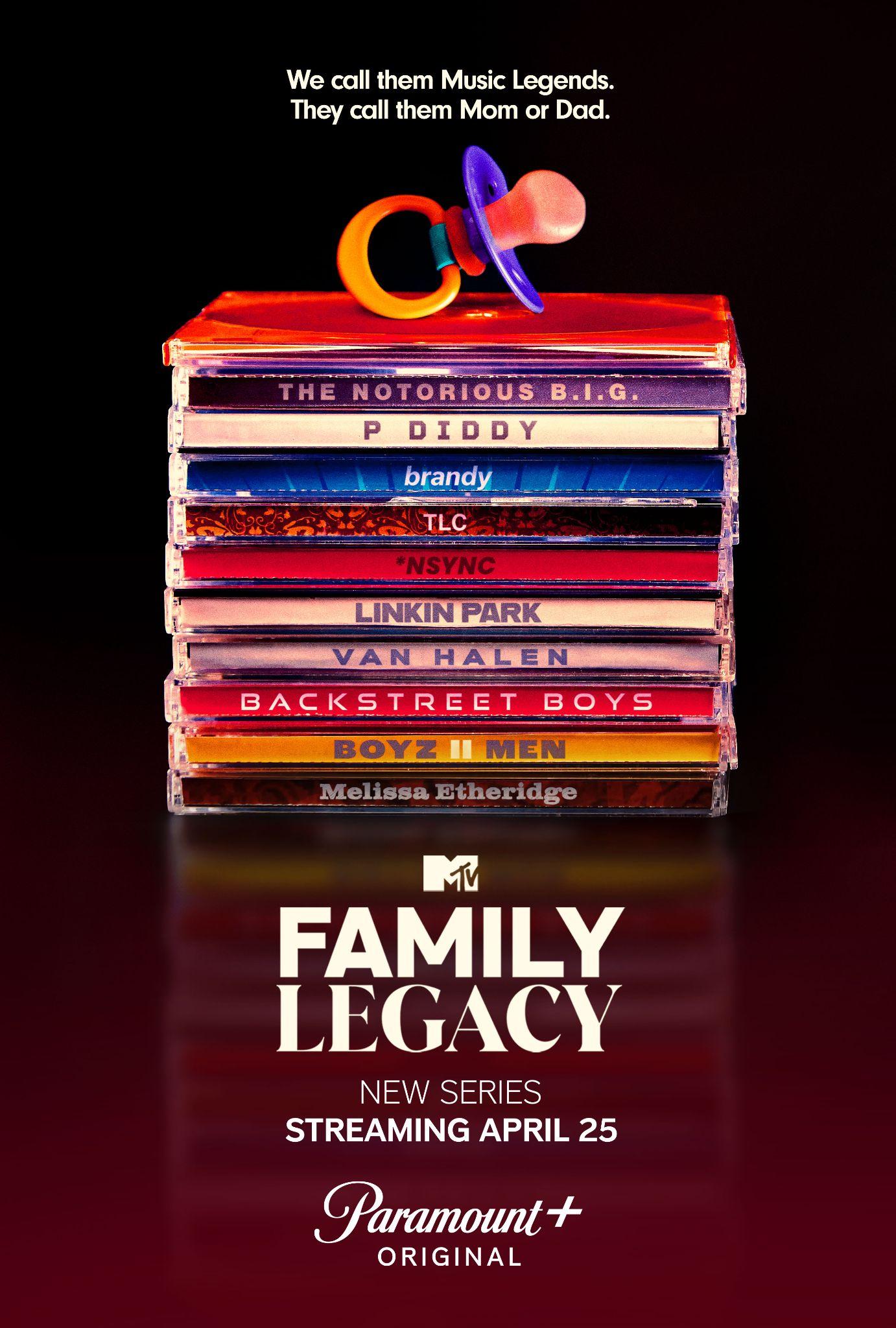 View Official Trailer Here
Download Key Art Here
April 4, 2023 – Paramount+ today announced that the new music docuseries FAMILY LEGACY will premiere Tuesday, April 25 exclusively on the service in the U.S. and Canada. The series will also premiere internationally on Wednesday, April 26 in the U.K., Italy, France, Germany, Switzerland, Austria, LATAM and Brazil, and on Saturday, April 29 in Australia. An official trailer and key art for the series were also released.
Narrated by actor and music artist Quincy Brown, each half hour of the five-episode series will feature the children of legendary music artists and bands including Linkin Park, Van Halen, Backstreet Boys, *NSYNC, Boyz II Men, TLC, Biggie Smalls, Sean "Diddy" Combs, Brandy and Melissa Etheridge reliving some of entertainment's most iconic moments and giving viewers an intimate look at their favorite artists.
Featured in the series are:
Andrew Hagar (son of Van Halen's Sammy Hagar)

Bailey Cypheridge (daughter of Melissa Etheridge)

Baylee Littrell (son of Backstreet Boys' Brian Littrell)

Briahna Fatone (daughter of *NSYNC's Joey Fatone)

Christian "King" Combs (son of Sean "Diddy" Combs)

C.J. Wallace (son of Notorious B.I.G.)

Draven Bennington (son of Linkin Park's Chester Bennington)

Justin Combs (son of Sean "Diddy" Combs)

Nathan Morris II (son of Boyz II Men's Nathan Morris)

Quincy Brown (son of Sean "Diddy" Combs)

Sy'Rai Smith (daughter of Brandy)

Tron Austin (son of TLC's Rozonda "Chilli" Thomas)
Through thousands of hours of exclusive MTV footage and brand-new interviews with the children of our favorite stars, FAMILY LEGACY takes fans on a tour of iconic musicians' most celebrated moments, with perspectives and untold stories only their kids could provide.
FAMILY LEGACY is produced by MTV Entertainment Studios, with Bruce Gillmer and Jeremy Davies as executive producers. Nancy Glass, Eric Neuhaus and Lauren Flowers serve as executive producers for Glass Entertainment Group.
About Paramount+
Paramount+, a direct-to-consumer digital subscription video on-demand and live streaming service, combines live sports, breaking news and a mountain of entertainment. The premium streaming service features an expansive library of original series, hit shows and popular movies across every genre from world-renowned brands and production studios, including BET, CBS, Comedy Central, MTV, Nickelodeon, Paramount Pictures and the Smithsonian Channel. The service is also the streaming home to unmatched sports programming, including every CBS Sports event, from golf to football to basketball and more, plus exclusive streaming rights for major sports properties, including some of the world's biggest and most popular soccer leagues. Paramount+ also enables subscribers to stream local CBS stations live across the U.S. in addition to the ability to stream CBS News Network for 24/7 news and CBS Sports HQ for sports news and analysis.
For more information about Paramount+, please visit www.paramountplus.com and follow @ParamountPlus on social platforms.
About Paramount Media Networks & MTV Entertainment Studios
Paramount Media Networks & MTV Entertainment Studios is one of the preeminent media entities in the world that connects with global audiences through its nine iconic brands – MTV, Comedy Central, VH1, CMT, Pop, Logo, The Smithsonian Channel, Paramount Network and TV Land – and its Studios arm which produces acclaimed series and movies as well as award-winning documentaries through MTV Documentary Films.
About Glass Entertainment Group
Glass Entertainment Group (GEG) is an award-winning production company founded by six-time Emmy winner Nancy Glass. With over 3,000 hours of programming, the company produces a robust slate across all genres. Recent credits include Lincoln: An American President (CNN), Heartland Vets: DVM (NatGeo Wild), Christina in the Country (discovery+), Queen of Stylez (Snapchat), Rifkin on Rifkin (Oxygen), Frozen in Time with Maureen McCormick (HGTV), Murder Nation (HLN), My Life on MTV (MTV), among many more. Last year, Glass acquired the rights to the legendary game show Let's Make a Deal along with more hits from the Hatos-Hall catalog. A leader in the podcast space, their award-winning podcast division, Glass Podcasts, created the juggernaut hit Confronting: OJ Simpson that garnered over 7 million downloads as well as their current hit Betrayal, which was #1 in America for multiple weeks. The company also announced Balthazar Entertainment with executive producer and television personality Brian Balthazar and earlier this year launched Unbroken Productions with Christina Haack and Josh Hall.
Paramount+ Press Contacts:
Brian Bahr, Brian.Bahr@paramount.com
Kylie Burnett, Kylie.Burnett@paramount.com
Joe Regan, Joe.Regan@paramount.com
MTV Entertainment Studios Press Contacts:
Lauren Woulard, Lauren.woulard@paramount.com
Chanel Secreto, Chanel.Secreto@paramount.com
Paramount+ International Press Contact:
Harriet Scott, Harriet.Scott@paramount.com